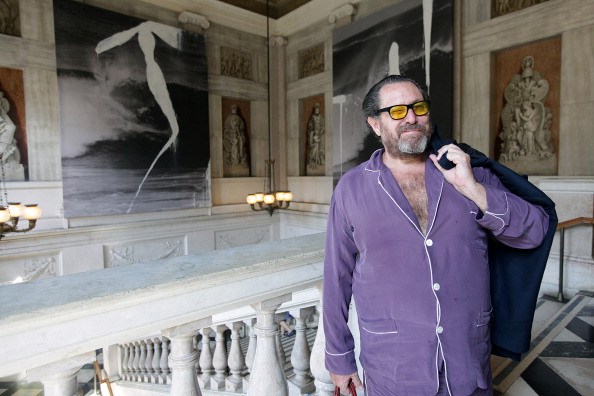 Because it is about to be summer, and collectively the city is about to wear a lot less clothing, I hereby present an ode to the pajamas of filmmaker, artist and OG of not giving a fuck Julian Schnabel.
Mr. Schnabel is arguably, next to Hugh Hefner, the world's most famous loungewear enthusiast. But unlike Hef, who at least regularly dons a smoking jacket with his satin nightshirt on formal occasions, Mr. Schnabel tends to take a more casual stance. He's more of a glutton for comfort, as evidenced by the fact that he often rounds out his stain-ridden outfits with slip-on sneakers.
The artist has famously been known to futz around in his jammies in the daytime, the evening time, at black tie affairs and even for the birth of his twin boys. Sometimes they're pinstriped and paint splattered, sometimes they're purple, occasionally he enjoys wearing red and he even has silky black ones for more glamorous affairs.
What possesses a seemingly self respecting man to attend an AIDS foundation benefit in a night shirt? And does he know that he's largely responsible for tacitly supporting the quite possibly laziest collegiate fashion trend ever, and inspiring boys everywhere under the legal drinking age to mistakenly think it's acceptable to roll out of bed and announce they're ready for the day in their sweats? In 2015, GQ included men's pajama shirts among its spring trends, and included Mr. Schnabel in an online slideshow alongside Ryan Gosling.
Here, I attempt to uncover the origins and evolution of his obsession with sleepwear through a less than definitive, but certainly ambitious, embellished timeline of notable public events for which he opted not to wear real pants. Here goes.
It's 1995, and Mr. Schnabel is on the cusp of greatness; he can smell it, feel it in the hair on his chest. The release of his critically acclaimed biopic Basquiat is just around the corner and portrait photographer to the stars Annie Liebovitz has stopped by his studio to glimpse first hand the chaotic genius of Mr. Schnabel smashing plates and making art from the shards. We imagine their session went like this: Exhausted from smashing, he reclines on one of the many sofas he has scattered around the studio for periodic resting and, while discussing the ways his painting subverts the cliché stereotypes of the male gaze he unintentionally strikes a pose himself. As Ms. Liebovitz leans in for the shot, Mr. Schnabel remarks at the irony of their arrangement, and conversation naturally turns to the inverse, the female gaze, a topic he hopes to explore more in depth in the future.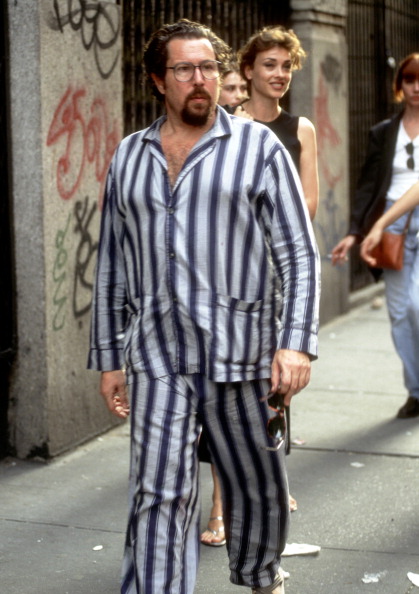 Years later, in 2011, Mr. Schnabel will put his immortalized blue and yellow-striped pjs up for auction on eBay, starting with a bid of $2,000. Evidence is scarce for how much the tattered and stained rags finally fetched, but at least two people bid in the sale and were interested in buying (and probably creepily smelling and rolling around in) Mr. Schnabel's discarded smock.
Flash forward to the early aughts. Mr. Schnabel, now comfortably rich from his plate paintings and with two films under his metaphorical and nonexistent belt, is so beyond experiments with Neo-expressionist painting, that he gives up on trousers all together and tries his hand at skirts. There's no shame in a man skirt, in fact the kilt worn correctly is quite handsome. In defiant resistance to the lavish excesses he celebrated in the '80s and '90s, he embraces minimalism, and for a time appears in public in a wrapped sheet.
"I'm the closest thing to Picasso that you'll see in this fucking life," is something Mr. Schnabel famously said once about himself. It's 2007, and Mr. Schnabel is looking down the pipeline at award season, wherein his film The Diving Bell and the Butterfly is nominated for a slew of honors. What to wear, what to wear…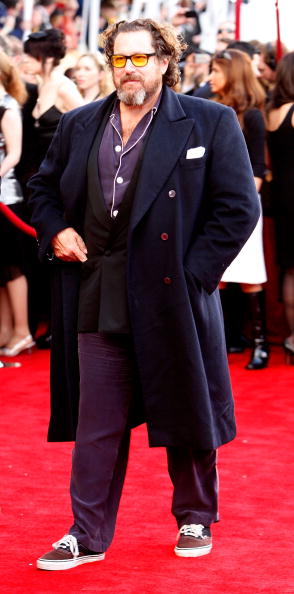 Behold, Senior Schnabel on the red carpet in—surprise, surprise!—purple pajamas and an overcoat. Because, fuck the establishment. In an industry that strictly uphold expectations that women only be allowed to wear expensive foot bondage to Hollywood gatherings and pooh-poohs a female in a leather jacket, Mr. Schnabel's bed clothes are nothing short of a political statement. Early on he got a whiff of Hollywood's bull shit, and chose the high road. The yellow night driving glasses, well that's just practical: cuts down tremendously on the glare from paparazzi cameras.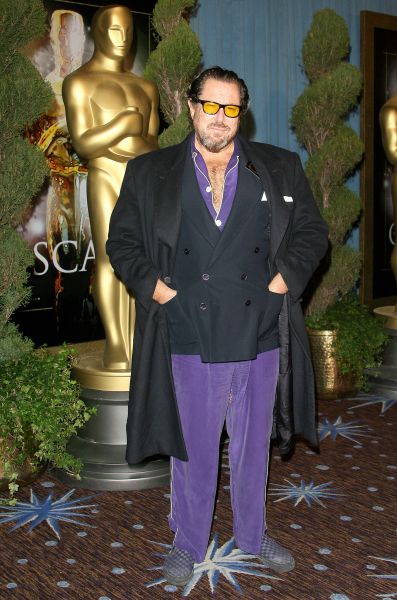 2008 was the year Mr. Schnabel really committed to his pajamas, and decided real clothes were not for him—at least not on any regular sort of basis. He was finally sitting pretty in his Palazzo Chupi, the Pepto-Bismol-colored, Renaissance-style monument he built to himself atop a former horse stable in Manhattan's Greenwich Village. He was busy reveling at getting one over on his stuffy neighbors who dared to make a fuss over the only slightly blasphemous architecture he raised adjacent to a city landmark. How dare they take issue with his dream of building a towering pink mansion over West 11th Street—what the fuck are air rights anyway? Someone can't own the sky! And so, he tossed caution to the wind, rolled slowly from his four poster bed, and attended the Oscars in his slippers.
"I must be free from the constraints of Hollywood, the art world, my family—clothing!" we imagine he said, as he entered his second patterned kilt period around 2010. Nothing sets the creative spirit ablaze like the feeling of a breeze between the legs. (Just ask Jerry Saltz.)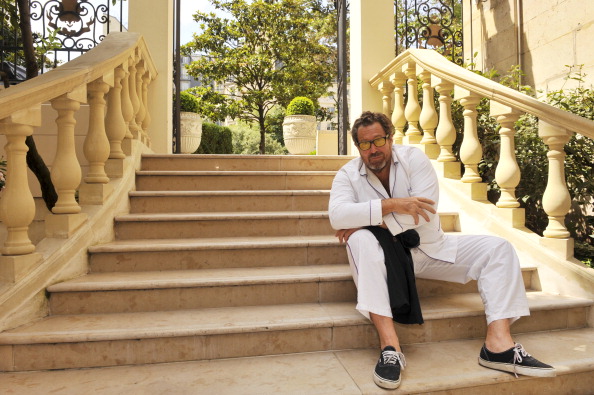 The above photo is simply to show that there's a softer side to Mr. Schnabel on occasion. He wears white in the summer season, but never after labor day. He wore white a lot while promoting his 2010 film Miral, based on then-girlfriend, journalist and author Rula Jebreal's book of the same name. The film tackles the sociopolitical strife between Palestine and Israel in the aftermath of the 1948 war. The enlightened wear white, right?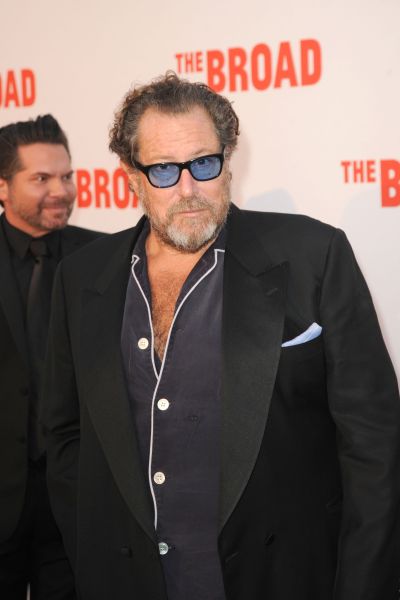 In 2015, to the opening of Los Angeles' flashiest new museum, The Broad, Mr. Schnabel wore the New York uniform, as one does. Enter, a refined and confident Mr. Schnabel. In his dotage, he's become a creature of habit, but that doesn't mean he can't teach the kids about style. Just look at this year's fashion forecasts: Alexander Wang and Givenchy are sporting piped shirts and lacy dresses, and celebrities such as Selena Gomez and Jessica Alba are ripping off Mr. Schnabel's signature threads left and right. The man should be outraged. But he's not, because he has class.
And so, to Mr. Schnabel, I salute you. For being bold enough to paint your self-portrait in your bathrobe; for always using color guard detergent because those sleep sets look bright as the day your assistant bought them for you; and for inspiring us to discard office dress codes for the next three months.