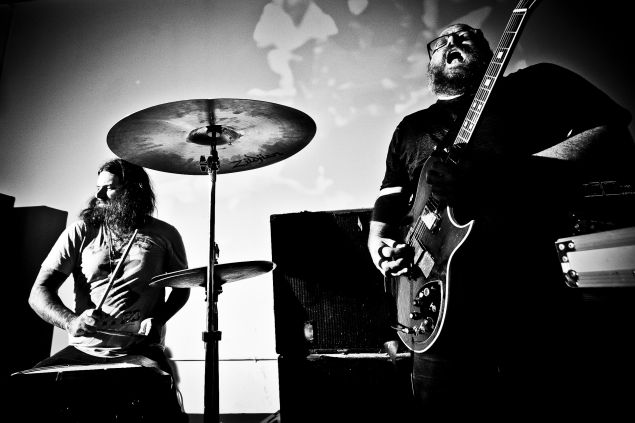 On any given night across this freethinking music bastion that is New York City, there's a festival going down.
Whether there's punk-jazz erupting at DIY bar/performance spaces like Williamsburg's Muchmore's or Ridgewood's poppers locarno, free-improv and experimental trips happening at choice Brooklyn destinations like JACK, Roulette and Issue Project Room, avant-garde jazz at Korzo, Shapeshifter Lab and Owl Music Parlor or scuzzy-assed metal at Saint Vitus, we're here to guide you on your way to the standout shows of the month. Open your ears and strap in as we welcome you to the first installment of the best avant-garde shows of the month.
Banda de los Muertos at Barbès, Saturday, May 7 at 10 p.m.
[youtube https://www.youtube.com/watch?v=NLXBd-M9jm0&w=420&h=315]
Barbès, the cozy pub nestled on 9th Street in Park Slope, has long been a haven for world music and "out"-jazz. But on the first Saturday of every month, partygoers cram into the backroom performance space to let loose to the raucous Mexican brass band music known as banda, courtesy of 10-piece party ensemble, Banda de los Muertos.
Masterminded by two avant-jazz locals, clarinetist Oscar Noriega and trombonist Jacob Garchik, and supported by a rotating collective comprised of a who's-who of the Brooklyn underground jazz scene, the self-anointed "NYC's best (and only) Mexican banda" and winner of the 2015 Mexican Music Award for original banda, rollick the heck out of banda, a traditional Mexican folk music and German polka hybrid that originated from the Sinaloa region in the late-1800s. Barbès also doubles as a record label and last year it released Banda de los Muertos's excellent debut.
Alternative Guitar Summit 2016: Beauty & Noise at National Sawdust, Monday, May 9, at 7 p.m.
[youtube https://www.youtube.com/watch?v=T9TGWIAXgU4&w=560&h=315]
Guitar lovers rejoice! The annual summit celebrating the glory of six-string shreddery featuring outliers from across the avant-garde spectrum has arrived to geek out over and this evening's program is something to behold.
Appropriately billed as "Beauty and Noise" and presented by D.C.-based guitar polymath and protean composer Joel Harrison who, like his fellow ax-wielding collaborator Nels Cline genre-hops with genius abandon, has assembled a lineup of both shapeshifting veterans and upstarts whose musicianship has molded the local lexicon and beyond.
On tap to fingerpick, strum, stab and jazz up the strings in all their unconventional glory is downtown stalwart Elliot Sharp, mind-bending sound manipulator David Torn, a scaled-down iteration of John Zorn protégés Dither, Harrison's D.C. brother in arms Anthony Pirog, avant-classical plucker Patrick Higgins of Zs and Ben Monder, the guitarist whose fingerprints are all over Blackstar, David Bowie's final record.
Thumbscrew (Mary Halvorson/Michael Formanek/Tomas Fujiwara) at Roulette on Thursday, May 12 at 8 p.m.
[youtube https://www.youtube.com/watch?v=NBaZzlUnbgQ&w=560&h=315]
As titans of Brooklyn's avant-jazz scene, guitarist Mary Halvorson and drummer Tomas Fujiwara have converged their wizardry in a hodgepodge of groups including, Reverse Blue, The Out Louds and The Hook Up. But it's in the proggy space-jazz fusion of Thumbscrew—a collaborative trio augmented by bass beast Michael Formanek—where the sonic ecstasy, intense conversational back and forth and gorgeously layered soundscapes and textures—prove a mind-bending revelation.
The first dose of Thumbscrew appeared in 2014 via their self-titled debut (courtesy of the Maryland-based Cuneiform label) and now Halvorson's clinic of pedal-hopping shred and dizzying loops and bends continues on its just-released sophomore effort, Convallaria.
Bang on a Can: Performance by Arto Lindsay at The Jewish Museum on Thursday, May 12 at 8 p.m.
[soundcloud url="https://api.soundcloud.com/tracks/262194683″ params="auto_play=false&hide_related=false&show_comments=true&show_user=true&show_reposts=false&visual=true" width="100%" height="450″ iframe="true" /]
Arto Lindsay, the legendary no wave, strings-scraping brutarian, art-pop musichead and Brazilian music virtuoso, was virtually M.I.A. in these parts, tucked away in his Rio abode before the Brooklyn indie/avant imprint Northern Spy issued Encyclopedia of Arto, a best of-styled collection of his solo recordings culled from his overlooked samba-influenced period from 1996 through 2004.
Since then, the profile of the former DNA noisemonger, Lounge Lizard and Ambitious Lovers bandleader has been on the up and up, as he's been wreaking free-improv havoc in local DIY spaces like Trans-Pecos and Palisades cranking out skronk with the Arto Lindsay Noise Quartet, a super-group of sorts featuring drummers Greg Fox (Liturgy) and Gregory Saunier (Deerhoof).
For this gig—presented by the performing arts organization Bang on a Can—Lindsay is making the jaunt uptown to The Jewish Museum where, fittingly, he has composed a companion piece to the current exhibition "Roberto Burle Marx: Brazilian Modernist." Instead of his trademark chord-defying guitar bloodshed, Lindsay will likely delve into the ambient drone fields and subtle picking of "Butterflies, Molasses," the music he composed that echoes throughout the gallery in conjunction with Burle Marx's landscape designs.
Glenn Branca's Symphonies at Masonic Hall on Monday, May 16 at 8 p.m.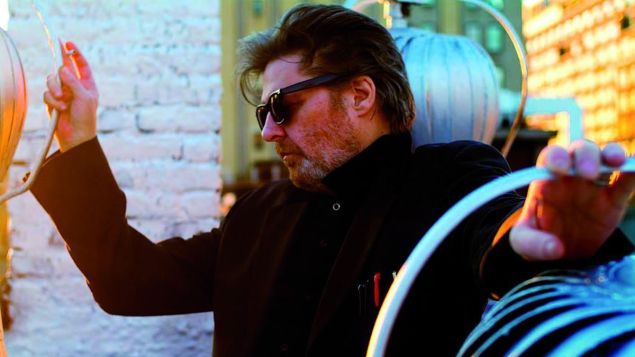 Like Lindsay, symphonist/composer Glenn Branca role as a crucial player in NYC's no wave scene is stuff of iconoclastic legend and his revolutionary detuned guitar assault paved the way for countless bands, most notably Sonic Youth.
Until 2010, Branca was off the proverbial map, toiling in relative obscurity when he made his comeback with The Ascension: The Sequel, the second installment to his 1981 masterpiece The Ascension, an orgasmic and beautiful wall of ear-splitting guitar orchestra noise that fused classical music, rock and no wave that helped spawn myriad musical movements. Branca's resurgence continued this past February at The Kitchen as his Ensemble recorded the third Ascension for future release.
Now, as part of the Red Bull Music Academy Festival, Branca's roll rages on as his seminal symphonies—Symphony Nos. 8 & 10 (The Mysteries) and Symphony No. 12 (Tonal Sexus)—will be recreated by a star-studded cast of underground heavyweights including, Reg Bloor (Glenn Branca Ensemble), Haley Fohr (Circuit des Yeux), Randy Randall (No Age), Mick Barr (Krallice), Hunter Hunt-Hendrix (Liturgy), Ben Greenberg (Hubble, Uniform), Justin Frye (PC Worship), Fabi Reyna (She Shreds Magazine), Arad Evans (Heroes of Toolik), Greg Fox (Guardian Alien, Zs) and music director John Myers.
Sunwatchers at Trans-Pecos on Wednesday, May 18 at 8 p.m.
[soundcloud url="https://api.soundcloud.com/tracks/235532698″ params="auto_play=false&hide_related=false&show_comments=true&show_user=true&show_reposts=false&visual=true" width="100%" height="450″ iframe="true" /]
From the stable of Castle Face Records—the brainchild of John Dwyer of Thee Oh Sees—comes punk-jazz rockcentrics Sunwatchers, a NYC-based free-improv-schooled revolving door of adventurous noiseniks who mine the same outer sonic regions as the alien Sun Ra.
Like its psychedelic freakazoid brethren in NYMPH, Sunwatchers are ostensibly not of this earth and its eponymous debut (released earlier this year) is a spiritual gem of raging yet melodic and groove-intensive fire music. Its seven saxophone-driven ecstatic firestorms recall the late, great avant-garde jazz icons Sonny Sharrock and Albert Ayler colliding with Funhouse-era Stooges.
Not only do Sunwatchers headline this stacked bill featuring Dan Friel (formerly of Parts & Labor), experimental duo Grasshopper and KATIEE (a/k/a Katie Eastburn of Young People) but they'll also be opening the six-night stint for Americana crooner Bill Callahan at Baby's All Right on June 26 to 28 with 6 p.m. and 9 p.m. shows each night.
The Body at Saint Vitus on Friday, May 27 at 8 p.m. with Uniform and Muslin
[youtube https://www.youtube.com/watch?v=p4SJrAPtki4&w=560&h=315]
Chip King and Lee Buford—the two bearded beasts who make up Portland, Oregon-via-Rhode Island duo The Body—have had a busy few years, to say the least. In no particular order, the proud, gun-toting doom metal deconstructionists sold their AK-47s to move to Portland, inked a deal with Chicago's Thrill Jockey Records and since 2013 have churned out a fruitful run of, count'em, six albums, including Christs, Redeemers; I Shall Die Here; You, Whom I Have Always Hated (with Thou); The Body & Krieg; One Day You Will Ache Like I Ache (a collaboration with Full of Hell); to its most recent full-length, No One Deserves Happiness.
As the title suggests, The Body don't stray too far from their M.O.—besides the angelic female vocals, shit remains bleak in their world of suicide adulation and cult obsession with the six feet under screams terrifying and the blackened sheets of noise and stadium-sized sludge riffs at hair-raising levels. Fittingly, The Body hit Greenpoint's metal headquarters Saint Vitus to spread its experi-metal warfare.
Rhys Chatham with Tim Dahl and Kevin Shea at (le) Poisson Rouge at 7 p.m. doors; 8 p.m. show, Mon., May 30 
[soundcloud url="https://api.soundcloud.com/tracks/248299517″ params="auto_play=false&hide_related=false&show_comments=true&show_user=true&show_reposts=false&visual=true" width="100%" height="450″ iframe="true" /]
With performances featuring Arto Lindsay and Glenn Branca counted as May concert highlights, the trifecta of no wave pioneers wouldn't be complete without an appearance from Rhys Chatham, the NYC-bred, Paris-based avant-garde guitar legend and minimalist scientist who learned the craft from icons like La Monte Young and Tony Conrad.
Akin to his rival in Branca, Chatham's penchant for guitar armies helped spearhead the dissonant soundworld Sonic Youth made famous, as well as inspiring the epic drone of art-metalists, Sunn O))). After two recent albums for Northern Spy Records, Chatham is celebrating the release of Pythagorean Dream (due 6/3 via the London-based Foom label) and this time he's going it alone.
Chatham composed, performed, produced, engineered and mastered the sublimely gnarled guitarscapes found on Pythagorean Dream, a recording comprised of three marathon complexities he's calling back to basics with a focus on the electric guitar with flute and trumpet thrown in. While his newest long player borders on controlled chaos, the record release show here at (le) poisson rouge may descend into a free for all as firebrand rhythm section Tim Dahl (Child Abuse, Lydia Lunch Retrovirus) and Kevin Shea (Talibam!, Mostly Other People Do The Killing) join Chatham for what could be an evening of mayhem.
Honorable mentions:
Jenny Scheinman's Mischief & Mayhem featuring Nels Cline, Jim Black and Todd Sickafoose at (le) Poisson Rouge on Thursday, May 12.
Dylan Carlson (Earth) with Guardian Alien and Kevin Hufnagel at Saint Vitus on Sunday, May 15.
Person Place Thing: Don Fleming (Velvet Monkeys, B.A.L.L., Gumball) and Lee Ranaldo (Sonic Youth) at LMHQ (150 Broadway 20th Floor) on Monday, May 16.
Heron Oblivion at Monty Hall (presented by WFMU/Brian Turner's Show) on Thursday, May 26 and Union Pool on Saturday, May 28.  
Silk Purse (ex-Sightings), Barker Trio and Signal Break at Union Pool on Tuesday, May 31.