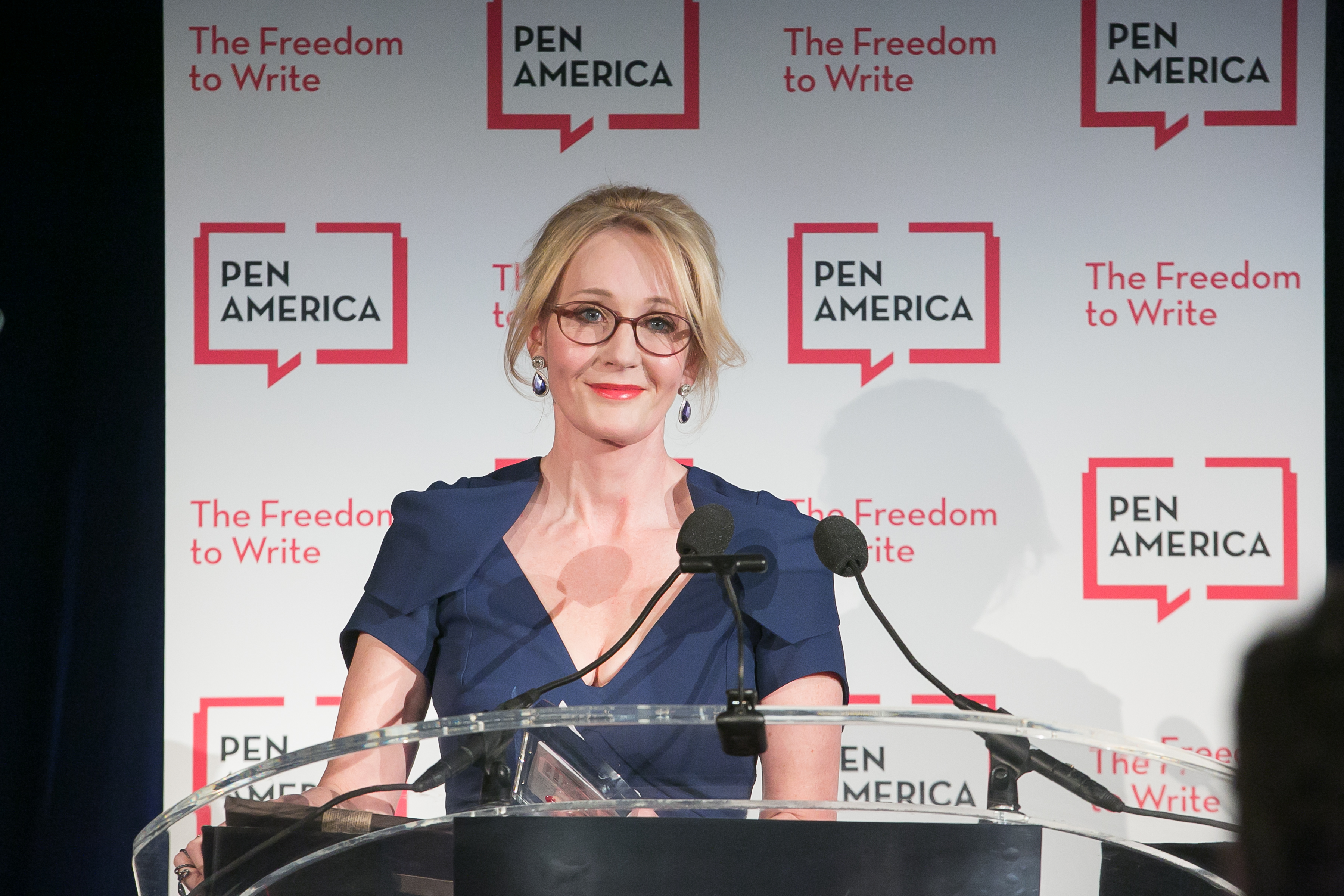 In all of recorded history, a writer receiving an award has never been richer than the collective net worth of 99 percent of her audience. But here was JK Rowling, the most successful writer on the planet, with 400 million "Harry Potter" books sold, a brace of movies, a trio of theme parks—add them up, and Ms. Rowling nets out on the north side of $1 billion. James Patterson, with 400 million books sold and $300 million banked, is a rounding error on that level of success.
Ms. Rowling is the George Clooney of charity attractions. Affluent New York parents with bookish kids snapped up tickets for the PEN Gala, kitted out their sons—I saw no girls—in scratchy new suits, and filled every seat in the American Museum of Natural History's equivalent of the Temple of Dendur party room at the Met. When the cash register stopped, PEN had $1.75 million, up from $1.4 million last year.
The meat of the evening was what Ms. Rowling and the other honorees said and what PEN does to publish new voices and sponsor festivals of international writing and champion poetry and call attention to imprisoned writers—of the 40 jailed writers who have received PEN awards, 35 were subsequently released—but the money story of this Gala matters almost as much. The last year was flat for the Dow, a swan dive into red ink for most hedge funds. And 2015 was no banner year for books. Ebooks stalled, novels with advances rich as Wall Street bonuses failed to earn out, overall sales fell 2.6 percent—the bright spots were downloadable audio books, coloring books for adults, a novel Harper Lee never intended to publish, and a retelling of "Fifty Shades of Grey" that would be called plagiarism if the original author hadn't "written" it. And here was PEN, up 25 percent in a year. If the Gala were a stock, a prudent investor would have bought it as soon as Ms. Rowling's award was announced.
'I consider him offensive and bigoted. But he has my full support to come to my country and be offensive and bigoted there.'
The PEN Gala is an unusual event. Viewed as a social evening—an after hours, dressed up gathering of a perennially endangered tribe—it's an annual pleasure for me to see people who have spent their lives among books looking better for the experience. But PEN's mission couldn't be more serious, and in a year when it's easy to be distracted, it's vital—even in black tie—to be reminded that courage and commitment are more than memes for stump speeches.
Lee-Anne Walters lives in Flint, Michigan. When one of her four children was diagnosed with lead poisoning, she called for the city's water to be tested, did some detective work, and enlisted allies. Dr. Mona Hanna-Attisha, an assistant professor and clinician, did a study that confirmed Ms. Walters' suspicions, making her exceedingly unpopular with the Michigan Department of Environmental Quality. Presented with the PEN/Toni and James C. Goodale Freedom of Expression Courage Award, Ms. Hanna-Attisha, the daughter of Iraqi refugees, spoke of her family burying their books to deflect suspicion of democratic tendencies. "I'm just a mom, doing what moms do," Ms. Walters said, and I can't have been the only parent there who got teary.
Then it was Ms. Rowling's moment. When I met her, 15 years ago, she seemed charmingly uneasy in her celebrity. Now she's blonde and buffed and looking very much like she could, if she wanted, buy the Queen's jewels. And there's nothing uneasy about her. She supports medical research, funds a charity to end the institutionalization of children and a charitable trust that focuses on alleviating social exclusion of women and children, and she speaks out, early and often, for basic human rights. It's that work—almost a second career—that made her a smart choice for the PEN/Allen Foundation Literary Service Award. [Disclosure: I was married for more than a decade to Annette Tapert Allen. Through a PEN  program, I taught a weekly high school writing class.]
Ms. Rowling noted the freedoms she enjoys as a citizen "of a liberal nation where freedom of expression is a fundamental right." She shared her fear that complacency may cost us those freedoms. And then she spoke of "intolerance of alternative viewpoints" that is, she said, "spreading to places that make me, a moderate and a liberal, most uncomfortable."
Like, for example, the online petition, endorsed by half a million Brits, to ban Donald Trump from entry to the U.K.
There was some applause. Ms. Rowling raised a hand. "Just a moment," she said, and the room quieted.
"I find almost everything that Mr. Trump says objectionable," she said. "I consider him offensive and bigoted. But he has my full support to come to my country and be offensive and bigoted there. His freedom to speak protects my freedom to call him a bigot. His freedom guarantees mine. Unless we take that absolute position without caveats or apologies, we have set foot upon a road with only one destination. If my offended feelings can justify a travel ban on Donald Trump, I have no moral ground on which to argue that those offended by feminism or the fight for transgender rights or universal suffrage should not oppress campaigners for those causes. If you seek the removal of freedoms from an opponent simply on the grounds that they have offended you, you have crossed the line to stand alongside tyrants who imprison, torture and kill on exactly the same justification."
A standing ovation? Of course, and it went on. And I can't have been the only one who wished a clip of that part of Ms. Rowling's remarks was trending today.
Disclosure: Donald Trump is the father-in-law of Jared Kushner, the publisher of Observer Media.