When's the last time you ordered a pair of shoes online, disregarded the fact that they pinched your toes, left you with blisters and regretted ever wearing them out of the house? If you're anything like this fashion writer, that happens at least once every two months, if not more.
I'll admit it: I love shoes and I definitely have an addiction to buying them. Wool sneakers, gladiator sandals, platform combat boots, thigh-high boots, you name it, I've bought it. But the one thing that's always been tricky is finding shoes that don't only fit, but fit comfortably.
Luckily, a slew of shoe designers are offering a slew of options that allow customers to buy shoes that will work with their foot type, not against it.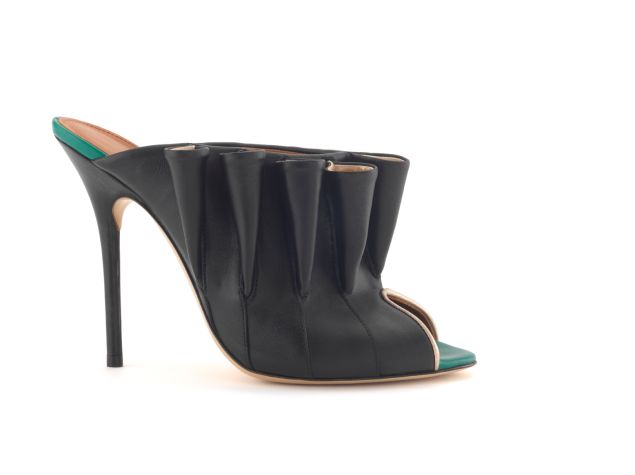 Inspired by traditional cobbling techniques found in the U.K., Malone Souliers has made a name for themselves in regards to custom stilettos that stun. While the brand's offering of made-to-measure shoes are crafted in Italy, the brand's co-founders Mary Alice Malone and Roy Luwolt welcome customers into their London showroom to design the shoes of their dreams (they will also book Skype sessions for customers that can't hop the pond). Similar to the process of creating couture garb, the designers will create a sketch of the design, then a mockup is created and the customer comes in for a fitting. Once the alterations are noted and changes are discussed, the finished shoe is delivered to the customer in one to two week's time.
"If you're going to buy $700 shoes, who wouldn't want to have that pair in hot pink, that no one's ever made before?" Ms. Malone smartly remarked.
However, Malone Souliers' custom shoes aren't crafted only for the stiletto obsessed shopper or A-list celebs. "Needs for custom shoes have included some unfortunate situations, whereby a lady had an accident and she can't wear the shoes you might find on a shelf," explained Mr. Luwolt. He added that their higher heels are often adapted into less towering iterations, allowing many of their older customers to have even more options, while still being stylish.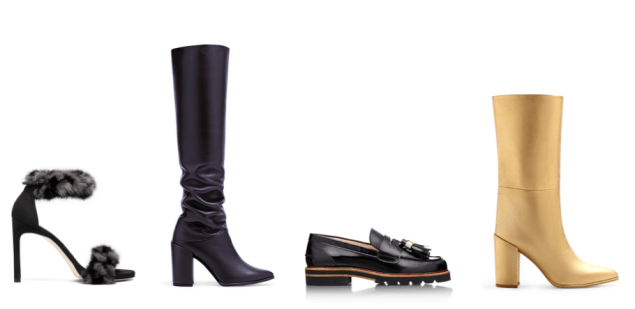 While they don't offer custom designs, per se, Stuart Weitzman is dedicated to helping customers find their correct shoe size. Not only does the brand offer a variety of their kicks from size 5 to 12, they also offer three widths: super slim, narrow, medium and wide. When you add it up, the brand actually offers 66 different shoe sizes. Further, Stuart Weitzman hosts in-store trunk shows for customers to try on shoes a season before they hit the floor. This allows customers to figure out which styles they like, which sandals or boots will work with upcoming events and figure out if their selection needs to be ordered in a special width.
The brand has a few upcoming shows in New York, where customers can play dress up, quiz the well-informed sales people about sizing, and order shoes for the Fall/Winter 2016 season. The first trunk show will take place at Stuart Weitzman on the Upper West Side on May 6, with Madison Avenue, Fifth Avenue, Columbus Circle, Broadway and Soho to follow. Head to the brand's website to see all the dates and RSVP for your trunk show experience.
On the other hand, the New York-based label Margaux offers only flat shoes. Focusing on the ballerina flat, founders Alexa Buckley and Sarah Pierson do sell off the rack shoes in standard sizes, but their customers also have two ways to get customized kicks: digitally or in-person.
For a $15 fee, Margaux fit specialists will do at-home or in-office fittings within the confines of Manhattan, but they also offer fitting appointments at their studio on West 20th Street. At a fitting, they slide customer's feet into a Brannock Device, that old school measuring contraption that was once a staple in shoe stores, to determine exact sizes. A measuring tape is then used to accurately figure out the width of the foot and heel. For those who can't make it to New York, the brand will send out a complimentary fitting kit, along with detailed instructions on how to measure your feet. Within two weeks of sending back your measurements, the custom shoes will arrive on your doorstep.
Margaux's Classic style, available in 14 hues, is made in Spain from the finest Italian suede, while the Limited comes in five colors of soft haircalf. The brand has even introduced a runway-approved style, by collaborating with Tome on a pair of ankle-wrap flats with a almond-shaped toe, in a not-so-subtle nod to the ballet slipper.
"Flats are actually one of the most difficult shoes to fit because it's kind of deceptively simple in design, and you have to capture it perfectly for somebody's foot, which is why we came up with this solution," said Ms. Buckley. The entrepreneurial duo promise that their flats will not gap around the foot or stretch out like other styles on the market. To further execute their promise of comfort, Margaux designs include a thin layer of foam padding in the insole, plus an interior tan leather lining that is actually breathable. All packaged in a chic, classic exterior, comfort has never been so pretty.