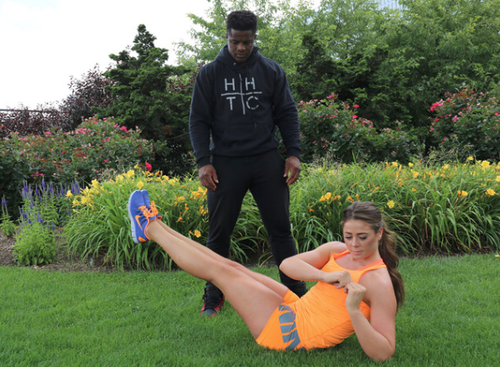 If you've been struggling with getting your gentleman caller to accompany you to a boutique class, or you yourself have been searching for something particularly masculine, the Meatpacking District is bring you the summer Sweat Sessions. The program includes classes from Rebecca Kennedy ACCESS, Exhale and appearances from exclusive instructors…and they're all free.
On Tuesday May 31, "Hollywood" Hino will be making an appearance at the Sweat Sessions, and the men of Manhattan are invited to join him. The professional boxer and personal trainer to the stars will teach the fundamentals of boxing training and conditioning with a program focusing on high intensity training. He's worked with Kelly Rowland, Alicia Keys and Ansel Elgort, so you never know who you'll see in Meatpacking. His "Hollywood Hino Training Camp" is supposed to build strength, stamina and endurance, so you'll definitely want the men in your life to enroll. There will be a grand total of 36 classes offered throughout the summer, so if you're not into boxing, prepare for boot camp or barre.
The Sweat Sessions will be offered outdoors all summer, with three classes every Tuesday night until it's August; at that point, even the manliest man will be unable to handle working out in the unbearable heat. The classes are offered at the Hudson River Park's 14 Street Park, so prepare to Instagram your sunset fitness routine accordingly.