Erin Hirsh is the mastermind behind The Voice contestants. They show up, fresh off the bus from the Midwest, and by the time they're ready for the battle rounds they look like actual artists. Throughout the show, their styles evolve, and by the end you can see the kind of artists they hope to become. The looks are due to Ms. Hirsh who got her start doing costume design for major artists, from edgy rapper Eve to the always chic Janelle Monae.
Ms. Hirsh famously worked with Kanye West and NASA engineers to create his famous light up jacket for his Grammy performance of "Stronger," which now lives at the Grammy Museum. She also dressed Rihanna in her infamous cage outfits and bullet bras for her "Last Girl On Earth" world tour.
Ms. Hirsh planned on becoming a professional dancer, but fell into styling after costuming her dances. She became Eve's stylist, and went on to work on her first commercial, music video, Grammy performance, tour and television show. Now, she works on The Voice, dressing contestants in purposefully accessible styles from brands including Zara, Alice + Olivia and Sandro, instead of light-up jackets or cage bras. The Observer talked to Ms. Hirsh about working with Kanye, Rihanna and brand new contestants on The Voice.
Who were some of your favorite artists to work with? Kanye always pushed the envelope and challenged me creatively. My favorite design for him was the first LED piece I ever made. The process of research and development that went into it blew my mind and inspired us to create many more pieces in the realm  fashion/technology. My favorite Rihanna design is hard to say! I would probably choose the asymmetrical cage bodysuit and glasses I made for her Last Girl On Earth Tour or the bra I made out of bullets and plastic for her "Hard" video. Gnarls Barkley was one of the best experiences I've ever had in my career. Danger Mouse and CeeLo would let me concept and create whatever I wanted–it was a designer's dream.
What's the process of dressing an artist for The Voice? The process of dressing the artists evolves throughout the season, depending on what part of the show we're shooting. In the beginning of the season we see about 110 people before the blind auditions. We ask them to come to wardrobe prepared to show us four to five looks. From there, we take a look at what they brought and will supplement with our stock if need be, but we try to keep them true to where they're at stylistically.
What's the next step? Once the 48 contestants make it onto the show we email them an example style sheet and ask them to send us a visual representation of their aesthetic influences. That gives us a better sense of who they are and how to shop them for the Battle and Knockout rounds. Once we receive their style sheets my supervisor and I sit down and pair the contestants with the shopper we feel would be a good fit for them.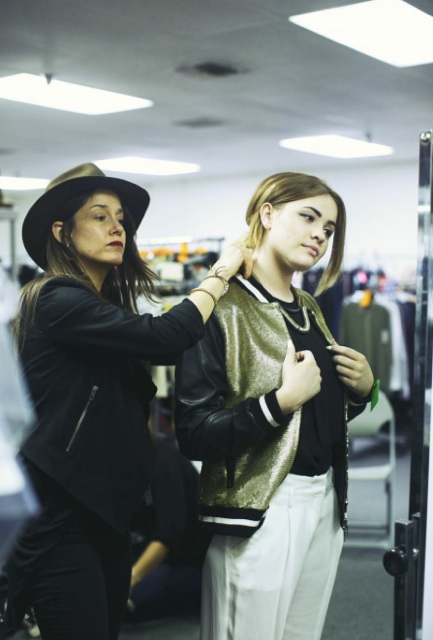 How do you handle the live rounds, once it's only a few artists? By the time we get to the live shows we have a much better sense of what each of the remaining artists will and will not wear. My job is to define a clear lane for each of them and start to brand them as potential recording artists. At this point in the show, song choice is what drives all creative, from staging to wardrobe. We get our creative briefs on Wednesday, shop Thursday, fit Friday and have dress rehearsals over the weekend. We repeat this process for about seven weeks until the season wraps.
What artists have you worked with after their stint on The Voice is over? I worked with Vicci Martinez from season one when she was signed by Universal Republic and I currently work with Jordan Smith, the season nine winner, on all of his appearances.
For Blake Shelton, The Voice coach you style, what kind of looks do you choose? Blake's very straight forward in his approach to dressing, he likes to keep it simple! He wears custom Wrangler jeans and a button-up. To dress him up we throw on a vest and tie or a suit jacket.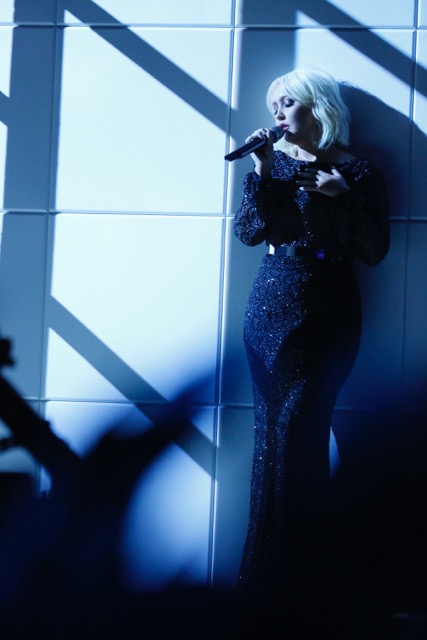 Who were some of your favorite past contestants to dress? Oh my goodness… there have been so many contestants I've enjoyed working with over the years! The few that come to mind are Vicci Martinez, Juliet Simms, Jamar Rogers, Trevin Hunte, Kimberly Nichole, Nick Hagelin and Alisan Porter. They were all willing to take fashion risks and my relationship with them felt like a true collaboration.
Who has the biggest style evolution been from?In my opinion, the best style evolution has been by Jordan Smith. Sadly, there aren't many high-end designers that cater to big and tall men, or women. I wasn't paired with Jordan until the live rounds and frankly felt like we weren't doing him justice. My goal was to transform him from what looked like it was from a generic big and tall store to a more sophisticated fashionable style.