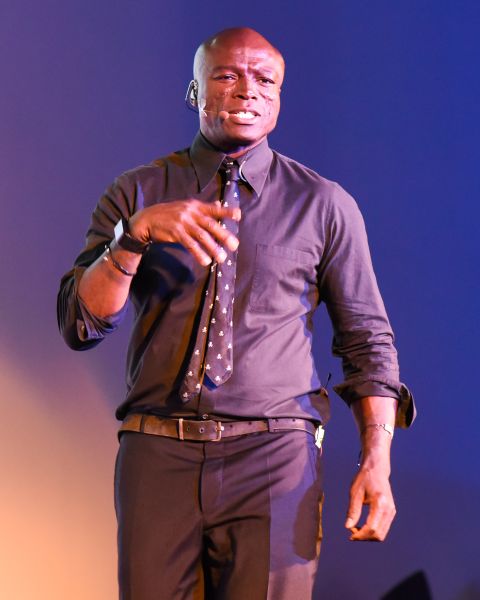 The elevator opened onto the Whitney Museum's gargantuan fifth floor, revealing a breathtaking row of tuxedoed waiters armed with trays of tequila shots and lime wedges.
This is a museum that is not messing around.
Their 2016 gala dinner was awe-inspiring from the get-go and never let up. Beyond the tequila, other drinks were passed around in copious amounts during the pre-dinner cocktail hour, as well as tray after tray of artisanal hors d'oeuvres.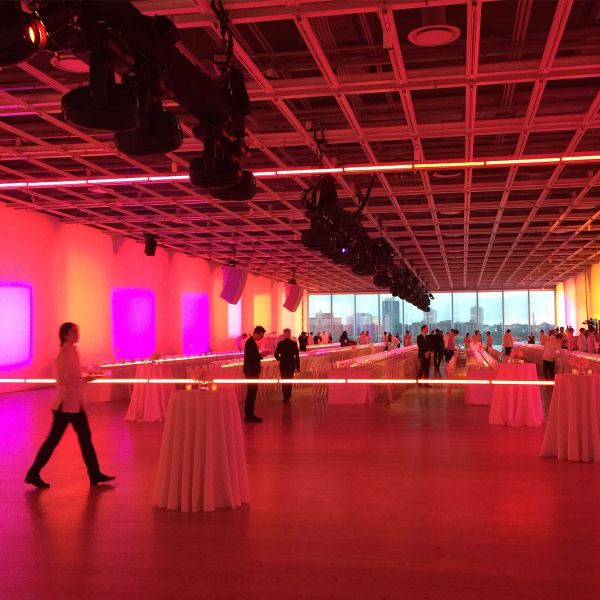 Art-world luminaries and those who fund them began to pour into the dramatic neon-tinged and spotlit gallery, from a jovial looking Julian Schnabel (accompanied by his stunning wife May Andersen) to a dapper Raymond Learsy, the widower and collecting partner in crime of the late and beloved Melva Bucksbaum (the two rabid art collectors met and fell in love as Whitney trustees).
Speaking of collectors, it was nice running into the handsome collecting couple Serge Krawiecki and Ian Gazes near the bar. After marveling at the Whitney's somehow columnless fifth floor for a while, we talked about what good art was around right now. "We loved the José Lerma and Denise Kupferschmidt shows that just opened in the Hamptons [at Halsey McKay Gallery]," said Mr. Gazes, who owns a home there. We also discussed the couple's plans for hosting summer shows in their Hamptons barn curated by downtown art dealer Johannes Vogt.
At a certain point in the evening, seemingly every major player in the art world was in the room. The legendary art dealer Paula Cooper strolled by alone, radiating the power and elegance of a Targaryen queen, while a fit looking Jerry Saltz buzzed about all evening and stuck to drinking seltzer (in retrospect, a smart move).
At dinner the Observer spoke with the Whitney's Chief Curator Donna De Salvo about the excruciating details that went into "building a museum from scratch in Manhattan," which, when you say it like that, sounds more difficult than the seven labors of Hercules. We casually discussed her upcoming exhibitions: a traveling retrospective of brilliant Brazilian artist Hélio Oiticica and another retrospective of Andy Warhol, which will fill the gallery we were dining in. Our other other table mate happened to be none of other than the extraordinarily talented yet unassuming photographer Cindy Sherman. The groundbreaking artist has just opened a show of new and universally lauded works at Metro Pictures in Chelsea. 
Whitney Director Adam Weinberg lauded many attendees for their part in making the New Whitney's first year so successful, which saw 1 million visitors enter the museum during that period ("1.3," whispered Ms. De Salvo, "but who's counting.") After various factions of the crowd stood up to be recognized at Mr. Weinberg's insistence, we were treated to a short Ron Howard-esque "making of the Whitney" film, which kicked off the tribute portion of the evening, specifically to the Committee Chair of the Whitney Trustees, Robert Hurst. After a few words from a modest Mr. Hurst, singing sensation and one-named wonder Seal took the stage.
Though I wasn't familiar with his oeuvre, it was clear that what we had here was an electric and magnetic entertainer. Of particular note: Seal was playing his guitar (very well, I should add) both upside-down and left-handed, something I heard more than one classic rock-loving hedgefunder in attendance marvel at.
Afterwards, we joined the studio party downstairs, which was a raucous, sexy affair that ran into the early morning. This event wasn't lacking in beverages either, although it didn't have quite have aura of the upstairs dinner with it's cast of art world game-changers (my new buddy Cindy, for instance, did not attend.)
Parsing a sea of short, shiny cocktail dresses, I eventually honed in on artist, art dealer and sweater aficionado Ben Morgan Cleveland, who was excited about a Liz Craft show he would be opening at his Brooklyn gallery Real Fine Arts. He was chatting with the gallery's co-owner, artist Tyler Dobson and Mr. Cleveland's dealer, Frances Perkins, of the downtown gallery Eli Ping Frances Perkins. Together, they held down a "cool kids" table of sorts, with Whitney associate curator and 2017 Biennial co-curator Christopher Lew also nestled in there for good measure. "Liz and Maggie [Lee] are both in the show upstairs," said Mr. Cleveland, referring to the show "Mirror Cells" that just opened and was organized by Mr. Lew and another Whitney associate curator, Jane Panetta.
We can see why this fundraising event—which took in nearly $5 million—went so well, like most other recent Whitney events: art world-types from every walk of life are comfortable at this museum, be they recent art school grads or billionaire collectors. Year two on Gansevoort Street should offer more of the same.