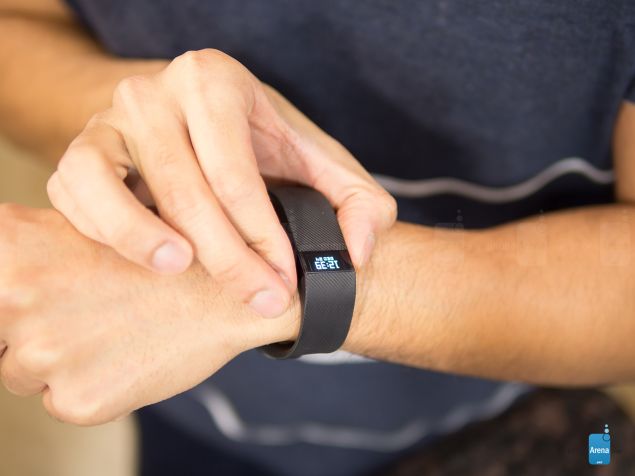 App developer Marc Deveaux has been working with computers since he was 12—the stocky, red-faced French-British hybrid grew up in Saudi Arabia and Morocco (his father was a mining engineer in Africa) before relocating to London, and then New York in 2000. For most of his career he worked with banking software.
That is, until he lost his Fitbit. When one of his wearables was recalled, he used the $100 refund check to buy a new Fitbit, which he misplaced within a week.
"I spent the day tearing the house apart, and then thought 'Maybe there's a better way,'" Mr. Deveaux, wearing a polo shirt and khakis, told the Observer during an interview in lower Manhattan.
Fitbit wearable fitness trackers have become a regular accessory for exercise enthusiasts—sales of the devices have doubled since 2014. But the Fitbit's small size also increases the likelihood that it could be lost or stolen—as such, several "Fitbit finder" apps have been developed in recent years.
The result is Bit-Finder Geo, a free app that uses Bluetooth geo-tracking to scan for lost Fitbits. It also changes signal strength depending on your distance from the device—as you move closer to the Fitbit, a needle on the app moves from blue to yellow to red to show that you're getting "hotter," similar to a Geiger counter.
Mr. Deveaux developed the signal strength tracker, which has a range of 100 feet, because when he lost his own Fitbit he couldn't zero in on its location. Bit-Finder Geo can also sync with the phone's map function so users can monitor the device from a longer distance.
"If you leave it at the gym you can see it's at the gym," Mr. Deveaux explained.
Since Mr. Deveaux uploaded it onto Google Play in March 2015, Bit-Finder Geo has been downloaded over 50,000 times—it peaked in popularity on Christmas Day, when there were triple the amount of daily downloads.
Reviews of the app have been decidedly mixed, because those who were able to find their Fitbits gave it five stars and those who could not only gave it one.
"I haven't seen many apps that have that profile of love or hate," Mr. Deveaux said.
Mr. Deveaux is an Android user, and he does not plan to make an iPhone version of Bit-Finder Geo because there is already a good Fitbit finder available for iPhone (though it does cost $4.99).
"It's not something that needs to be on every platform," he said.
In the future, Mr. Deveaux wants to develop a generalized Bluetooth finder (compatible with Android and iPhone) that could be used to locate objects like watches or glasses. He will also continue to update Bit-Finder Geo, though he realizes that it won't end up being his golden ticket.
"It's a great little app, but that doesn't mean it's gonna make me a fortune," Mr. Deveaux said.