Eight weeks ago, an Instagram account called "Llama With No Drama" posted a black and white photograph of a llama in a taxi cab. From there, the photos just continued, starring a small, stuffed llama traveling the world. While it is adorable, this llama is also living it's best life, jetting from Orlando to New York and back again. This llama lives the life of an Instagram-famous blogger, only it's far chicer. Observer talked to the woman behind the llama, Eylül Savaş. The freelance brand consultant is originally from Istanbul, Turkey. The digital marketer splits her time between Los Angeles and Palm Beach.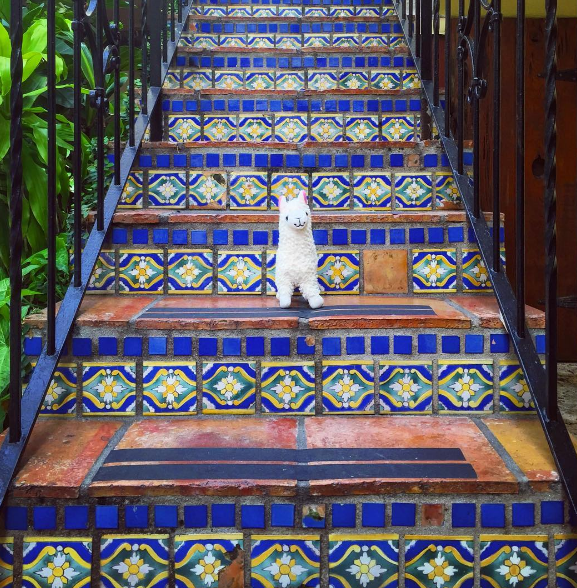 Ms. Savas found her Instagram star on a llama farm and started posting photos the next day. "The account is pretty new, it's been only over a month since I launched, but people love it," Ms. Savas said. Her most popular photos featured the llama watching the sunset in West Palm Beach and soaking up the lights in Times Square. "People love seeing that cute, happy face and a beautiful, or interesting, view. This shows how much positivity we are in need of and how easy it is to make someone happy."
The llama has been spotted everywhere from the Wynwood Walls in Miami to the uber trendy Momofuku Milk Bar, a staple of any trendsetter's food photos. Ms. Savas enjoys being near the ocean, and her personal favorite travel spots, with or without the llama, are Maui and Tuscany. She's looking forward to bringing her new pet to both locales.
While the account is, without a doubt, "cute," it has another focus. "Besides making people happy, I want to encourage them to get out of their comfort zones, travel and explore," Ms. Savas said. "Some people have already started saying, 'Even this llama is traveling, why not me?'" With a schedule spent visiting Park Avenue and Worth Avenue, it might tempt you to book a summer vacation.