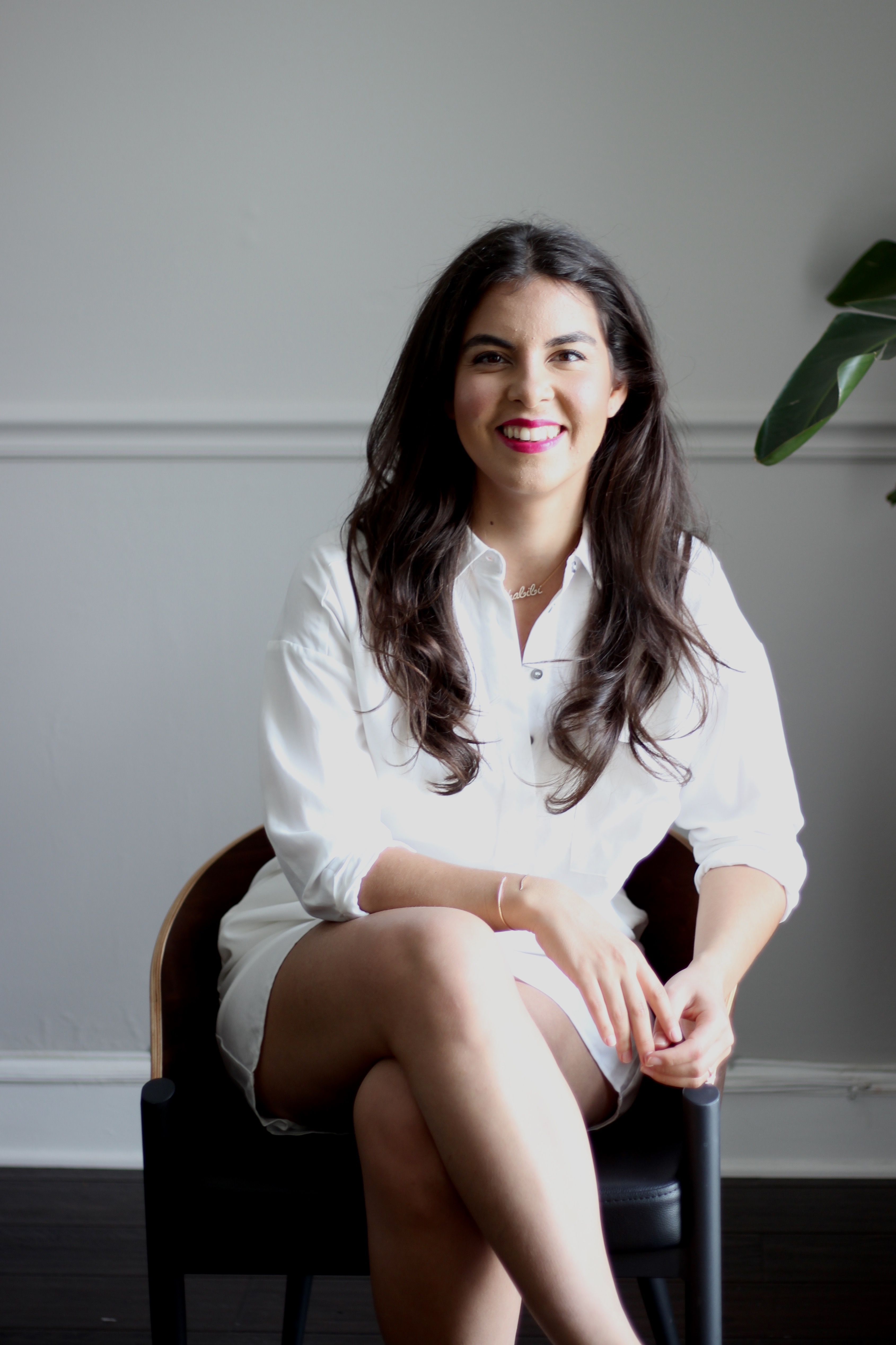 "When I was standing at the threshold of graduation as the oldest kid, I realized, 'I don't know how this works anymore,'" Caroline Ghosn, founder of Levo, a website meant to be a hip, young LinkedIn for motivated millennials, told the Observer. After Ms. Ghosn graduated from Stanford, where she and her three siblings went, she was at somewhat of a loss. "I've always known I've wanted to build companies that have a social impact," Ms. Ghosn announced over iced coffee and hard boiled eggs. 
Like many other millennials, she was faced with a murky fate, especially since she was the first woman in her family to graduate from college. "It's a really overwhelming and terrifying feeling, unless you have a mentor, which less than seven percent of people do. Having a mentor is such an antidote to that feeling, but there's such a scarcity of mentors. When you look with a gender lens, you see there are a lot of women in our generations who are first timers. It makes some of those unwritten rules more challenging to understand," Ms. Ghosn lectured enthusiastically. 
To combat the lack of mentors, especially for young women, Ms. Ghosn created Levo. While running a startup has its own unique challenges, Ms. Ghosn believes "what matters as an entrepreneur is just showing up the next day," adding, "don't let the good days get to your head and don't let the bad days get to your heart." 
On Levo, members build profiles, then the site recommends events, people to meet, content to read and courses to take. Ideally, members will share their profiles in email signatures and social media profiles. It's more of a storytelling platform than LinkedIn, with space for images and videos, but less personal than sharing a Twitter handle with professionals who might not be interested in your feelings on The Bachelorette. 
"There's this component that's really unique that almost amplifies some of the opportunity to create resources," Ms. Ghosn said about the current landscape, which explains many of the recent female led startups, from AUrate to ADAY. It also explains the philanthropic component associated with many so-called millennial brands. "The fact that we feel safe and are educated, I don't take that for granted," Ms. Ghosn told us.
Ms. Ghosn works with an ambassador program called "Local Levo," with chapters in seven countries. The Local Levo events include "network outs" to make networking a little less awful. "We realize it's extremely intimidating and boring to go to a networking event and wear a name tag and just stand around awkwardly, so we partnered with Equinox, SoulCycle and now Barry's Boot Camp to basically create these free opportunities for our community to come together and work out," she said.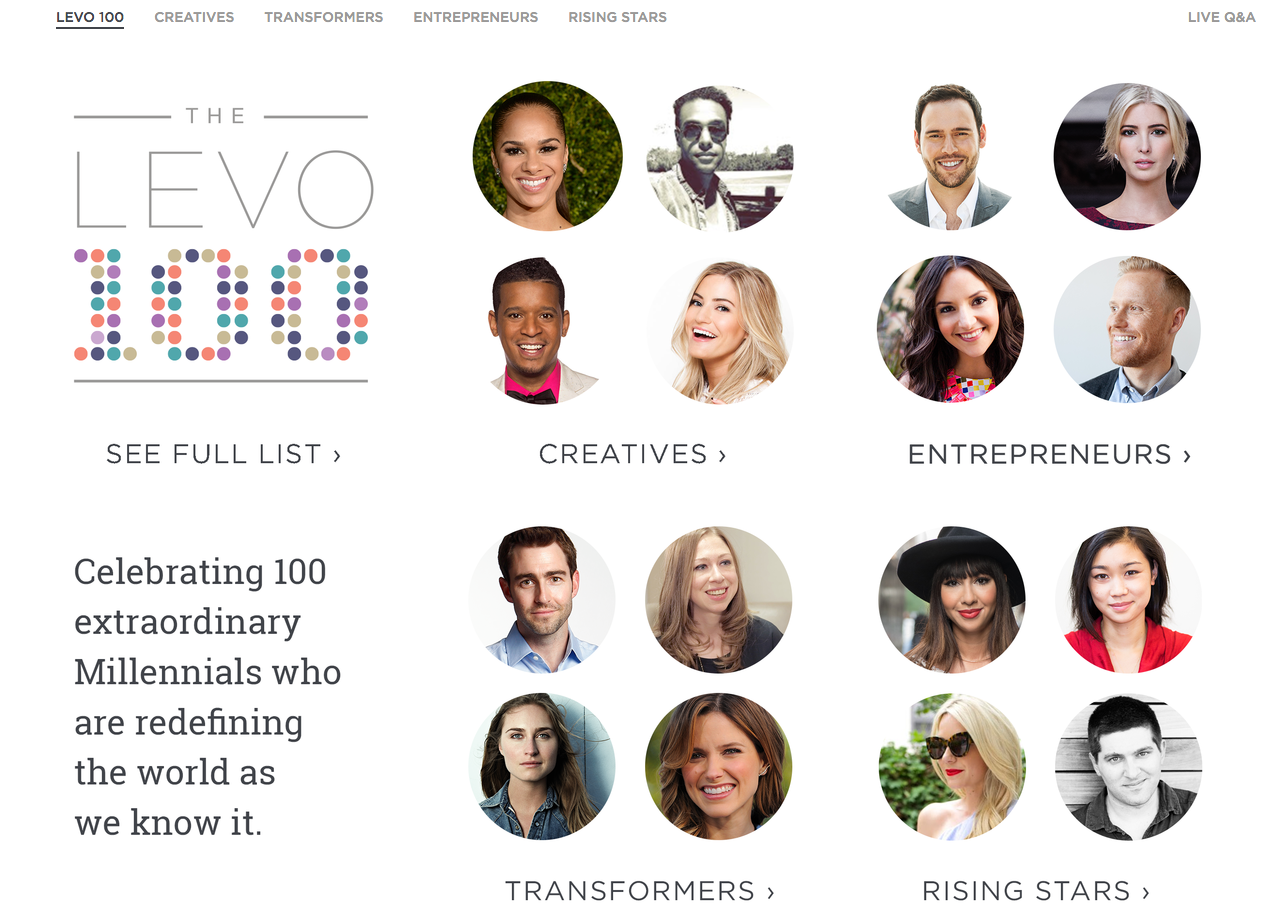 A recent campaign, the Levo 100, highlighted some of the site's most high-profile members. "It was everyone from Sophia Bush, who's obviously well known as an actress and activist, all the way to Kendra Kuhl, who's a scientist who's building a company that can convert carbon dioxide emissions into transportation fuels, which if she's successful will change the environment for the better."
Levo has the largest community of millennials, and the opinionated Ms. Ghosn has a lot of feelings about them. With the data they've gathered from the site's regulars, she's hoping to "counter the cultural rhetoric around millennials being entitled" and is "trying to break down that myth around entitlement." She calls recent reports on millennial's bad behaviors "ridiculous."
"I'm nicknaming millennials the purpose generation, because we're making so many decisions," she said, comparing the internet to sugar. Millennials are binging on something that might be bad for them; instead, she wants them to binge on Levo, a website with a real purpose.