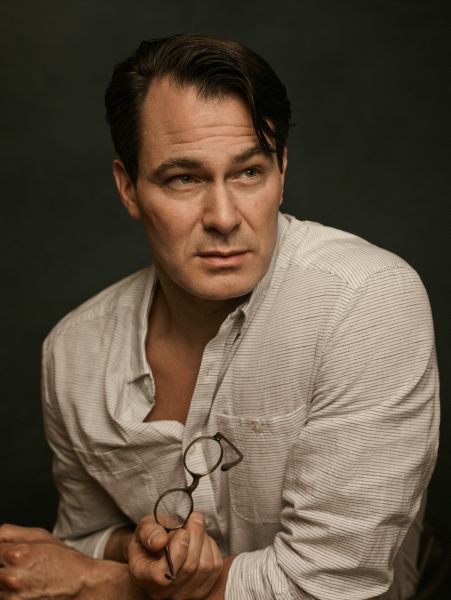 Matt Bogart still can't understand James Joyce.
"I've read a lot of his work over the years and I'm a fan, but his lexicon is almost as large as Shakespeare's," Mr. Bogart told the Observer.
This may seem like a problem, since Mr. Bogart is playing Joyce in the new musical Himself and Nora, which begins performances May 14 at the Minetta Lane Theatre Off Broadway. But he said it was actually freeing for him.
"We're hitting some historical points and moving through his life in an impressionistic way," Mr. Bogart said. "That works better."
The show, with book, music and lyrics by Jonathan Brielle, chronicles the four decade long romance between Joyce, author of classic novels like Ulysses and Dubliners, and a chambermaid named Nora Barnacle. Other literary characters include poet Ezra Pound and Sylvia Beach, owner of the famed Shakespeare and Company bookstore.
Mr. Bogart has been involved with Himself and Nora for over a decade—the musical premiered at San Diego's Old Globe Theatre in 2005, and there have been several regional productions in the ensuing years. He said his portrayal of the avant-garde novelist has evolved over time.
"A lot of people have their own ideas about how Joyce influenced his time period," Mr. Bogart said. (Indeed, while this may be the first musical about Joyce, he influenced many other writers, from Gabriel García Márquez to Phillip K. Dick.)
The show's score mixes Celtic and pop music, and that mash-up influenced the whole production, according to Mr. Bogart.
"It gives us permission to not be entirely on point historically," he said. "Things are hinted at and kept streamlined, so the story has a push. We get to tell the story outside of those boundaries, with orchestrations, set and costumes." (The costume was especially crucial, since Mr. Bogart is onstage for the show's entire two hour running time and doesn't change clothes.)
Until now, Mr. Bogart has been best known for his portrayals of American pop stars—he played Four Seasons bassist Nick Massi in Broadway's Jersey Boys, and recently appeared as singer Robert Goulet on HBO's Vinyl. In light of this, the traditional score and European influence of Himself and Nora may seem like a departure for him. But he concluded that his varied career, even the jukebox musical moments, had prepared him for this role.
"I enjoy flipping back and forth between legitimate musical theatre and pop stylings," Mr. Bogart said.