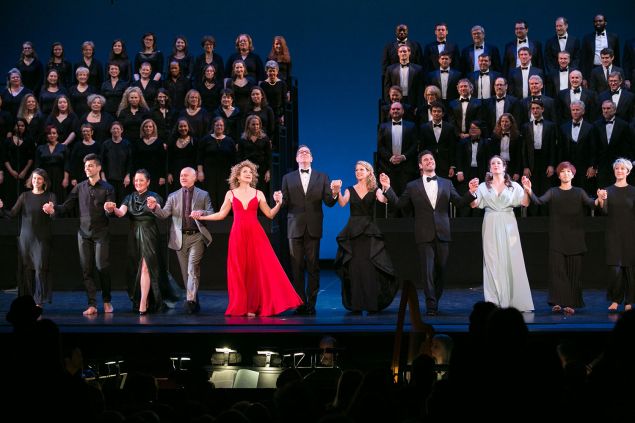 As a long and challenging music season winds down, it's usually a pleasure to encounter a "small bite" presentation—a program running 90 minutes or less. Usually, but not always: of two examples of light fare offered last weekend, one genuinely amused the bouche, but the other you wanted to spit out in your napkin.
The taste treat was an old favorite with a twist: Purcell's evergreen 1689 mini-opera Dido and Aeneas performed by a brace of Broadway divas, supported by Ted Sperling's MasterVoices chorus. The climax of this miniature jewel is the heroine's "Lament," in which, dying, she bids her followers to "Remember me, but ah! / Forget my fate." That command was simplicity itself to obey in Friday night's performance, since Kelli O'Hara sang this aria, as she did the entire role, with exquisitely musical dignity.
Ms. O'Hara's small soprano was always true, the tone floating on the breath and the text vivid and expressive. She has the gift, rare among Broadway performers and not exactly common at the opera, of utter sincerity on stage. The celebrated "Lament" she took at a moderate, reflective tempo, not so much as the first outcry of one betrayed, but rather a rueful recollection of a broken heart. She is a precious artist, and whatever her future projects in the operatic and classical field might be, I want to be there to hear them.
Wielding an even more slender instrument, Victoria Clark dominated the stage as the scheming Sorceress. In a part that tempts many singers to exaggerated vocal effects, Ms. Clark sang with a cool, ironic tone, as if the destruction of Dido were a mere pastime in between cocktail parties. She also threw herself with lusty vigor into the practically nonstop dancing of Doug Varone's athletic choreography, swirling her skirts and popping her head like Donna McKechnie's evil twin.
Those skirts, by the way, were provided by fashion designer Christian Siriano, who decked Ms. Clark first in a bouffant tornado of black feathers and later a slithery wisp of scarlet chiffon. His frocks for Ms. O'Hara were less successful; a pair of pastel bridesmaid's dresses followed by a stiff black faille crinoline for her death scene.
Though Mr. Sperling didn't demonstrate any particular sensitivity to the ebb and flow of the music, he kept the chamber ensemble of the Orchestra of St. Luke's on track with the singers. The MasterVoices chorus sounded anachronistically coarse with broad modern vibrato.
More pleasing was Anna Christy, doubling the roles of Dido's perky sidekick Belinda and one of the Sorceress' cronies with tart tone and crisp rhythm. Sadly, the standout "opera" name in the cast, Elliot Madore, disappointed with a throaty, tight baritone, though he cut a most sexy figure in his tuxedo.
Preceding the Dido was a trifling prologue composed for the occasion by Broadway's Michael John LaChiusa, a skit about the Three Fates, which developed into a race to the bottom between music and text to determine which was more clichéd. I'd call it a tie.
It's tempting when encountering something as marginal as Mr. LaChiusa's work to say, "That's one of the worst things I've ever heard," but Sunday afternoon's presentation by the recently reconstituted New York City Opera served as a bracing reminder of the vast gulf between the banal and the egregious. Hopper's Wife, a chamber opera with music by Stewart Wallace set to an obscenity-strewn text by Michael Korie, turned out to be the most unpleasant piece as I've heard since NYCO's notorious fiasco The Dreyfus Affair, two decades ago.
In Mr. Korie's feverish libretto, the wife of American Realist painter Edward Hopper abandons her dysfunctional marriage and flees to Hollywood with Ava Gardner, later changing her name to "Hedda" and becoming a famous and powerful gossip columnist. The 90 minutes of "action" include a lengthy sequence in which Ms. Hopper tries on old hats, two extended scenes of full nudity for Ava and an aria for the painter in which he recounts in graphic detail the plot of a porn film he's just seen, with particular emphasis on the various bodily fluids involved.
The "hat" scene includes some interestingly varied jazz-influenced moments, which Elise Quagliata's gritty mezzo elevated into a tour de force. Justin Ryan's sturdy baritone stayed intact across Hopper's feral tessitura, though Melanie Long (Ava) shoved her light mezzo into a belt register so high only Idina Menzel could hear it.
In the tiny Harlem Stage space, conductor James Low allowed the NYCO Orchestra to swamp the singers to the point one could hardly tell which four-letter word was being sung. Andreas Mitisek's stage direction achieved high camp in the final scene, when Hedda sets fire to her husband's paintings and rants about the difference between high art and popular entertainment.
What she neglects to mention, though, is that Hopper's Wife is neither.