The rise of Vetements has been meteoric thus far, though it still seems to be hitting new heights. Today the Chambre Syndicale de la Haute Couture announced the brand would be one of five guest labels added to the July couture calendar. Cue the outrage.
Having only presented their first collection on the runway in 2014 — at the time, designs were credited to a collective of seven designers who had all worked at Maison Martin Margiela— the brand is nothing if not new. But, from that beginning it took less than a year before both Lorde (who has since disavowed the brand as "uncool") and Kanye West wore the brand to the Dior Fall 2015 show. Many celebs have followed in their wake including Taylor Swift and most recently Russell Westbrook. A year after that, collective head Demna Gvasalia was named as the artistic director of Balenciaga. In the past Mr. Gvasalia headed up designers at both Margiela and Louis Vuitton. Now, the brand will show their wares on the most exclusive runways in the world.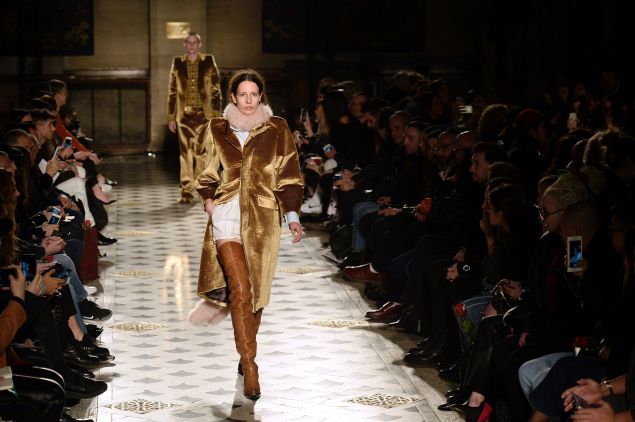 In a sense, the news dovetails with an announcement in January that Vetements would be altering their fashion show presentations. At the time Mr. Gvasalia said that beginning January 2017, the company would combine their women's and men's showings and later even move to a "see now, wear now approach." He went on to state that the entire collection would become limited-edition after these changes were to take place. What's more limited-edition than couture?
To see Vetements alongside other guest designers like J. Mendel and Iris van Herpen is either a statement about how confused the industry is or about the plurality of talent. Oversized hoodies, no matter how painstakingly made, beside jewel encrusted, hand sewn, full length gowns is definitely an interesting proposition.