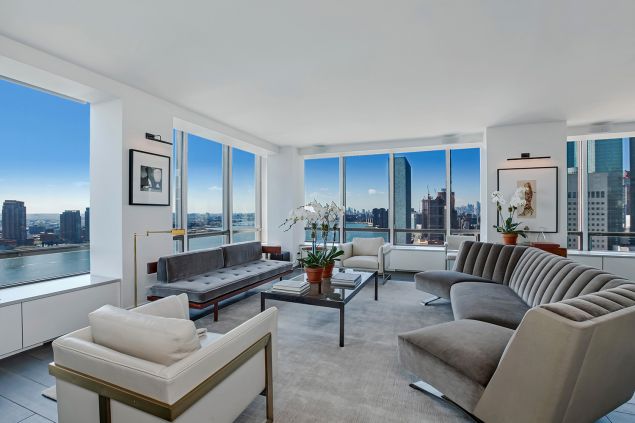 "There's nothing as peaceful as facing the water," Warburg broker Linda Reiner opined as we gazed out at the East River from 860 United Nations Plaza.
It was particularly true on the wonderfully bright spring day that we stood on the custom oak floors of the living room of the 30th-floor co-op, enjoying the sparkling river views from the southern and eastern exposures.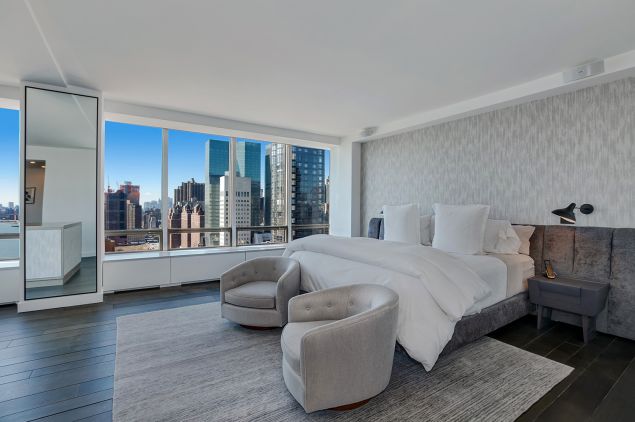 The owners, Sam and Libby Edelman—of shoe-design fame—have decided to part with the 2,880-square-foot Beekman abode because they're "spending more time in Connecticut," said Lisa Deslauriers, who shares the $5.9 million listing with Ms. Reiner, "but they loved the building.
"It's honestly as good as any Fifth Avenue, Central Park West or Park Avenue building," Ms. Deslauriers added as we passed through the Caesar-stone kitchen.
"This whole area is the master suite," Ms. Deslauriers said, opening a sliding door to reveal a hallway leading to the south-facing bedroom with two full baths, no less than five custom closets (two of which are walk-ins) and a built-in television entertainment system.
While the other two-bedrooms didn't have quite the same spacious set-up, they each have an en-suite bath and closet. There's an additional powder room off the entry—all of the bathrooms have Caesar stone countertops.
If the sun streaming in through the nearly floor-to-ceiling windows happens to get too bright, the entire apartment is equipped with electric blinds, and there are off-white, textured Phillip Jeffries wall coverings throughout.
"Some people forget about the building because it is further east," Ms. Deslauriers conceded, "but this view, it's mesmerizing," she gushed as we watched a ferryboat glide across the water.
"People who live in this building rarely leave. It's a fantastic situation," Ms. Reiner said, noting the garage, gym and driveway. "They feel like they are living in their own club because it feels so private, yet you're in Midtown!"