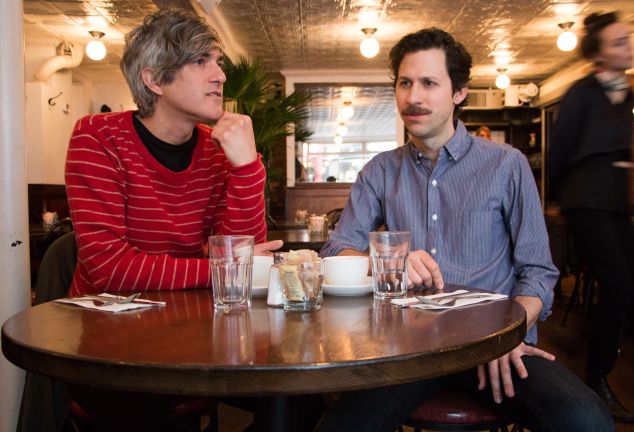 It's hard to believe that it's been 10 years since We Are Scientists charmed us with their undeniably catchy debut album, With Love and Squalor. With a cymbal-heavy pulse and rough guitar riffs, the band paired their chaotic indie rock sound with lyrics that reflect on last weekend's debauchery.
At 38, Keith Murray and Chris Cain have taken on a lighter tempo and a new look at love with their upcoming album, Helter Seltzer. Awash in smooth, synth-y intros and lyrics that take on the less obvious parts of courtship, the album champions love's nuances.
While they've taken on a new sound, the band will be commemorating their 2006 album by playing With Love and Squalor in its entirety at their upcoming show at Irving Plaza on May 11. The Observer recently met up with Mr. Murray and Mr. Cain for coffee at East Village's Cafe Orlin to discuss love, music and honeybees.
What was your intention going into Helter Seltzer?
Keith Murray: I think our general mandate from the outset was that we wanted to go straight-up pop. I don't think we've gone ahead and made a radio pop 94 song, but—
Chris Cain: Still no rap verse.
Keith Murray: Yeah, there are no "Feat"s on this. I do remember being excited and feeling like we were on the right track when we sent all of our demos to our manager and he responded, "Not a lot of stuff like the old stuff. How's the old-sounding stuff, remember that?" Nah, that's not coming. We were definitely pointedly trying to move into a less aggressive, mid-tempo pop sound.
Why is that?
Chris Cain: Because we're getting old. We just got to be a little more gentle with ourselves, you know? Some of that guitar rock is physically difficult to play for older gentlemen. Nah, I don't know. It also just gets repetitive I think. With up-tempo guitar tracks, maybe we've said everything we need to say.
How did you choose the album name, Helter Seltzer?
Keith Murray: I think it sort of encapsulates it because we keep on shooting for pop, but not necessarily wanting to make slick, middle-of-the-road sounding, easily palatable thing. I feel like our music always has a blend of really bright, melodically-based, hook-seeking things going on, but always with something weird and kind of…
Chris Cain: Psychotic.
Keith Murray: Yes. There's something psychotic going on there.
After listening to the album, it seems like there's a strong theme surrounding love.
Keith Murray: I would say that 90 percent of the songs were written at the beginning of a relationship, but I was more interested in trying to make them a a more broad interpretation of wondering what is to come than just love songs. But, they are pretty much just love songs.
Chris Cain: There's something for everyone.
Keith Murray: All the B-sides are about living alone with cats, so those people will get some songs.
There's a cool '80s synth sound throughout the album. What inspired that?
Chris Cain: A lot of that came from our producer [and ex-keyboardist], Max Hart. He was Katy Perry's keyboardist for three years after us so he's definitely a great guy to go to for that sort of thing.
Are there any bands that influenced you?
Chris Cain: I'd say our patron saint for the record is Steve Perry of Journey who also sat in on the mixing and gave us some very insightful suggestions on a couple of the tracks.
[youtube https://www.youtube.com/watch?v=le7kyRgMsuE&w=560&h=315]
Let's talk about the "Buckle" video. It looks like that was an uncomfortable shoot, to say the least.
Keith Murray: You know, surprisingly it wasn't. It was very pleasant for me.
(Both laugh)
Chris Cain: I bought most of it myself—had to sharpen the guillotine.
Keith Murray: Imagine how much more interesting the video would be if he hadn't had a hand in it. I first went to a hardware store to get all the stuff that would be flung at him.
Chris Cain: I was like, "Let me do the shopping!"
Were you shopping based on taste?
Chris Cain: No, more based on color and what would look cool and be safe, obviously. Safety was a concern, probably the fifth concern. The chocolate cake was the worst because the flavor didn't come out of my mustache. Everything else would wash out fine, but I think the icing was petroleum-based or something. I could taste and smell chocolate cake for like two days. When it first flew into my face and mouth I was like, that's pretty good actually. Not in the long run…
[youtube https://www.youtube.com/watch?v=kjHJClA6t6Y&w=560&h=315]
And then the "Too Late" video takes a different turn. Was the song originally intended to be about honeybee preservation?
Chris Cain: Creatively, that video was a lot of just searching through footage that is out of copyright. I just started piecing together a story. It was all based on seeing what emerged and ideally having it resonate with the song and the lyrics in some way.
Keith Murray: I was out of town when he was editing that and I was as surprised as you were to find out the song was about bees. When I left town, one of the clips we had been focused on had been of a jet crashing and anticipating his using that, I thought the bees would wreak havoc. I thought it was going to end in pandemonium. I was glad to see it worked out for human kind.
I noticed that all of the actresses—including the tiger dancer in "Too Late"—that you've featured in your videos are blonde. Is there something to that?
Keith Murray: It's funny. I don't think any of us are really blonde dudes. I consistently harangue my wife to go darker with her hair.
Chris Cain: She's platinum blonde.
Helter Seltzer is available for download now; a physical release is set for June 3.