FRIDAY, MAY 13
Opening: "James Rosenquist" at the Judd Foundation
A painter that Donald Judd praised in his art criticism of the 1960s, James Rosenquist went on to become a seminal Pop Artist of his time. Meanwhile, Judd's career was defined by his significant contributions to the Minimal Art and Conceptual Art movements. Drawing parallels between the two artists, this intriguing show offers three paintings, including a 35-foot billboard-sized canvas, and two prints by Rosenquist paired with furniture by Judd, as well as writings and books from the Judd archive and library.
Judd Foundation, 101 Spring Street, New York, 1-5:30 p.m.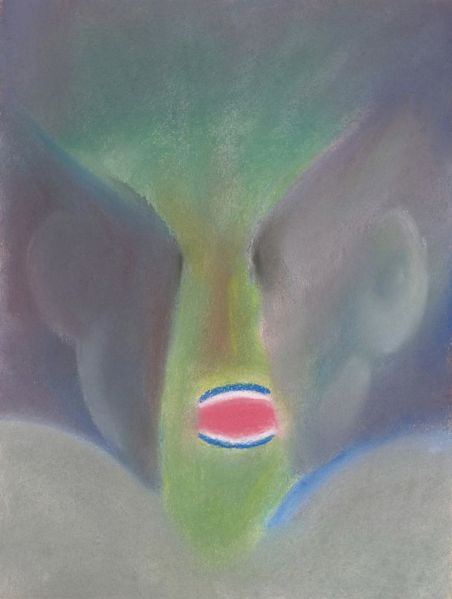 Talk: "Dreams in Dust: The Pastels of Lucas Samaras" at the Morgan Library & Museum
Offering 48 pastel works on paper that the artist and his gallerist Arne Glimcher gifted to the museum, "Dreams of Dust" covers 25 years of Lucas Samaras' creative production in this oft ignored medium. Featuring self-portraits, nudes and still-lifes, the work is dynamically installed on wallpaper that was specially designed by the artist for this show. Join the exhibition curator Isabelle Dervaux for a gallery talk, where she will share her insight into the colorful works on view.
The Morgan Library & Museum, 225 Madison Avenue, New York, 6:30 p.m.
Talk and Book Launch: "Billy Sullivan: Still, Looking. Works 1969-2016" at the Swiss Institute
Celebrating the launch of artist Billy Sullivan first monograph—which juxtaposes his photographs of New York's underground art and fashion scenes with his stylish paintings and drawings that the pictures inspired—this evening's panel brings together leading artists, designers and critics to discuss his work. Panelists include painter Carroll Dunham (dad of actress Lena Dunham), graphic designer Marietta Eugster (designer of the book), critic and curator William J. Simmons (he wrote one of the essays), the talented Mr. Sullivan himself and author and critic Linda Yablonsky, who also contributed an essay and will moderate the talk. Stick around to get a copy of the book signed by the renowned artist, who has work in the collections of MoMA, the Met and more.
Swiss Institute, 18 Wooster Street, New York, 7 p.m., RSVP requested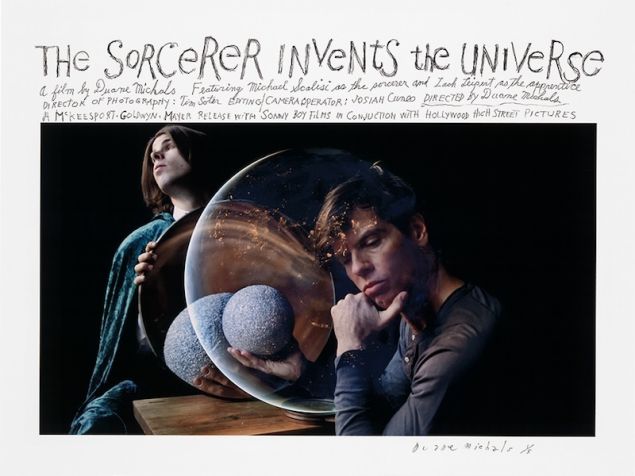 Screening: "Duane Michals: Talking Pictures" at the SVA Theatre
As part of the show "Duane Michals: Sequences and Talking Pictures," the gallery is presenting 12 mini-movies that this 83-year-old artist made over the past few years for one night only at the SVA Theatre. Surreal and absurd in nature, the short films sport such whimsical titles as People Eat People, The Book Crook and The Pleasures of the Glove. Following the screening, Mr. Michals, whose exhibition featuring the films and several series of sequential photographs is on view at the gallery through June 11, sits down for a Q&A with Philip Gefter, a photography critic and author of the recent biography Wagstaff: Before and After Mapplethorpe.
SVA Theatre, 333 West 23 Street, New York, 7:30 p.m.
SATURDAY, MAY 14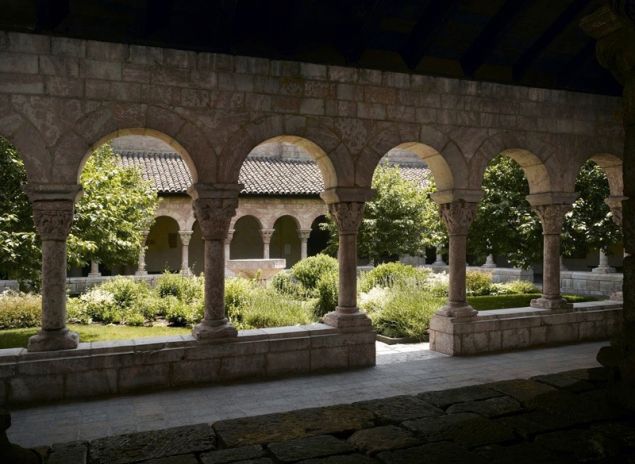 Performance: "Audible Cloisters: Guitar Marathon" at the Met Cloisters
This marathon of string music, which will feature 14 international guitarists performing in the medieval buildings of the Cloisters, is a special event hosted by WNYC's John Schaefer and curated by New York Guitar Festival's artistic director David Spelman. Presenting continuous performances in five different spots at the Met's Upper West Side outpost, highlights include the New York debut of South African Derek Gripper playing pieces for a 21-string kora on a six-string guitar, Min Xiao-Fen's improvisations on a four-string lute and the sonic structures of Ben Monder, who performed on David Bowie's final album Blackstar.
The Met Cloisters, 99 Margaret Corbin Drive, Fort Tyron Park, New York, 10:30 a.m.–4 p.m., free with museum admission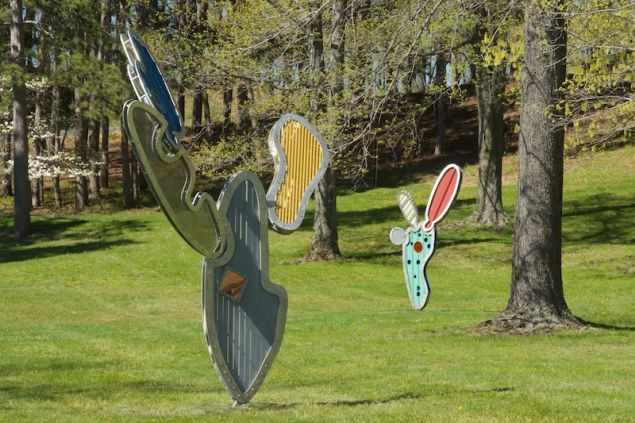 Opening: "Dennis Oppenheim: Terrestrial Studio" and "Outlooks: Josephine Halvorson" at Storm King Art Center
Presenting two new exhibitions, the Storm King Art Center kicks off its summer programming with a presentation of both outdoor and indoor works in a variety of media by the late conceptual artist Dennis Oppenheim, who passed away in 2011, and an outdoor sculptural project by painter Josephine Halvorson. Oppenheim's outdoor works include the first full scale realization of Dead Furrow, an earthwork installation that he conceived in 1967, and six of the artist's Architectural Cactus sculptures from 2009, while his photographs and drawings for various projects are shown in the gallery. For "Outlooks," Ms. Halvorson created three large-scale, realistic rulers for site-specific spots on the sprawling grounds.
Storm King Art Center, Old Pleasant Hill Road, New Windsor, 10 a.m.- 5:30 p.m., $15
Opening: "Lee Mullican" at James Cohan
The second in a two-part exhibition of works by West Coast abstractionist Lee Mullican, this show highlights the artist's paintings and drawings from the 1950s and '60s. One of the founders (along with artists Gordon Onslow Ford and Wolfgang Paalan) of the San Francisco-based, spiritually minded Dynaton Group, Mr. Mullican created work informed by Eastern philosophy and surrealism with the desire to express cosmic freedom. Using an ink or palette knife to apply paint, the artist constructed abstract images that pulsate with color and light, while seeming to capture the aura of the universe.
James Cohan, 533 West 26 Street, New York, 5-7 p.m.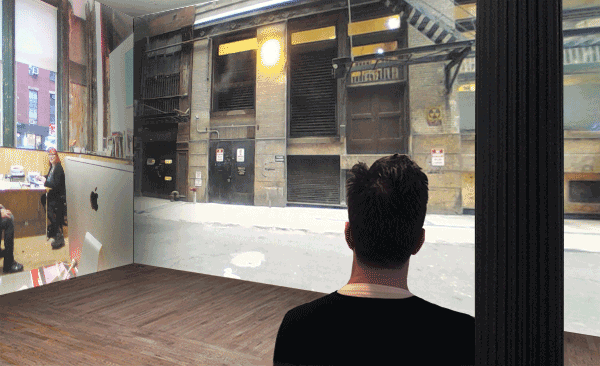 Opening: "Serkan Özkaya: An Attempt at Exhausting a Place in New York" at Postmasters Gallery
A Turkish conceptual artist and co-founder of +ArtApp, an organization dedicated to research and expansion of knowledge about the use of digital applications for art-making, Serkan Özkaya works magic in his first solo show with the gallery. Placing cameras with live feeds outside the gallery's four walls, the artist affords visitors the opportunity to seemingly see through the walls—a phenomenon that many of us have been waiting our whole lives to do.
Postmasters Gallery, 54 Franklin Street, New York, 5:30-8 p.m.
SUNDAY, MAY 15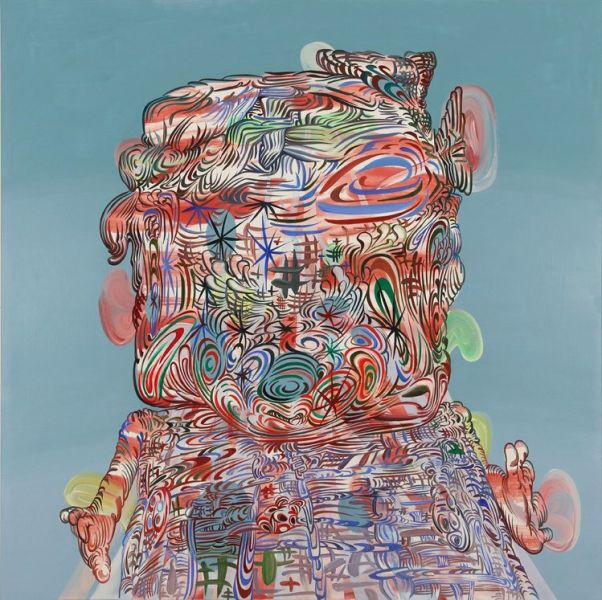 Opening: "James Esber: Dewey Defeats Truman" at Pierogi
Basing his imagery on personal, popular and historical subject matter, James Esber makes paintings and drawings that distort his content through a mix of digital manipulations and fancy brushwork. Nightmarish yet comical, his visions of smoking skeletons, firemen rescuing kids and monstrous lady bugs turn gallery-going into pure fun. While we never get to see Dewey or Truman (the appropriated title is from a false 1948 newspaper headline symbolizing the artist's fascination with misinformation), Presidents Lincoln and Nixon do make twisted cameo appearances in this witty body of work.
Pierogi, 155 Suffolk Street, New York, 6-8 p.m.
Opening: "Wojciech Bakowski: Hideout in the Corner of Level 6" at Bureau
A participating artist in the New Museum's first triennial "Younger than Jesus" in 2009 and a recipient of the prestigious Deutsche Bank Prize that same year, Wojciech Bakowski makes his solo show debut at the gallery with a selection of poetic sound, sculpture and video works. His audio piece Hideout in the Corner of Level 6 mixes the sounds of singing bird, ticking clocks and crackling fire to create mental images for an unfolding drama, while his new animated film Analysis of Emotions and Vexations (II) uses haunting sounds and sketchy drawings on fields of changing color to construct a marvelous, dreamlike realm filled with philosophical thoughts and feelings.
Bureau, 178 Norfolk Street, New York, 6-8 p.m.