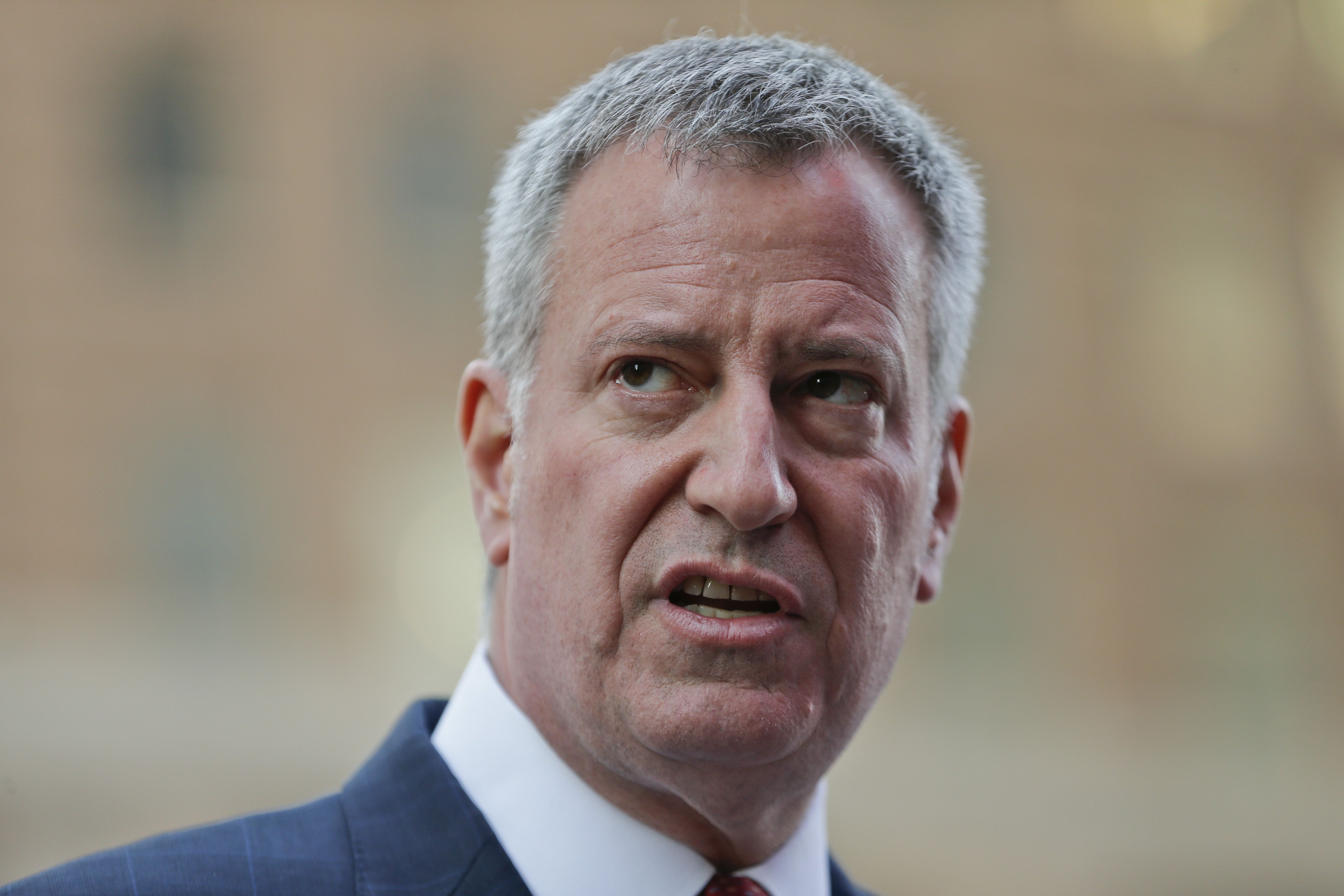 In New York, e-mails between government employees and people outside of government are typically subject to public records searches under the state's Freedom of Information Law. But yesterday, Mayor Bill de Blasio made a curious distinction about one such person.
"Jonathan Rosen is someone who I consulted with for years and years, and we made a legal determination that that was a category that was different and appropriate it's just as simple a that," Mr. de Blasio said at a City Hall press conference.
Mr. Rosen is one of the co-founders of the PR firm BerlinRosen, which provided paid consulting for Mr. de Blasio when he was running for mayor and which still hands his non-governmental PR. But Mr. Rosen—whose firm represents many clients with business before the city—continues to offers the mayor free advice on government issues, as NY1's Grace Rauh has extensively covered, in meetings and, presumably, in e-mails.
But when Ms. Rauh filed a Freedom of Information Law request for those e-mails, it was denied, she reported this week. While outside e-mails are presumed to be public under state law, the administration said that because Mr. Rosen was a consultant to the mayoralty, the e-mails were protected by the same exemption in place making e-mails between the mayor and his staff private.
That distinction has some a bit dubious.
"If you ask your friend, who has knowledge or expertise, 'Hey, what do you think about this?', that's not a consultant. That's not a consultant," Robert Freeman, chair of the State Committee on Open Government, told the Observer in a phone interview.
There are decisions from the Court of Appeals that have upheld the exemption in cases where a government has retained an outside consultant to perform a function that the government wasn't capable of doing.
"A key word is retained," Mr. Freeman said. "If you retain someone what does that mean? You pay them money. You pay them money."
But Mr. Rosen has not been paid by the city for his work advising the mayor, according to a spokesman and to Mr. de Blasio himself at yesterday's press conference. When a Wall Street Journal reporter asked Mr. de Blasio who pays Mr. Rosen—the mayor or Mr. Rosen's private clients—Mr. de Blasio said the reporter was "either willfully missing the point or not listening carefully."
"If someone is advising me because he's advising me, because he's a friend, because he's a colleague, because he's advising me, no one has to pay him, he can advise me," Mr. de Blasio said.
Mr. Freeman said who pays Mr. Rosen gets right to the point of whether he's an agent of the city or not, based on the precedent. If a consultant does not have a contract with the city—even for a dollar—Mr. Freeman said he would not characterize that consultant as having been "retained" by the city.
"Again, the key word in my opinion is retained. Otherwise anybody could be a consultant. It would make no sense," Mr. Freeman said. "It involves an exchange of money that relates to so-and-so's expertise."
The mayor is not the first person to make this case. Attorney General Eric Schneiderman used a similar argument in denying a request from Crain's for e-mails he traded with Jennifer Cunningham, a top political consultant at SKDKnickerbocker and his former wife. That decision drew similar scrutiny.
Mr. de Blasio didn't seem entirely enthusiastic about discussing the decision not to release the records yesterday—though that could be because the questions came at the end of a nearly two-hour-long press conference, during which Mr. de Blasio and his lawyers had fielded questions about multiple scandals swirling around his administration.
When a NY1 reporter said he'd like to ask a Freedom of Information Law question, Mr. de Blasio joked:  "No, you can't. Wouldn't that be ironic?"
After the question, Mr. de Blasio, who was seated next to his counsel Maya Wiley, said, "I happen to have lawyers with me. Go ahead lawyers."
Ms. Wiley then asserted that the e-mails were exempt because Mr. Rosen was working as an agent of the city—but did not offer up a clear rationale or legal reasoning for what makes Mr. Rosen an agent of the city.
The distinction raises many questions, including whether it's appropriate for someone the mayor's deemed an "agent of the city" to also represent a slew of real estate and other companies with business directly before the city. Another: If the Observer were to send the mayor an e-mail offering up advice or consultation like Mr. Rosen may have, would it be exempt from a FOIL request?
"It's based on whether the person is acting as an agent for the city," Maya Wiley, the mayor's counsel, told the Observer at yesterday's press conference. "So you giving me advice, although I'd love to receive it, would not necessarily transform you into an agent. So it is certainly not the case that anybody in communications with us, who we have a relationship with, is necessarily covered by the exemption."
Mr. de Blasio interjected: "It's very rare."
"It's very narrow. It's very specific," Ms. Wiley said, adding later she could count the number of people deemed agents of the city on less than one hand.
As public advocate, Mr. de Blasio positioned himself as a champion of open records—grading city agencies on their (often dismal) responses to FOIL requests from reporters and others seeking to access information to which they law says they are entitled.
"I would hope that the mayor's office will see the light and that this will be not a precedent regarding denials of access," Mr. Freeman said, "but rather, based upon what you do, a precedent that leads to greater disclosure."