An important player in Frieze Week and NYCxDesign, the Collective Design fair returns to the city for its fourth edition with a fresh outlook. On view through Sunday, May 8 at Skylight Clarkson SQ in Soho, the fourth edition of the fair features 31 international galleries alongside special exhibitions, pop-ups and installations.
Visitors to the fair are greeted by a new entryway designed by the trendy Tokyo design studio Nendo. Creating an arresting wall installation of metal sconces, reception counter with glass and corridor display of wooden cabinets, the atelier's Trace collection explores the relationship between sketch and finished product, while simulating movement.
"Since it's an entrance I wanted to do something related to movement," Nendo founder Oki Sato told the Observer at the fair. "I came up with the idea of visualizing the trace of opening doors and swinging lamps. It's about envisioning things that people don't necessarily recognize, but they understand in their minds."
Once inside, the fair has the same stylish appearance that it has in the past, but the ambiance has changed. Some of the stalwart design galleries, including Collective Design members Cristina Grajales Gallery and Todd Merrill Studio, are missing this year, having been replaced by art galleries and younger design projects.
"We know that collectors live and work with art so we wanted to enhance that mix and show it here," Collective Design founder and creative director Steven Learner told us on opening day. "We're interested in developing the next generation of collector so we work hard to not only bring established galleries with established price points, but young galleries that are accessible to someone who has never collected before," he added.
On the established end R & Company, based in Tribeca, is showing innovative lighting by Jeff Zimmerman, hand-blown glass vessels by Thaddeus Wolfe and a vintage walnut dining table by one of the preeminent designers of the American Studio Craft Movement, Wendell Castle. A rare, one-of-a-kind masterpiece created in 1971 by the 83-year-old craftsman, who had a recent solo show at the Museum of Arts and Design, the seductively shaped table is priced at $650,000.
"It was a bit of a shock to see it here," Mr. Castle shared when we ran into him at the fair. "I made the dining table in 1971 for a couple in Rochester. They owned several of my pieces and when they split the wife got the table. She ran into financial problems and used it as collateral for a loan that she couldn't repay, so it went out into the world. Now it's ready for a new home."
Friedman Benda, a highly regarded Chelsea gallery, has furry furniture pieces made from sheep's wool and stuffed toy animals by the celebrated Campana Brothers, home accessories by controversial Dutch designer Marcel Wanders and pigmented concrete stools (priced between $5,000 and $10,000) by hot, young designer Misha Kahn, who the gallery discovered at MAD Museum's NYC Makers biennial in 2014.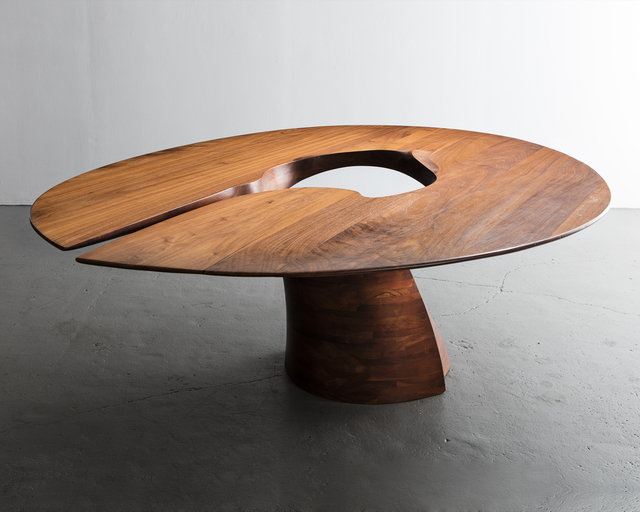 Presenting more young designers and emerging artists, the Bushwick gallery 99¢ Plus has an exhibition of luminescent objects titled "The Lamp Show." Installed in its bright yellow booth, the witty works range from a pair of basswood candelabras by artist Matthew Ronay to an 8-foot tall resin lamp by design collaborators Chen Chen & Kai Williams. Our favorite is Chad Phillips' My Little Weirdo, a faux fur creature that conjures the cartoon character Sponge Bob Square Pants. Prices for the unique lighting works range from $200 to $12,000.
Another exhibitor showing art is Bryce Wolkowitz Gallery, which is offering a a selection of works by new media artists Jim Campbell, Airan Kang and Yorgo Alezopolous; painter José Parlá; and photographer Stephen Wilkes. The highlight of the big booth is Mr. Campbell's new LED installation Exploded View, which brilliantly propels a field of small round lights into the space like a cresting wave, with a silhouetted, digitally created swimmer moving through it.
"Our focus of interest is at the intersection of art, technology and design," Bryce Wolkowitz declared at the fair. "Collective Design is a perfect forum to present that cross-section of our program. It's an opportunity to meet architects, developers and interior designers, as well as a chance to expand our audience."
Sharing that sentiment was Yu Wang, co-founder of the Beijing-and Los Angeles-based Gallery All. Rather than a store that simply stocks products made by other manufacturers, Gallery All commissions new pieces by a talented group of international designers, including the Finnish 3D-printing pioneer Janne Kytannen, experimental American design studio Aranda\Lasch and Chinese digital whiz Zhoujie Zhang, with prices for their works ranging from $5,000 to  $20,000.
"We are hoping to see our New York collectors and meet new ones," Mr. Wang told the Observer. "This is our first time showing at a fair in New York, which is a great city for design."