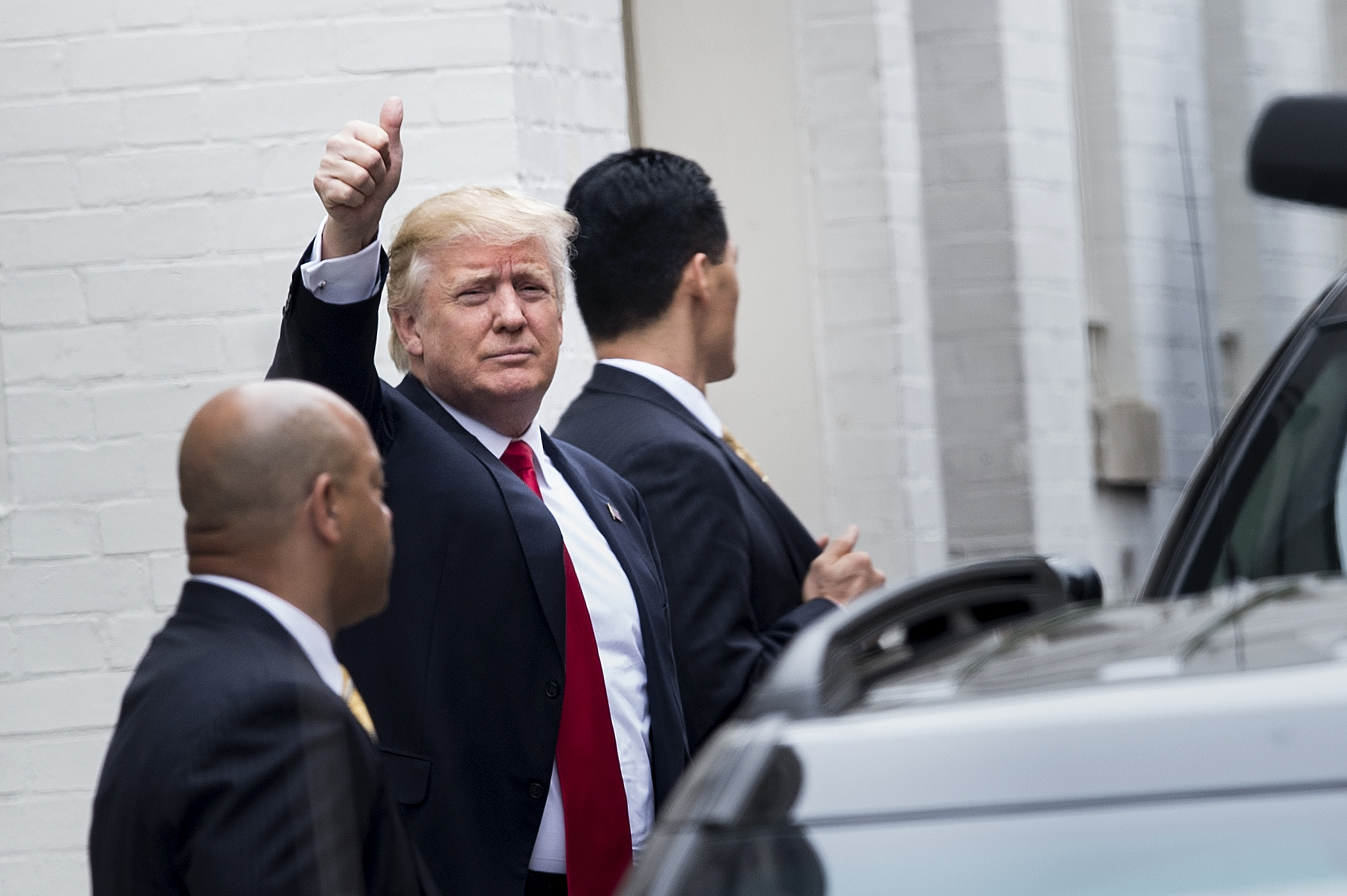 In an effort to win over conservatives, Donald Trump has released a list of 11 judges that could serve as a guide to who he might select for the judiciary in a Trump administration. This list—cultivated with the help of the Heritage Foundation—reflects an awareness of the wariness in conservative circles regarding Mr. Trump's candidacy—a reluctance Mr. Trump will likely need to overcome if he is to prevail in November.   
Keeping this in mind, there are a number of additional steps Mr. Trump can take to try to win over the #NeverHillary/#MaybeTrump (NHMT) crowd. The first is to soften and focus his rhetoric. Mr. Trump needs to give speeches from a teleprompter to show he can do more than seize headlines. Conservatives, in particular, don't mind his directness, but he needs to be less insulting of specific people and groups. Obviously, he can never get rid of the videos and sound clips of previous offenses, but perhaps he can show an ability to prioritize and articulate his policy objectives for bringing change.
Second, Mr. Trump needs to think about the Republican platform. Every four years, the delegates at the convention adopt the platform, which tells the world what positions the GOP stands for. This document can have real impact on voters and potential voters. A friend of mine in the Bush White House became a Republican as a teenager in 1980 after his uncle made him read the Democratic and Republican platforms with the covers torn off. Without bias and preconceived notions getting in the way, my friend found the GOP platform appealing and the Democratic platform wanting—he became a lifelong Republican that summer. 
The question for Mr. Trump is whether he wants to have a platform more in line with traditional GOP platforms of years past, or will the platform set in stone Mr. Trump's many deviations from conservative orthodoxy both over the years and in the course of his campaign. Furthermore, since Mr. Trump has held multiple positions on many issues, the platform will be a chance for the businessman to make something close to a contractual commitment to his fellow citizens. That document could potentially give reluctant backers comfort about the policy agenda of a Trump administration.
The next hurdle for Mr. Trump is determining his vice presidential pick. If he selects someone with real standing and history in the conservative movement, that will help alleviate conservative concerns. The problem here is twofold: Some of the people who could reduce the conservative concerns might not be willing to sign on as Mr. Trump's vice presidential nominee. The fear here is that joining with Mr. Trump could hurt their own standing going forward. New Jersey Governor Chris Christie, for example, was subjected to derision in the form of endless collaborator jokes after endorsing Mr. Trump. Politicians with long-term aspirations—or just thin skin—might not want to go down that road. On the other side of the equation, Mr. Trump's candidacy is more about him than about a particular ideology. He sees himself as the answer to our nation's challenges. If he can overcome these hurdles and both select and secure a conservative with standing, he will send the most consequential message he can to worried conservative voters. 
Finally, one other thing that could give the NHMT camp some comfort is the role given to the Vice Presidential pick. If Mr. Trump were to name a well-credentialed legal conservative and put that person in charge of his judicial nominations, for example, that might attract reluctant GOP'ers who are understandably interested in the future of the federal courts in general and the Supreme Court in particular. Listing possible nominees was a good first step, but a president gets to make hundreds of court picks, and conservatives want to know that Mr. Trump would have a process that would continue to generate conservative selections beyond the 11 he has already suggested.  Conservatives wary of Mr. Trump on every other policy issue may at the end of the day just hold their noses and vote for him based on this issue alone. But if they are to do so, they would need some certitude that Mr. Trump would pick reliable conservatives, and having a designated conservative in charge of that selection process may provide the certainty they need.
None of these steps would constitute a foolproof way to win the hearts of conservatives. But they might be enough to win their votes. Politics in a democracy is ultimately about choices, and by taking these steps, Mr. Trump, might—repeat might—give the NHMT crowd sufficient clarity on their choice to solidify the GOP base.  He might not win over the conservative intellectuals, but the larger swath of conservative voters may take a chance and support him come November.
Disclosure: Donald Trump is the father-in-law of Jared Kushner, the publisher of Observer Media.
Tevi Troy is a presidential historian, former White House aide and former Deputy Secretary of Health and Human Services. He is the author of 'What Jefferson Read, Ike Watched, and Obama Tweeted: 200 Years of Popular Culture in the White House.' Follow him on Twitter @tevitroy