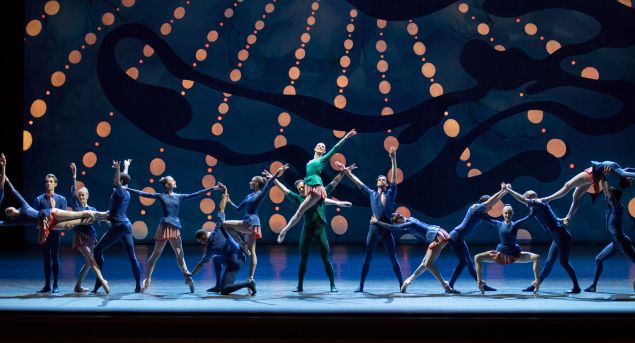 At the New York City Ballet Spring Gala on May 4, things were no worse than they usually are at galas, and at least in one way they were better—the performance of Alexei Ratmansky's Concerto DSCH, a work created for the company in 2008 and looking fantastic then and now. Shostakovich's Piano Concerto No 2 is a wow, and Ratmansky revels in it, has fun with it, shows off his dancers at their best in it: this may be the strongest piece he's made in America. Certainly the dancers went to town, starting with Sara Mearns, happily settled into the lead role. She's never been a favorite of mine, despite her large talents, but here she's ravishing: Ratmansky brings out her lyrical, delicate side, and she has a flattering pale blue costume and hair charmingly coiled on top of her head. The work is crammed to bursting with invention and energy, and the dancers bite into it with gusto. Way to go, gala!
Alas, that was it. Following the filmed tribute to Jay Fishman, Chairman of the City Ballet Board—you can imagine how exciting that was to most of the audience—there was a depressing "extra": the "Raindrop Prelude" section of Jerry Robbins' The Concert, with its famous opening and shutting black umbrellas. It makes no sense yanked from the ballet as a whole (probably the funniest ever made), and to make matters far worse, in place of Robbins' ingenious climax, one girl, smirking, was suddenly sporting a bright red umbrella—no doubt in homage to Mr. Fishman, ex-CEO of Travelers and its red umbrella. Get it? Poor Jerry.
Oh, I'm forgetting an over-extended lecture-demo about Rhapsody in Blue, and a short film about the Broadway show An American in Paris, which like the main gala event was a collaboration among choreographer Christopher Wheeldon, guest conductor Rob Fisher, and star Robert Fairchild. They all chat about how wonderful a show it is. For subjecting us to this extended ad there is no excuse.
Two new works. The first, a very short piece by the French Nicolas Blanc (he's now at Joffrey) featured eight very young dancers, three of them still apprentices, and a score by Mason Bates who, we're told, was recently named the second most-performed living composer! Well, no wonder—his score for Mothership (the name of this ballet) "was commissioned by the YouTube Symphony Orchestra and was viewed online by more than two million people during its premiere in 2011." It's lively, derivative, loud—catnip for very young attractive dancers with more energy and bounce than subtlety. And the piece itself, if empty, was snappy and efficient.
Finally, Wheeldon's American Rhapsody, to Rhapsody in Blue—Wheeldon's third go at the immortal George. The first was a total failure of a ballet set to Gershwin's An American in Paris for City Ballet back in 2005. R.I.P. Then came the award-winning Broadway show, less feeble but far more slick than substantive. And now this.
Fairchild is back from Broadway to assume the same Gene Kellyish character here, but after his long slog at the Palace Theater, he's less fresh and appealing than he used to be. His vis-à-vis is Tiler Peck, also less fresh and appealing than she used to be. But then they aren't given much that's fresh and appealing to do. The second couple are Amar Ramasar and the young Unity Phelan, who stole the show to the extent it could be stolen. She's beautiful, with a great ballet body and legs, tons of spirit, confidence, and a bright blood-orange costume (like Amasar's) which draws the eye to it—unlike the other couple's costumes which are greeny-bluey and just don't read against the primarily blue backdrop. Was anybody looking?
The poverty of dance invention was embarrassing to observe after the richness of Ratmansky. Christopher Wheeldon has been moving toward show business, spectacle, glitz. This ballet is staged rather than choreographed—tons of dancers flinging themselves around to numbing effect.( Wheeldon is never at his best with big groups.) You can't resist the score, but for a real Gershwin ballet. But for a real Gershwin ballet, wait for Balanchine's Who Cares?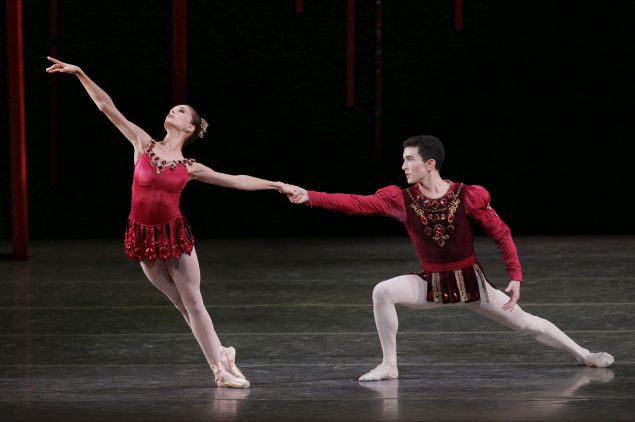 What else has the season offered to date? I caught three performances of Jewels, always a hit (and designed by Balanchine to be one). There hasn't been a perfect cast since the original, in 1967, but those great dancers—including Verdy, McBride, Villella, and Farrell—were the ones on whose qualities Balanchine built. In "Emeralds" this year, Abi Stafford was lighter and more musical than she usually is; Tiler Peck was accomplished but oddly unimaginative; Ana Sophia Scheller was as proficient and uninteresting as ever. None of the three caught the essential quality of the famous solo, as the ballerina weaves a spell with her reverie of feminine self-absorption: she's moving for her inner self, not for us. As the "walking girl," Ashley Laracey—deep inside Fauré's ravishing music—cast the true "Emeralds" spell. It's the role of her lifetime, and I'd love to see her in the Verdy role, too. Other standouts were Indiana Woodward and Harrison Ball in the pas de trois.
As for poor "Rubies," it's been a long haul since McBride and Villella—only Peck in recent years has made anything out of it. This season we had yet again the thin rendition by Megan Fairchild. She's gained strength and confidence from her Broadway success in On the Town, but she just lacks allure. Her partner, more or less, was Gonzalo Garcia, way past it technically, and winking and punctuating his way through. In another cast, Sterling Hyltin was charming and in charge, but she's just not the "Rubies" type, and she was partnered with Andrew Veyette, even less the type—why cast an Apollonian dancer in a Dionysian role?
But at last we were treated to a true "Rubies" couple: Lauren Lovette and Anthony Huxley. They're a perfect match here. Both of them understand prance, punch, daring, dazzle, and what it's like to be playing with someone you really enjoy in a spirit of high-risk fun-and-games competition. What a relief to see "Rubies" restored to itself! And Emily Kikta—solid, wholesome, cheerful—gave a good account of herself as the "second girl." Megan LeCrone did not. And Teresa Reichlen was her usual chorus girl-cum-praying-mantis phenomenon, with a touch of kitten.
"Diamonds"? Mearns, somewhat restrained, dancing it beautifully; Reichlen cooler, more elegant, graceful and musical. But the "Diamonds" role is specifically designed to reflect the Prima Ballerina Assoluta woman of 19th-century classical ballet, and neither Mearns nor Reichlen has that kind of grandeur. We're talking Suzanne Farrell here. Even so, the main problem with this season's "Diamonds" was the tired projection of the all-important female corps. Not enough rehearsal time, maybe?
The same was true of the corps girls in Symphony in Three Movements: they just don't animate this great Stravinsky-Balanchine ballet. Nor was it very well cast, only Hyltin bringing it alive. She didn't give the central pas de deux its Balinese inflection, but she made something attractive out of it. Alas, on the same program was the single worst performance I've ever seen of Balanchine's thrilling Tschaikovsky Pas de Deux, and I've been seeing it for 56 years. Ashley Isaacs and Chase Finlay were awful separately and awful together, she grim, he stiff. What was the company thinking?
We've also seen two Robbins ballets that aren't often performed. I've never liked N.Y. Export: Opus Jazz, essentially outtakes from West Side Story in Robbins' irritating finger-popping, jivey mode—kids in New York looking more showbizzy than show business itself. (The Ben Shahn décor, though, is always worth looking at.)
Moves: A Ballet in Silence is indeed, a ballet in silence. Once you get used to the absence of music, it's compelling—not because of the gimmick but because Robbins is so choreographically inventive here. And Jennifer Tipton is so brilliant a lighting designer. A lot of young dancers looked very good in this.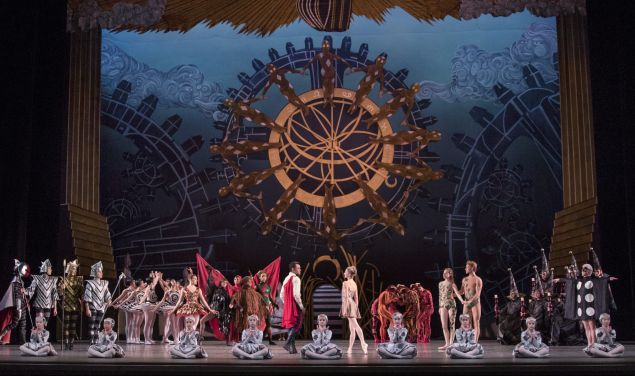 Finally, I was able to see Justin Peck's controversial The Most Incredible Thing—I was out of town for its premiere last season. It got a real critical lambasting, and I've been trying to figure out why. Maybe because it was touted as Peck's first narrative ballet, whereas it isn't really narrative at all: it has a situation that's set up quickly at the start and is resolved in an unpersuasive flash at the end, while everything in between is sheer divertissement. Also, it was notoriously expensive to mount, and that seemed to raise some hackles. It's based on a Hans Christian Andersen story about a young inventor who's created an amazing clock in hope of winning the hand of the Princess and whose work is destroyed by The Destroyer, only to be brought back to life by the power of art—or something. Better not ask.
But so what? The opulence of the set and costumes by Marcel Dzama,and their zany quality, won me over. The music by Bryce Dessner didn't get in the way. And most important, the series of twelve short episodes—one for each hour of the day—is full of charm and originality. The Cuckoo Bird, Adam and Eve, The Three Kings, The Four Seasons, The Five Senses, etc., etc.—every one of them is so inventive you chuckle along: Like Ratmansky, Peck never runs out of choreographic ideas. In this case, they're hardly profound, and I don't want to see The Most Incredible Thing again and again, but I had a good time seeing it once.