From sexism to sexual abuse, the media has dredged up some of the music industry's most shameful truths in the last few months alone, but there's still far more work to be done. While these issues are incredibly important and shouldn't be discounted, mental illness continues to be stigmatized within the music community.
Opening up about mental illness isn't easy—it can be an overwhelming, emotionally draining struggle. But more often than not it's also cathartic. An opportunity to challenge—and change—the negative stereotypes that surround those two uncomfortable words: mental illness.
Kurt Cobain, Britney Spears, Syd Barrett, Brian Wilson, Demi Lovato—the music industry has seen the suffering of countless artists. Britney Spears' and Sinead O'Connor's fights with mental illness have even seen their struggles turned into cruel memes. The vulnerability of mental illness is often mocked, but these issues are no joke. We all need to get comfortable having this conversation—because it's far more common than you might think. According to the National Alliance on Mental Illnesss, 43.8 million adults experience mental illness in a given year in the U.S. (that's 1 in 5 people).
Last year, we came one step closer to normalizing the idea of mental illness as we saw more and more musicians discuss their personal battles with mental health. While some were candid in interviews and podcasts (like Passion Pit's Michael Angelakos), others unfortunately spoke publicly in public cries for help (like Sinead O'Connor). As influential voices, musicians have been instrumental in de-stigmatizing mental illness to the general public, making it known that those who suffer don't suffer alone.
One of the biggest proponents of discussing mental illness in recent years has been Passion Pit's Michael Angelakos. The indie-pop songwriter bravely opened up about his bipolar disorder battle in 2012. Angelakos used his platform as a successful musician to talk about a mental health issue that a lot of people don't necessarily understand. Not only was he candid about his struggle with bipolar disorder—including in-patient hospitalization stays—he starred in a PSA for actress Glenn Close's nonprofit Bring Change 2 Mind for the #StrongerThanStigma campaign.
Angelakos' drive to empower those who struggle with mental illness made a difference in pop newcomer Ryn Weaver's life. "I was obsessed with Passion Pit. My senior year of high school was when I got really into them, and I like, deal with some pretty bad depression, that's just like a thing, and I think a lot of artists do," Weaver said earlier this year in an interview with iHeartRadio.
After his songs helped Weaver through difficult times, Angelakos went on to aid Weaver in more direct ways: he also produced Weaver's first single, "OctaHate," as well as her debut album, The Fool.
[youtube https://www.youtube.com/watch?v=68wuJ2ACi5s&w=560&h=315]
2015 also saw an honest force of nature in pop sensation Halsey, who spoke candidly about being bipolar. Using her platform as an artist to speak out for marginalized individuals in interviews and through her songs, Halsey emphasized that bipolar disorder is a serious issue, criticizing the media for using the term "tri-bi" to diminish her striuggle. "They call me 'tri-bi'—bisexual, biracial, bipolar—as if I call myself that," she recently told the LA Times. "I wouldn't trivialize my existence into a hashtag."
The public needs more artists like Halsey who will use their career and status to have people take mental illness seriously.
Another musician who was incredibly transparent about his battle with bipolar disorder and depression earlier this year was hip-hop artist Charles Hamilton. He's been extremely candid about how much pain he encountered as a result of his mental health, and he thinks musicians should be open about their hardships.
"Artists should be open to talk about mental illness because it puts pain in perspective," Hamilton told the Observer. "Negative behavior is usually indicative of something going wrong on a mental scale. Growth includes taking responsibility for your actions."
'Artists should be open to talk about mental illness because it puts pain in perspective.'
Singer-songwriter Julien Baker vulnerably opened up about her own mental health issues lyrically on her debut album Sprained Ankle this year. "I try to have a sense of humor about it, but I have crippling panic attacks," confessed Baker. "For a lot of the earlier period of my life, I was on medication and it was really weird because there were people in my life who didn't understand how it was. I believe that you are in control of choosing coping mechanisms—I choose to go running or sing some songs now. The anxiety didn't go away, but it morphed into something I can control with better judgment."
For those who struggle with any kind of mental disorder, coping mechanisms are key to staying balanced.
Best Coast's Bethany Cosentino has always been open about having anxiety, but she seems to have found her balance. "I meet so many young girls that come up to me at shows saying they have anxiety and ask what they should do, and I say, 'exercise.' Even if you don't want to do it, it's so therapeutic," Cosentino said to Noisey earlier this year. 
Being open about her struggles has also made her a confidante for fans who come up to her asking her for advice on what helps calm her anxiety. Whether she knows it or not, she's made a difference in her fans' lives by just talking to them about what helps her.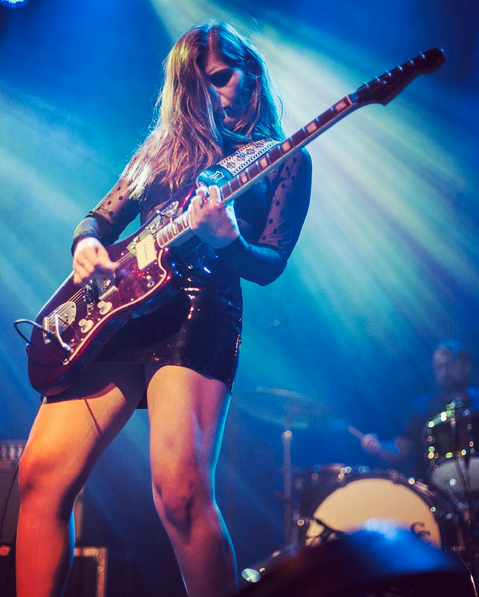 While singer-songwriter Orenda Fink (of Azure Ray) released her album Blue Dream in 2014, it wasn't until after it came out that she started really opening up about the meaning behind it.
"I owed a large part of the inspiration of the record to my therapist, who is a Jungian analyst specializing in dream work and grief therapy—hence the name Blue Dream," Fink told the Observer. "I found myself talking very openly and very often to strangers about my experience with grief, loss, depression and the healing value of dream therapy. Most of my interviews ended up as co-counseling sessions with the journalists."
For Fink, it was really about helping herself and other people feel less isolated in their feelings. Through her honesty, a lot of people were able to find comfort in the fact that they shared the same pain.
"Artists are in a unique position to start dialogues about intimate universal struggles without as much fear of judgment, so they could really be that voice that keeps someone from going over the edge," explained Fink.
Enigmatic R&B singer ELOHIM has been quite literal when it comes to revealing her battle with anxiety. "Xanax" and "She Talks Too Much," two of the singer's early singles, are both rooted in her experiences with anxiety. For ELOHIM, her music is therapeutic not only for fans, but for her.
"Knowing someone else is aware of how I feel, and knowing other people share my struggle helps me feel O.K.," Elohim told the Observer. "I've received an abundance of love and support for opening up about my anxiety. By openly talking about a topic that is so taboo, we can change the perception from something people tend to feel embarrassed about to something we can overcome."
Although there are more artists speaking out, it's not all productive; the world needs to continue encouraging the discussion about mental health in order to incite real change.
Just months ago Sinéad O'Connor took to her Facebook page where she revealed major depression and suicidal tendencies. Though the nature of these posts weren't fully explained, she was thankfully brought to safety both times. In light of her posts, it was important for the public to see that mental illness isn't something to be taken lightly, and it's a conversation for the world worth having. Luckily, O'Connor seems to be getting the help she needs, and speaking publicly, may have helped save her.
Similarly, through a flurry of tweets, the world has glimpsed of a different side of Kanye West in the wake of publicity surrounding his new album, The Life of Pablo.
'Knowing someone else is aware of how I feel, and knowing other people share my struggle helps me feel O.K.'
There was a divide created between those who thought his tweets were pure fodder and those who thought his tweets were the result of someone suffering from mental health issues. As evidenced on his single "FML," West even raps about anti-depressants: "You ain't never seen nothing crazier than / this n—a when he off his Lexapro."
West's Twitter rants brought up a cause for concern, but they also brought attention to anti-depressants and mental illness. The most famous musician in the world is human after all.
While the landscape surrounding mental health is always changing, the more musicians speak out, the more resources can surface to help musicians and individuals who suffer from the same conditions.
The hope is that the stigma behind mental illness will dissipate. Touring is tough—some bands don't leave the road for two to three years—so the more open musicians are, the more accessible programs to help folks dealing with whatever mental health issues they have will come to fruition.
Musicians are people too—their emotional baggage is as much as anyone else's. And just like a listener can connect with a song, a listener can connect even more with someone who has been through that experience. Reassurance comes in different forms, and sometimes it's just comforting to know that you're not alone. Connecting goes beyond music—it's emotional, physical and can lead to some serious, positive change.