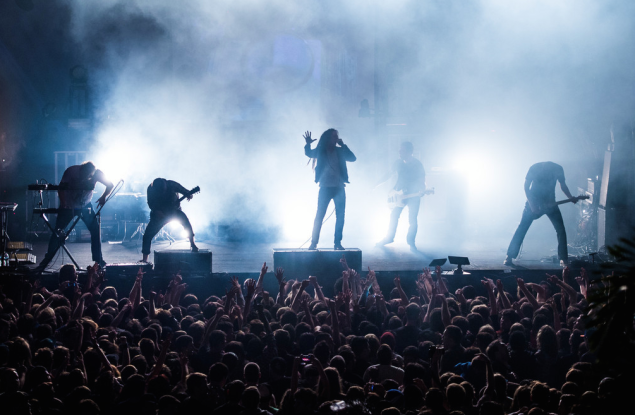 Ericka Bettge was mired in hell when she ran her first marathon, six years ago in Las Vegas.
Mental and emotional storms had battered her for years, and she struggled to reconcile adulthood's complexities with the Christian faith of her youth. Ericka was raised just east of Los Angeles by worship leaders, and she holds a bachelor's in biblical studies and a master's in theology. Notwithstanding her background, however, divine comforts grew distant. Ericka withdrew from her faith community. She also stopped praying.
Ericka turned to fitness to cultivate strength. She also turned to Underoath, the post-hardcore band whose work commented on—and literally sounds like—existential struggle, wended through a lens of faith.
Prior to hearing Underoath's 2004 album They're Only Chasing Safety, Ericka didn't listen to heavy music. Her favorite bands were Further Seems Forever, Dashboard Confessional and Yellowcard. But, to musically-trained ears, the interplay between Aaron Gillespie's crystalline singing and Spencer Chamberlain's guttural screaming was intoxicating. Ericka became obsessed.
Life was easier to navigate during Ericka's first years as an Underoath fan, but by the time they released Define the Great Line, in 2006, malaise and doubt had entered her life like an unwelcome chill. Subsequently her relationship to Underoath became more important. The song "In Regards to Myself", Ericka says, literally held her together as she battled depression and questioned the identity she'd constructed as a teenager. She felt isolated.
Still, Ericka managed to keep running, and Underoath's "To Whom it May Concern" roared from her earbuds as she crossed the finish line in Las Vegas. "I know 'cause my feet have the scars to show," they sing over an atmospheric dirge. "I was lost with vague direction, and no place to call home. It's time for you to press on."
Ericka got her first Underoath tattoo soon thereafter: The words "press on," on her left foot. She says it reminds her to keep swimming despite life's trials. It's also a marker in time of her grit, a permanent mirror of Underoath's role in helping her persevere.
[youtube https://www.youtube.com/watch?v=mAMRZzuLDUs&w=560&h=315]
The same year Underoath's music pushed Ericka across the finish line in Las Vegas, in 2010, Underoath the human entity was imploding.
Not that you'd know it on paper.
By 2010, the six-piece had scored consecutive Top 10s in the Billboard 200 chart, a major feat for a band featuring lots of screaming and unpredictable song structures, not to mention an act associated with Christianity. They'd set sales records on their label Tooth & Nail, at one time home to MTV regulars MXPX, and would eventually sell more than 500,000 copies of They're Only Chasing Safety and Define the Great Line. They'd earned two Grammy nominations, as well as the near universal respect of their peers.
Underoath toured with, among others, My Chemical Romance, The Used, Thursday, Taking Back Sunday, Mastodon and Poison the Well—all giants in the space at the time. They were big enough for NOFX's Fat Mike to publicly rib them and Hayley Williams to cop Spencer Chamberlain moves in front of Paramore's ballooning audiences. They were six middle-class kids from the neon melasma that is Mid-State Florida who were making more money than they'd ever seen. Most bought houses, a few got married, a few became dads.
One, Aaron Gillespie, became a hypochondriac.
The grind was bound to exact its toll. Gillespie joined Underoath in 1997 at 15, and he'd rarely stopped writing, recording and touring ever since. He grew increasingly convinced that he was sick or dying, often missing soundchecks because he was at the hospital in a foreign land attempting to validate his neuroses.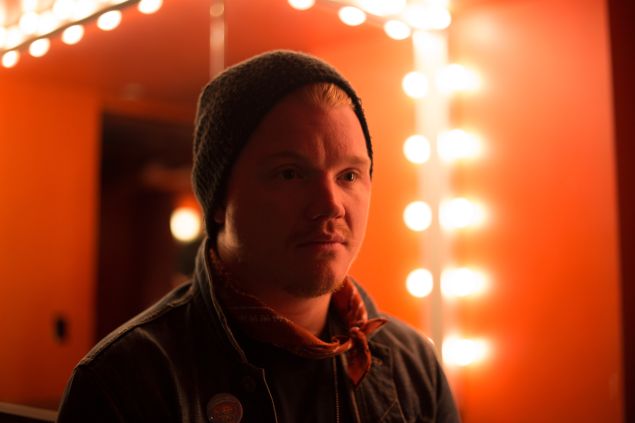 Gillespie also became convinced his bandmates hated him. So he distanced himself, not only from the band's obligations, but from five guys he'd known intimately long before Underoath charted on Billboard.
Initially this was mere paranoia. Tim McTague, one of Underoath's two guitarists, told me recently that the band wanted to help Gillespie, but that their capacity for patience eventually withered. Band meetings became less about moving forward than venting, straining tenuous relationships even further. By 2010, McTague and Gillespie's vitriol for each other was devastating.
Tensions mounted to the point where Gillespie, in the middle of a European tour, could go no further. Underoath were in Prague, and he told the others that their upcoming show in Milan, roughly nine and half hours away, would be his last. Spencer Chamberlain broke nearly everything on stage that night. McTague called Gillespie "the worst pile of shit on the fucking earth."
"My initial reaction was, good, we hate you," McTague recalled backstage at Manhattan's PlayStation Theatre recently. "He hated us too."
"Him leaving was for the best," Chris Dudley added.
Underoath's six members were all dealing with similar stresses: Outsized expectations, no rest, lack of connection to home, too much time spent with the same people, strong temptation to abuse substances. But everyone's capacity for handling pressure is different. For Gillespie, prolonged stress evolved into mental illness.
The 32-year-old discussed this on the podcast Bad Christian last fall, acknowledging that he sought treatment following his departure. McTague and Chamberlain also appeared on the podcast, speaking candidly about how they experienced Gillespie's polarizing behavior. Then they went further, acknowledging that everyone in Underoath was culpable for what transpired. In 2010, according to McTague, his moral superiority rivaled the effects of Gillespie's hypochondriac freakouts. No one communicated healthily.
"We were all piles of shit," he said.
Underoath carried on, announcing a few months later that former Norma Jean drummer Daniel Davison would replace Gillespie, and they entered the studio to make Disambiguation. More tours followed, as well as the release of a career-spanning anthology. But only two years passed before the seemingly inevitable became concrete: Underoath announced they'd be disbanding.
A farewell tour was booked. A documentary was filmed. Then Underoath, with its members no older than 30, was no more. They sold their gear. They said goodbye, and they meant it.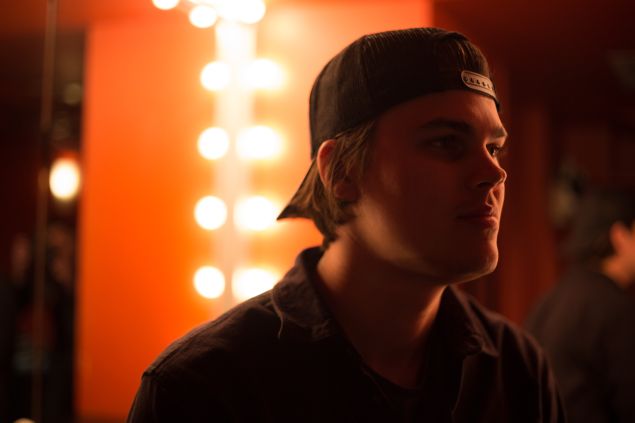 The most surreal Underoath memory I have is seeing Aaron, Tim, James, Chris, Grant and Dallas, the band's original vocalist, rushing toward my band's pinstriped conversion van after we'd crawled out of its spidered windshield.
Moments before, we awoke to tires shrieking and our roadie Ryan shouting "Oh shit!" as our van and trailer leaned into the median, then lurched toward a steep embankment in the drizzle of rural Kansas dawn. Exhaustion had bested Jonathan, our driver and my fellow guitarist in Embraced, and he'd overcorrected when the van sped into the middle of the interstate. The roads were wet, and within seconds we were flipping down lush green hillside.
The memory feels like a dream now, something from Terrence Malick: We're spinning slloowwwly between heaven and earth as a Respighi suite sighs in the ether.
When the flipping stopped, I laid still against caustic maroon carpet behind the driver's seat with my eyes clenched tight. I knew I'd survived, but was afraid I'd open my eyes to see dead friends. A few pulses later, though, our teen drummer Steve softly lifted my right hand from his chest: As we'd pirouetted down the hill, I'd reached from where I laid for something to grip. I found his chest, and claw marks now dotted his sternum like a scatterplot of stars.
I rose slowly and saw Jonathan, Ryan, Jared and Kyle, the drummer for tourmates Love is Red, were awake and equally disoriented, and no one appeared to be critically injured. Some shocked murmuring passed before we realized the one way out was through the windshield. We climbed out one by one, then Jonathan fell to the grass and wept. We couldn't convince him that any one of us could've fallen asleep at the wheel. We were all exhausted.
We were joined in the grass by strangers who'd seen us careen off the road, and a few minutes later Underoath and Love is Red braked on the side of the highway, looking down the hill from their windows in disbelief. A few awoke as a result of stopping, and, after rubbing their eyes, looked at us as if a dead relative had resurrected.
This was 2003, and Embraced was in the midst of opening for Underoath on a jaunt that was slated to start in Texas, run to the Pacific, then vein back across the Midwest just in time for both bands to play Cornerstone Festival, in Illinois, a marquee-name Christian music festival, and an important tour stop for any band hoping to rise in the genre. On the morning we flipped, we were on the third leg, making the all-night drive from Denver to Lawrence, Kan.
The trip was special for us. Embraced had never toured the West Coast, nor been recognized in far-flung food courts and Hot Topics. We'd never had kids singing along in cities we'd never been to. But here we were, enhancing the momentum that had begun the year prior.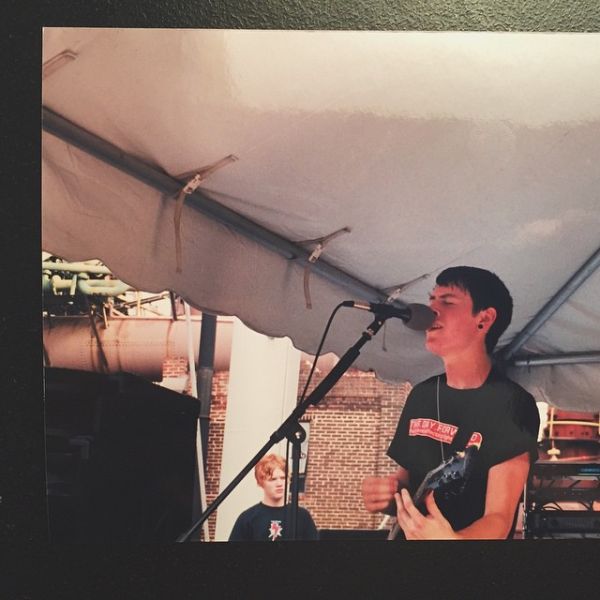 In 2002, Embraced released an album that generated interest from a major label and other substantial tour offers. We'd already toured once with Underoath and then-rising Floridians Copeland, and had performed for a sold-out crowd at St. Petersburg's State Theatre when Underoath released The Changing of Times. We'd played together in one form or another since 1998, and were beginning to believe we'd have a real shot at playing music for a living.
The wreck complicated matters.
After our van was towed and we ate a solemn McDonald's breakfast, Underoath and Love is Red said goodbye as we headed toward a budget hotel to lick our wounds. We phoned parents and girlfriends. We ordered pizza. We spoke little. And the following morning we limped to the Greyhound station to set back toward Northwest Florida.
Two days later, Ryan left us for Nashville, where he lived, and we headed south toward Montgomery, Ala., where Jared's father picked us up. I'd begun to feel that I was losing my mind, flitting in and out of light sleep and wincing each time the bus hit an unexpected bump, so the gesture was welcome.
Back in Panama City, we cobbled together funds for a replacement van and made the trek north to Cornerstone a few weeks later. We played two weak sets, wherein the absence of Brandon, the singer we'd unceremoniously kicked out a few months prior, loomed large. We were hot and sloppy and exhausted, shells of humans with little inspiration left. We returned to Florida and Jared and I quit the band, ostensibly to focus on college and adulthood. That was the narrative, anyway.
My mindset at the time is difficult to reach now, but I sense the spark for my decision was more feral than I've acknowledged.
College entered the equation undoubtedly, but I suspect there was a deeper, confusing exhaustion at work. Somehow the wreck represented failure to me, a sign that we weren't supposed to force Embraced to work any longer. It didn't occur to me, in the haze of religious-y, God's Will thinking, that life often treats us to devastating or callous events that bear no significance outside what we project on them.
In short: Shit happens. And shit happening doesn't always mean God is speaking, nor does it mean it's time to run from a job or a marriage or deep-seated aspirations. Contentment often blooms from perseverance, not escape.
Whether the decision was right or wrong, if those concepts even apply, is immaterial now. Everyone involved with Embraced has thrived in one way or another, and our friendships remain unbroken and alive. But I retrace these steps because of how the decision and Underoath's subsequent success affected me in the following decade.
There was a time when I plotted, on some level, my self-worth against how Underoath performed in the public eye. I compared my circumstances—fumbling from one attempt to prove my worth as a Mature Adult to another, not making much music, drinking too much, failing miserably with women—to an idealized version of theirs.
In my ill mind, Underoath were living the life I'd be living if fate, a concept I fiercely and rigidly believed in, wasn't at odds with the conditions I assumed would make me happy. I was jealous, not only of Underoath, but Copeland, Beloved, Hopesfall and Norma Jean—Southern bands we'd more or less come up with—and angry that younger melodic hardcore bands were benefitting from a new cultural openness to heavy music that Embraced had helped produce.
Feeling all this was not unlike wishing you'd never met or fallen in love with someone who broke your heart.
I wished Embraced had never toured with Underoath, nor played the Changing of Times release show. I wished I didn't remember knowing Grant Brandell before he joined the band, when Embraced spent a week hanging out and playing house shows with he and his friends in Tampa/St. Pete.
I wished I didn't remember the elation I felt when Tim geeked out over our record in the Two Way parking lot in Birmingham, and couldn't recall hearing him warm up one night on tour to the final breakdown in our song "A Glass Magnolia." I wished Embraced had languished in Northwest Florida, never having been granted the respect of bands we so fiercely admired, or experienced kids being as excited to see Embraced as Beloved and Underoath when we traveled up the East Coast with them in 2002. I wished I'd never, as Jens Lekman sings, "tasted wine, or tasted it from lips that weren't mine."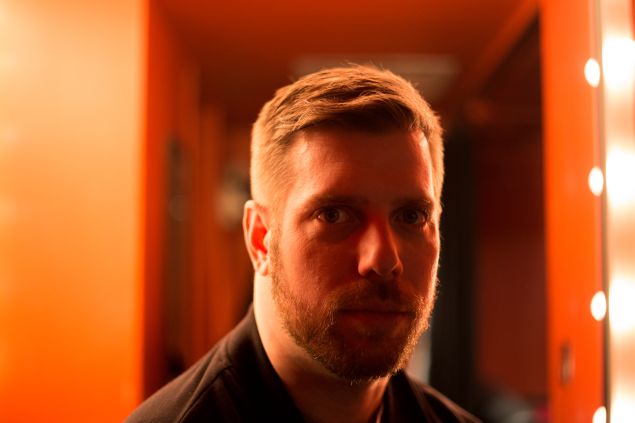 Never during this time did I stop to ask myself why I wanted what Underoath had, nor did I consider that money and success could obliterate friendships and faith systems and mental health. More often I'd recall biblical passages like Romans 8:28—"and we know that God causes all things to work together for good to those who love Him"—and stare at the sky in blank confusion.
Was the whole thing a cruel tease? I asked. What is my purpose if not to use the gifts you've given me?
Unless there's a conversation with a burning bush that I can't now recall, God didn't respond directly. If there were subtle holy pulses—a note of encouragement from a friend, a well-placed line in a book—I missed those too, and the years kept creeping in the half-light of disappointment. I was so sick with nostalgia that I was not awake to the present, nor equipped to deal with it like an adult. I couldn't experience gratitude for the privilege of having toured the country, let alone recall how fortunate I was to have food to eat, shelter and the space to bitch and moan at all. My privilege was blinding me and killing me. I became convinced that peace wouldn't be attainable in my lifetime.
I was, on some level, Ericka Bettge. I was Aaron Gillespie. I was anyone who's yet to learn the simplest but most difficult and evasive truth in life: that peace is forged from internal strength and earned clarity, not external losses and victories. I'd yet to learn, despite my Christian upbringing, how to find respite in a storm.
Last month, on Thursday, April 14, one day after my 34th birthday, I stood backstage at PlayStation Theater next to Dylan Nichols, a toddler, watching him buoyantly nod his head to Underoath's "It's Dangerous Business Walking Out Your Front Door." His father Randy, Underoath's manager, had placed a pair of headphones on Dylan's small head to protect his hearing, but that didn't stop the kid from swaying his long, sandy hair like leaves scattering. Earlier, in the green room, Dylan performed his "Spencer voice" for the singer: Raarrrr, the little boy mewed, as if imitating a baby tiger.
On stage, I looked up from Dylan to watch James, Grant, Spencer, Aaron, Tim and Chris performing as if they might never get the opportunity again: forgiveness and perspective and rebirth as catharsis. I watched James rock slowly back and forth in a sort of Zen shimmy. I watched Grant thread, as if on ice, from the front of the stage back. Farther away, I saw Spencer spin and sway with eyes closed when he wasn't singing, and I saw Tim put his body through blurred fits of ecstasy. Stage Left saw Chris reaching toward the crowd as if conducting a sacred hymn. Chris and Tim generated enough sweat to fill the Hudson.
Behind them, on a short riser, Aaron marshalled his thick, strong build toward rhythmic feats both precise and confounding. When it was his turn to sing, his watery voice floated above the fury of his arms and legs, as if he could become two separate people on command.
I turned from Aaron and watched flickering white lights illuminate a sea of sweaty, churning bodies. Like fish they leapt toward Spencer when he neared, and they sang every word into balmy air when he slipped away.
At the front, in the middle, 33-year-old Ericka Bettge wore a black tank top that exposed her toned, tattooed arms. Her hair was blonde and pulled tight into a ponytail, and her ribs were crammed against a barrier that stopped three feet from the stage. I watched as she endured body blows from stage divers and crowd surfers without betraying a hint of annoyance.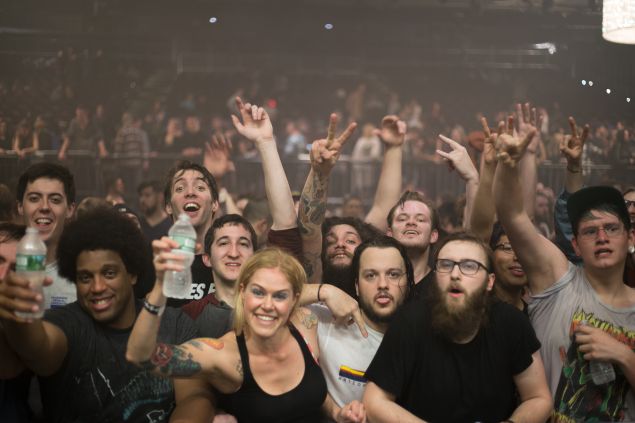 A few days later, on the phone, Bettge told me how Underoath gave her a voice and the fuel to keep moving when the sky within was black. She told me she'd already seen the "Rebirth" tour in Los Angeles and Las Vegas, and that the New York show was the first where she pushed her way to the very front. She told me she's seen Underoath more than 20 times, and that she tells her friends they've not seen the real Ericka unless they've seen her at an Underoath show. She told me that before she left New York, she had the Underoath lyric "It's all worth reaching for" from "In Regards to Myself" tattooed all the way down her right forearm. She sent me a photo taken outside the tattoo shop in which her smile is life-affirming.
Ericka also told me about her life in 2016, about her passion for helping others escape mental prisons. She's a therapist now, working with individuals and families who struggle with substance abuse and past traumas. I asked her if this work is connected to what she's overcome; she spoke over me to say "absolutely." Ericka's life reminded me of Annie Lamott quoting Toni Morrison: "The function of freedom is to free someone else."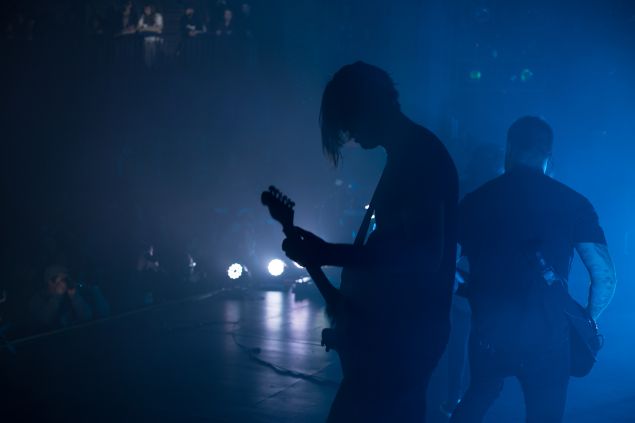 After our call, I thought of the show a few nights prior, to Aaron performing with Tim and the Fuck Yous and resentment that dispersed into history like mist. I thought of Ericka's perseverance and joy, and little Dylan Nichols' blooming love of music, and how, God forbid, someday he might need music to save him.
I smiled like Ericka as I recalled standing behind Underoath, my eyes softening as house lights darkened and the crowd illuminated a galaxy of tiny smartphone lights on Spencer's command. The band played a re-tooled "Some Seek Forgiveness, Others Escape," and I felt a current pass, as if the restoration in the room were being acknowledged by forces unseen. I experienced, I think, one of Zadie Smith's rare moments of real joy.
Last Saturday, I traveled from Downtown Brooklyn, where I live, to Bushwick, where someone I thought had left my life forever lives. We're trying friendship again, after a long detente, and this was the first we'd hung out since making peace. One of her best friends joined, and the night went well, more or less. We made light of the past, we connected in the present. We sort of danced in place while guys with no shirts sang karaoke, and agreed that Aerosmith's "Don't Wanna Miss a Thing" is undeniably good after a few drinks on a Saturday night.
At one point, I got distracted because Spencer Chamberlain was ordering a drink a few feet away. He was alone, so far as I could tell, and no one was bothering him. Perhaps no one knew that in 2006 his band debuted at No. 2 on Billboard; that he'd graced magazine covers; that he'd inspired Hayley Williams. Perhaps some knew and didn't care.
I'm not sure why Spencer went to a loud bar alone. I didn't say hello, partly because I don't know him—my story with Underoath precedes his time in the band—and partly because being alone seemed to be the point. But he seemed content, as if this is what a breather looks like on the flip side of a sold-out, five-week tour, where every day involves a meet-and-greet and press obligations and hanging out backstage with friends and family and vocal coaches and business associates. I'm exhausted thinking about it. I'm glad that's not my life, but I know he lives for it.
So we let him be. And on the way home I thanked God, whose shape has shifted innumerable times for Ericka and Aaron and Spencer and me and lots of other people, whose existence I question but dream about, for healing.