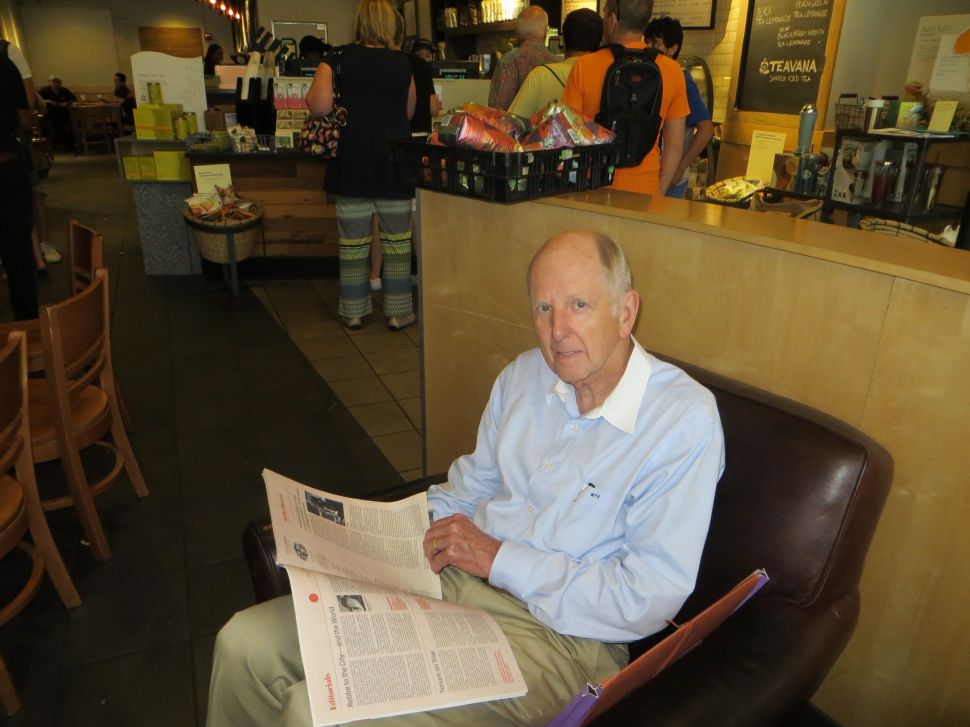 WINNERS
George Norcross III
The voice on the other end of the phone was hoarse, not from talking but from not talking. The activity of putting words together seemed new, as if the person were emerging from a deep anesthetic and had to relearn the language. This was – on paper – an important person in Trenton, and yet no one throughout the Atlantic City crisis had seen the need to tap this person for an idea or argument. Untouched were those skills of debate and disquisition and legal know-how. He/she was unnecessary and – but for being associated with a vote – irrelevant, and he/she knew it. "I never fully realized the extent of Norcross's reach," the source groaned, with all the resolve of one resigned to return to Friday morning sports scores. It was true. If there were ever any doubt, that nameless pol awoke to find himself in a land controlled by South Jersey Democratic boss Norcross, who proved this past week that the legislature doesn't operate without his influence. Faced with the prospect of eating a loss on the Atlantic City bill prepared by Speaker Vincent Prieto (D-32), Norcross went into Rambo mode- essentially taking over the state with a variety of devices and traps laid to pry Prieto's backers away from the speaker. When he was finished, Norcross had reprogrammed lawmakers in Middlesex, Union and Essex counties to help subvert Prieto's bill. Big win for the South Jersey boss, who – at the very least – proved that he will have a big, dominant speaking part in who next occupies the office of governor.
Chris Christie
It helps to be close to Norcross.
Pat Diegnan
The veteran Democratic legislator from South Plainfield received the unanimous support of county committee members to secure the 18th District senate seat vacated by Superior Court Judge Peter Barnes.
Brendan Gill
The friendly Essex County freeholder pulled off the impossible last night at his annual fundraiser: he managed to get both powerful Essex County Executive Joe DiVincenzo and Senator Dick Codey to speak. The men hate each other, but rose above their differences to honor the elegant Gill. The freeholder – who's also the political handler of Phil Murphy for Governor – raised $50,000 toward his election fund.
Vincent Ciniello and Jason O'Donnell
The Kivvit employees this week respectively dove into Wesley Lake and performed CPR on a woman to save her life. O'Donnell is a former Democratic assemblyman and possible future mayor of his hometown of Bayonne.
STRIKING DISTANCE
Phil Murphy
The incredibly intense collision between North and South this week over the Atlantic City crisis conceivably opened up an opportunity for the former U.S. Ambassador to Germany. Running for governor and positioned as the number two choice among a handful of powerful people, Democrat Murphy can wiggle into the space between bitter rivals Senate President Steve Sweeney and Jersey City Mayor Steven Fulop if the state becomes embittered by the ongoing civil war.
IN LIMBO
Steve Sweeney
The association with Christie throughout the ongoing Atlantic City crisis hardly helps the senate president's image. His allies will argue that he's opposed the governor in key areas and secured solid wins – like keeping the state Supreme Court in the Democratic column. But his attachment to Christie – mired at 26% approval in the latest poll – will be a big hurdle to clear in a Democratic Primary, and one that appeared to inch skyward somewhat during this particular battle.
LOSERS
Vinny Prieto
The speaker put up his Atlantic City bill this week and fell just short of mustering the 41 votes he needed for passage. The effort itself was sufficient to prompt a standing ovation Monday at this year's Jefferson-Jackson Dinner thrown by the Democratic State Committee. Insistent on preserving the Assembly's rightful place in the legislative process, the likeable speaker stood in there and traded admirably with the most powerful and lethal people in the state. But in the end, Prieto once again looked like the noble WWII sergeant who eats a mortar round at Anzio. Will the loss boomerang on the speaker and drop him out of his leadership chair? It's possible. What we saw this week was a landscape lit up suddenly that revealed the compromised positions of multiple assembly people, who might give their word but later find themselves stuck in the quicksand of a public job or contract. Make no mistake. Prieto made them sweat this week. This was a speaker who extended Norcross into the championship rounds of a 15-round title fight and got knocked out – like Wilfredo Benitez against Ray Leonard – in the 15th round.
Steven Fulop
It depends on your political perspective. The Jersey City mayor's allies will howl at the sight of his presence on the losers' side of a fight. In their eyes, they saw a leader who was willing to stand up and – in an unprecedented way – call out the power nexus of Christie-Norcross-Sweeney. The former Marine showed guts, no question. The move may yet prove useful. If Christie fatigue is simply unbearable come 2017 and lethal in a Democratic Primary – Fulop may have set up a faster march than ever to Drumthwacket. But what this week also showed was that it will be thornier than expected for Fulop to depend on those would-be allies who occupy elected office in this state. A handshake today may equal a run for cover tomorrow. So the Prieto-affiliated Fulop is up against the fact that this state is a machine enterprise and Norcross controls the levers to those machines, and now he's doubly angry because Fulop poked him in the eye over Atlantic City. Maybe the alliances will hold up North, but the young mayor will have to work harder now to keep them intact against a very publicly reinvigorated and powerful Norcross. "That's just backroom, inside politics," a Fulop backer sneered earlier today, but that's how New Jersey works. Apparently grassroots Newark Mayor Ras Baraka didn't get that memo – and is proof that one can beat Norcross on Election Day (see the 2014 mayor's race). Baraka gave Fulop a hero's welcome in Brick City Thursday night, embracing his ally as New Jersey's next governor.
Chris Brown
The Republican Assemblyman from the 2nd District – a 2017 candidate for state senate, who's already working closely with state Senate Minority Leader Tom Kean, Jr. – could not muster sufficient support in his caucus to add to Prieto's vote total. He went down with the speaker.
Don Guardian
The mayor of Atlantic City worker hard in support of Prieto's bill and – like Brown and Fulop – found himself on the losing team with the speaker. Again, as with those two politicians, the wider political dimensions of this fight may yet prove advantageous to the mayor, who's up for reelection next year and widely seen as a fight-the-power folk hero in his home town.
Atlantic City
Short of the legislature immediately regrouping and finding a solution, the political football by the sea faces bankruptcy.
Public Sector Unions
The failure of Prieto's bill dealt a major loss to labor groups that backed him with the written promise of longer and better collective bargaining protections. Now, as state Senator Jim Whelan pointed out in the Statehouse hallway yesterday, the looming prospect of bankruptcy could prove the worst of all possible outcomes for the unions' members.