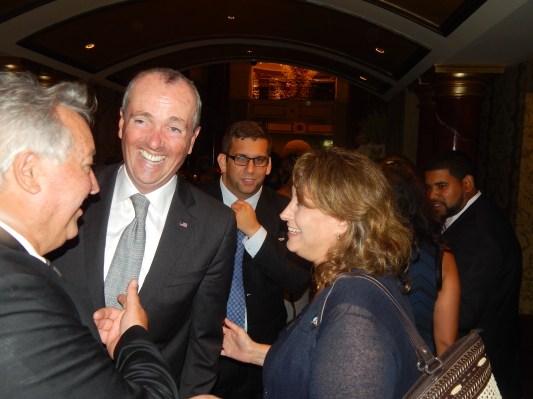 WINNERS
Bob Menendez
Depite his pending federal corruption case, Menendez had a strong week. The Democratic U.S. senator pulled in over $600,000 at an event at the Meadowlands racetrack on Tuesday, with hundreds of guests and an appearance from former New York Yankee Lou Piniella. Democratic State Chair John Currie was in attendance, as were Jersey City Mayor Steve Fulop and influential North Jersey Democratic chairmen. Menendez's indictment for allegedly accepting gifts from a political donor still casts a huge shadow over his political future, but this week showed he can still command the goodwill of the party's elite.
Michael Venezia
The Bloomfield mayor netted an endorsement from U.S. Representative Donald Payne Jr. this week in his hotly contested campaign against city councilman Joe Lopez. The endorsement adds to Venezia's wealth of establishment support from the likes of Essex County Executive Joe DiVincenzo, Essex County Democratic Chairman Leroy Jones, and the legislative team from LD28 (state Senator Ron Rice, Assemblyman Ralph Caputo and Assemblywoman Cleopatra Tucker). Though he could face a fractious second term if he prevails against Lopez's slate of city council members, support from above could be enough to see him through the election in June.
Chris Russell and Rick Rosenberg
The two Republican strategists announced the formation of the NJ GOP's first super PAC this week, in a move that could help to bolster Republicans' chances in 2017. Republicans took a beating in last year's Assembly elections, losing four seats in a year dominated by spending from the Democrat-allied General Majority PAC. Whether the newly formed SolutionsNJ can drum up spending equal to General Majority's 2015 total of $5.9 million remains to be seen, but having an independent benefactor of their own will certainly help next cycle when Republicans try to recapture seats in districts like the 11th and 16 and compete for the governor's mansion.
Vin Gopal
Monmouth County Democrats also had a strong fundraising showing this week, with chairman Vin Gopal's carefully orchestrated county slate showing almost $180,000 in their 29-day ELEC report. Candidate for Sheriff Jeff Cantor, candidate for Surrogate Vincent Solomeno, and candidates for Freeholder Matt Doherty and Sue Fulton pulled in significant numbers of smaller grassroots contributions, 80 percent of which were $300 or less.
Renee Wolf Koubiadis
The longtime anti-poverty advocate became the executive director of the New Jersey Anti-Poverty Network this week. The group has been at the epicenter of legislative Democrats' push for increases to the minimum wage and a 2021 deadline for raising the wage to $15 an hour. That initiative is expected to be the party's most provocative issues in 2017, when it is expected to go to voters in the form of a ballot question.
Kevin O'Toole
The Republican Senator from Essex County had a successful fundraiser — presumed to be his last — on Monday night, drawing a crowd that included state Senator Brian P. Stack (D-33) and state Senator Michael Doherty (R-23).
IN BETWEEN
Phil Murphy
This week, the former ambassador to Germany and Goldman Sachs executive formally announced his early start in the primary melee between himself, Jersey City mayor Steve Fulop and Senate President Steve Sweeney (D-3). Though Murphy beat Fulop, Sweeney and other competitors like start Senator Ray Lesniak (D-20) and Assemblyman John Wisniewski (D-19) to the punch, the wisdom of announcing so early and so close to New Jersey's presidential primary elections in June is debatable. Meanwhile, though his campaign pounced on a novel idea with Thursday's 'Facebook Live Townhall,' Murphy's answers to social media users skewed bland.
LOSERS
Jack Kelly
Kelly's path to a $143,000 salary and a lifetime of generous pension rates as the newest member of New Jersey's state parole board may not be as clear as the Ocean County freeholder would hope. Lesniak, state Senator Loretta Weinberg (D-37), Garden State Equality founder Steve Goldstein and PolitickerNJ's own Jay Lassiter have all raised the specter of Kelly's leading role in the vote to deny dying police lieutenant Laurel Hester the right pass on her pension to her same-sex partner in 2005. Though the board reversed its decision the following year, Kelly's absence from that subsequent vote could continue to provide grist for critics as he heads toward confirmation.
Chris Christie
Though the governor's appearance in Lawrenceville alongside presumptive Republican presidential nominee Donald Trump wiped out his roughly $250,000 of debt from his own failed bid for the White House, Christie had to endure the real estate mogul's jabs at his weight in return. Worse than Trump telling him "No more oreos" before the crowd in Central Jersey, this week also saw no movement from the state's most powerful elected official on reaching compromises to fund the Transportation Trust Fund and save Atlantic City from bankruptcy.
Prieto and Sweeney
Negotiations the two most vocal opponents in the battle over when and how the state may take over Atlantic City's finances continued their lethargic pace this week. Though sources throughout the legislature and across the North-South divide that has opened up between the Assembly Speaker and Senate President said their compromise will favor the Senate bill passed back in April, they still don't have a firm agreement ready to send on to Christie.
Scott Garrett
The congressman from New Jersey's fifth district also suffered from pro-LGBT Democrats' long memories this week, with Assemblyman Tim Eustace (D-38) leading a demonstration outside of a Fidelity Investments storefront in Paramus this week urging the financial institution to stop backing his reelection campaign. Garrett reportedly said last summer that he would withhold his own support for the House Republican campaign arm because of members' openness to floating openly gay candidates.