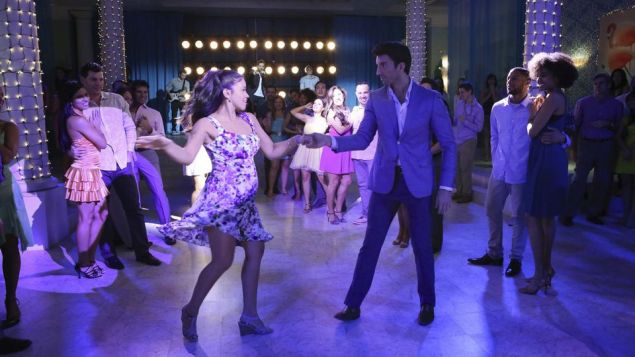 Welcome to our TV Fashion column, where TV Ate My Wardrobe's Emma Fraser discusses the trends in television apparel. This week: Jane the Virgin's fantasy-fulfilling fashion. 
The Bachelorette, 1920s silent movies, salsa dancing and wrestling are just a few of the reference points Jane the Virgin has utilized to show the inner life of its lead character and explore relationship dynamics through escapism. Romantic fantasy informs the story in a variety of ways from Jane's writing ambitions to the manner in which relationship dilemmas play out.
Part of the visual language comes in the form of costume. Jane's day to day attire is one of the most affordable wardrobes on TV with some of her outfits coming from Target (Jane's often mentioned fave) and H&M. Pretty summer dresses dominate along with comfy tees, chambray shirts, shorts and tanks; Jane's closet is full of items that probably feature in your closet and this adds to the relatability (yeah I went there with this word) of this character.
The manner in which Jane got pregnant is pretty out there as are some of the subsequent twists such as stepmothers who are crime lords, long lost twins, murder plots and face swaps; all of which are straight out of a telenovela. Something the narrator is often happy to point out and part of the Jane the Virgin magic is how deftly it walks the line between real experiences and those that match the more out there story conventions of the romance novels Jane wants to write or the telenovela her father stars in.
Sequins replace pajamas and comfy writing attire when Jane is debating the loves of her life and the one she is constructing in her romance novel. At the start of season 2 when Jane had a strong Michael and Raphael dilemma The Bachelorette provided the inspiration to figuring out which dude was for her; cue booze and cocktail dresses and an over the top version of herself playing the Chris Harrison role.
More recently while working through both a creative block and a falling out with her mom, Jane embraces a salsa dancing fantasy that points to a now contentious experience from her childhood. It also, because guest stars and fantasy sequences often go hand in had for Jane the Virgin, allows her to imagine herself dancing with Derek Hough as the love interest in her story.
Costume designer Rachel Sage Kunin strikes a balance between the blend of everyday clothing and what these characters wear in fantasy sequences to highlight the wish fulfillment qualities. Sometimes there is overlap between the two and this is just as important because the line between real and make-believe is sometimes blurred; in part to add tension levels and to give a sense of character state of mind.
As with costuming, dance is a visual language and it is something Jane the Virgin has used on a number of occasions to work through emotions from Jane's understandable Britney Spears freak out and imagined "Toxic" choreographed routine to the disappointment of Raphael not showing up to the Calle Ocho celebrations in "Chapter 16." This happened early on in their relationship as the initial romantic glow was beginning to fading. With the Britney and Raphael dance there is a moment of the fantasy and reality merging; Jane wears the same outfit throughout this sequence. The former indulges in the idea of Jane keeping it cool in the presence of a pop icon and the latter is tinged with sadness as despite the narrator making it clear this is all in her head there is still part of Jane (and Team Raphael) that hopes it is true.
Rogelio's current telenovela "Tiago a Través del Tiempo" sees him traveling through time to epic historical moments with a very strong license to alter history in a Quantum Leap-esque way, but without the body jumping. We've seen Rogelio going all William Wallace, but switching out blue face paint for his signature purple and his new show opens up the fantasy elements of Jane the Virgin even further with this option to step into the past. The recent "Chapter 41" does just this as Jane's mother Xo wants to audition for the part of a silent movie star from the 1920s leading to title cards with dialogue and flapper dresses to explore Jane's financial woes, her relationships with Michael, Raphael and Petra all while in a different format.
What this does is keep things fresh and for any kind of romantic triangle it is vital to prevent plot inertia. Keeping the fun levels up stops this narrative from becoming stale and it is always a treat to see characters go from the familiar into an entirely different time period.
This isn't just window dressing. These points of escapism lead to a deeper understanding of the evolving relationship dynamics in a different context. Last season, Raphael's hotel hosted a wrestling match and this led to some very physical confrontations of the made-up variety. All those emotions came to a head with the added bonus of wrestler names like 'Pregnant Punisher' and 'Mommy Long Legs' with the themed costume pitting Petra in silver as 'The Cold Warrior' versus Jane in all black complete with a cape and bump. Arguments and passive aggressive comments can get tired; a wrestling theme can certainly add to the usual methods of dealing with conflict resolution.
Not every show is capable of such bending of narrative and style, but Jane the Virgin not only benefits from the conventions of the genres Jane is passionate about, it also leans into them. Grand romance infused fantasies sit right alongside everyday relationship dramas, which leads to an eclectic array of costuming from past and present with a huge dollop of pop culture for good measure.
Emma Fraser is the creator of TV Ate My Wardrobe and spends most of her time writing about TV, fashion and costuming; Abbi and Ilana's Broad City style, the wigs on The Americans and Mindy Lahiri's pajamas are just as vital as talking about '90s/'00s teen shows. Emma has a MA in Film and Television and she probably holds Angela Chase responsible for this path. You can find her on Twitter @frazbelina.