There's a tasteful way for any re-activated band to handle their reunion without relying too heavily on nostalgia or schmaltz—just let it happen. It helps if you don't make a huge spectacle out of the hiatus in the first place, no string of final shows or self-edifying victory laps designed to make fans fork over the dough.
You break the news to those fans first, because they're the ones who'll take the news hardest, and you go out with a farewell show in your hometown. You stay creative working on other projects while keeping the bond between you and your bandmates not only amicable, but strong. And when the time feels right (five years later, as it were), you simply let it happen again.
Wolf Parade's glorious return to the stage after a five-year indefinite hiatus reminded fans old and new just how vital a band they were when they stopped playing in early 2011, at the peak of their powers, with three records under tow.
Last week they played three warm-up dates on home turf of Vancouver Island under the name "Del Scorcho", before kicking off their five-night reunion residency at Bowery Ballroom on Tuesday. It was a night of sing-alongs and affectionate moshing, and because of the nom de guerre, this was actually the first time they were playing together again as "Wolf Parade."
Earlier in the day, the band released EP 4, their first collection of songs since 2010's Expo '86, and a return to the short, energetic bursts of baroque indie rock that populated their classic, recently reissued debut, Apologies to the Queen Mary.
After publishing my legacy piece around that album's 10-year anniversary last fall, all Sub Pop could do was wink at me. While I wondered why there was no Apologies reissue, the band had one in works the whole time, a gorgeous remastering that was released last Friday as the perfect anticipatory artifact to their unthawing.
The fans were winking at me last fall as well, a select few of whom knew of Wolf Parade's plans to get back together all along. The men in Wolf Parade love each other, and they love their fans, too.
"We're glad we're at the Bowery," keyboardist and singer Spencer Krug told the crowd in earnest. "We've always loved this place. There's been a lot of build up to this moment, so we're glad it was with you guys."
The crowd brought a palpable, physical energy on the Bowery last night, a true sense of shared joy and adoration that Ticketmaster'd city shows rarely inspire inside jaded urbanites. The head honchos of Wolf Parade's fan club positioned themselves front and center, taking cues from Mr. Krug while he sat at his keyboards, holding a hand in the air like a maestro, cueing an orchestra of sweaty bodies into movements of communal catharsis.
Mr. Krug relishes his role as the manic seer of the band, crafting immaculately composed songs that find him rambling off verbose invocations of rituals and new realities. Classically trained but always self-shielding of any descent into Anglophone bouginess, his baroque stylings complement the more immediate rock 'n roll riffage of Wolf Parade's other singer/songwriter, Dan Boeckner, perfectly. Mr. Krugs' "Cloud Shadow On The Mountain", the first song on Expo '86, opened the night in precise, hurried earnest, the song's speed-metal riff underscoring his jittery call to assembly, "Everybody's gotta be reborn, but never be born as a scorpion!"
Next came the opening song to sophomore LP At Mount Zoomer: "Soldier's Grin", a Dan Boeckner number. His reverb-laden guitar chugs provided the perfect sonic contrast from Mr. Krug's mystic, hyperactive bard. "And what you know can only mean one thing," he sang, "running to the place that you spring from." For those fans who remember Wolf Parade playing CMJ at Bowery in 2005 as young whippersnappers and all the times they've been back since, both together and with other projects, the line had added resonance.
The juxtaposition between Mr. Boeckner's power anthems and Mr. Krug's more "out-there" verbosities has only grown more potent with time, a push and pull that crests on songs where they both sing like "We Built Another World" and the epic main-set closer, "Kissing the Beehive." Depending on when you caught them originally, though, this juxtaposition wasn't always so smooth.
Both tremendous talents and characters, Mr. Krug and Mr. Boeckner at times reached a point on the touring/promoting grind when a strain between their tremendous energies was evident. Maybe the guitar reverb swallowed up some of they keys, maybe each musician's own sonic ambitions were pulling them away from a collaborative project. With new instrument techs and in-ear monitors in tow, Wolf Parade sounded like they've figured that shit out for good now; there were no moments where Mr. Boeckner's guitar kept even one of Mr. Krug's dulcet synth lines or bouts of syllabic wordplay buried in the mix.
Of the new EP tunes, "Mr. Startup" garnered the biggest reception of the evening. It's a Krug song, dancey but heartfelt, like the heady new wave number that manages to sneak onto the playlist at your senior prom. "That song's about a friend of mine in Finland who lost his mind," Mr. Krug says after all matter-of-factly. "So it goes."
[youtube https://www.youtube.com/watch?v=Dbbp8RAz2as]
Any deadpan morbidity aside, Wolf Parade were in great spirits.
Joking about Mr. Boeckner having to switch his amp, Mr. Krug called him "Hot Rod" at various points in the evening. Putting a towel over his mop to dry off, Mr. Krug later said, "I'm gonna be the first person in history to sweat through a blazer…and I'm not gonna take it off all night!" Though he normally comes off as the serious one, Mr. Krug's relaxed demeanor and casual jokiness reminded me of just how tight all these guys are, and how much they genuinely enjoy playing together. Wolf Parade never started off as a supergroup. All these years later though, with numerous other successful projects under their belts, they sure feel like one.
Their commitment to the classics was no more evident than in the vast number of Apologies tracks that peppered the setlist, including some tunes that they hadn't played live in eight to 10 years. "We Built Another World," an angular post-punk disco number, simultaneously sounded dancey and anti-social as Mr. Boeckner yelped, "I bide my time tonight, 'cause bad things happen in the night."
When they busted out the Apologies burner "Modern World" for the encore, a rarity "not played in a millennia," a brotherhood of yelps formed a makeshift choir for the outro, the effect hitting us all at once: there we were, all together, smiling, howling, drenched in sweat.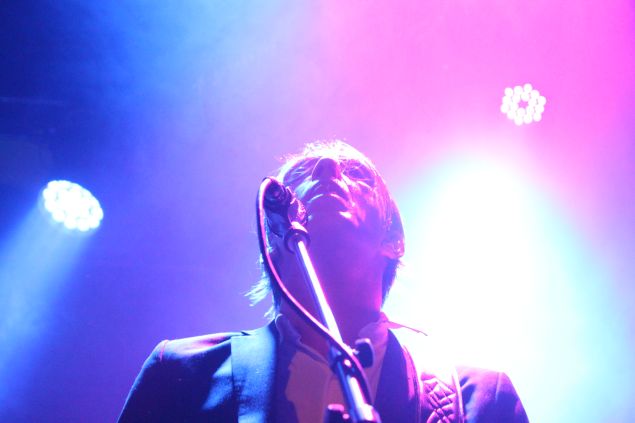 That's the magic of a good show. Different characters, different personalities, all untied over a communal sense of adoration.
The community that's formed around these Wolf Parade fellows is so strong, so tight-knit and so invested in a shared experience, it's unclear as to whether or not reuniting was ever a question. When it was time to take a break and that joy was waning, they knew it.
How wonderful that they're looking back at the fantastic music they made together now, not with maudlin self-righteousness or dollar signs, but relevance and vigor.