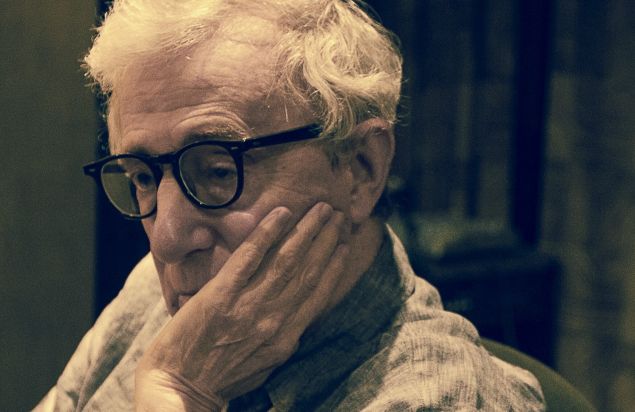 Wednesday in Cannes started out as a pretty good day for Woody Allen, who launched his Cafe Society film with a successful press screening followed by a packed press screening. For the most part, everyone likes the film. It's very funny. It has a lot of Woody like motifs including an ongoing discussion of what it means to be Jewish. There are tremendous performances by Jesse Eisenberg, Kristen Stewart, Jeannie Berlin, and Steve Carell, among others.
What could go wrong? Well, plenty. First, the Hollywood Reporter—now run by former tabloid editor Janice Min (US Weekly)—ambushed Mr. Allen in the worst way. They featured him on their cover with a fawning Q&A, a 'get' they were after for months. They used all of the quotes from the interview as clickbait across the internet.
But then—surprise—with Woody still freshly on their cover Ms. Min published a hit piece by Woody and Mia Farrow's biological son, Ronan Farrow, basically comparing his estranged dad to Bill Cosby and backing sister Dylan's claims of rape 24 years ago. (Mr. Allen was exonerated in investigations and no charges were ever brought.)
Basically, Ronan—a failed MSNBC host—followed Mia Farrow's plan to embarrass Mr. Allen whenever he has a new film opening. Luckily, few people at the Cannes opening of Cafe Society knew this was going on or cared much about in the first place. The annual Farrow attacks are old news. Mr. Allen is revered in France as a filmmaker. Ronan's piece was brushed off as sour grapes. After all, as many here suggested, why doesn't he deal with Woody directly instead of making a public scene?
But then: the dreadful annual opening ceremony in Cannes, usually so boring that the audience naps as the jury is presented. This year for the first time, the opening remarks—in French—have English subtitles for the guests in the Palais. For the first time, we know what the usually unamusing comic is saying. Laurent Lafitte, this year's host, decides he wants to be Ricky Gervais from the Golden Globes.
He says: "It's very nice that you've been shooting so many movies in Europe, even if you are not being convicted of rape in the U.S." It's supposed to be a riff on Roman Polanski but the audience takes it as an insult to beloved Woody. So does Woody, who leaves as soon as the ceremony is over and doesn't return until the Cafe Society premiere is over. There is thunderous applause and a long standing ovation. But the audience is now gossiping about Mr. Lafitte's other jokes, one of which uses Hitler as a punch line. Like his entire shpiel, Mr. Lafitte's humor is met with disapproving silence.
Woody enjoys the applause and has a long talk during the standing ovation with Julianne Moore, who obviously loved the film. (Reading lips, I think he offered her a role in something.) Woody (now accompanied by wife Soon-Yi) exits quickly, makes a pit stop at the official dinner, and calls it a day. Outside I run into Vanessa Redgrave, who's come to the opening with her dapper son, Carlo Nero, and famed director James Ivory. They've enjoyed the film, they tell me, didn't care for the comedian, and are headed to dinner away from the Palais. Ms. Redgrave tells me today would have been the birthday of her late beloved daughter Natasha Richardson, Ivory says it's the anniversary of his late producing partner Ismail Merchant's death coming up next week. We decide to have a lot of toasts to Woody, to old friends and better times.