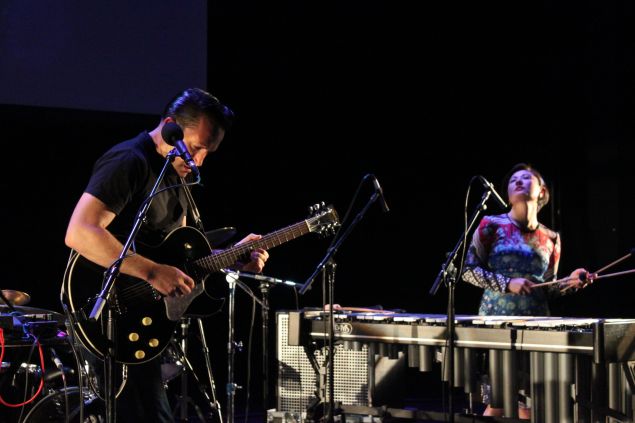 This city has no shortage of strange happenings for those willing to discover them. Art and culture are ubiquitous here, and if they sometimes seem to have vanished, you likely aren't looking in the right places.
The Kitchen, a nonprofit, multi-disciplinary art venue in Chelsea, is one of these places. Since opening in 1971 at its original location inside The Village's Mercer Arts Center, it's also been an intimate gathering place for New York's sonic avant-garde—experimental composers Philip Glass, Laurie Anderson, Nico Muhly and Steve Reich have frequented The Kitchen for its pristine acoustic perfection; no-wave artists like James Chance and Lydia Lunch dominated its early days, jamming on the line between groove and noise; musical deities Brian Eno and David Byrne have challenged our city's definitions of ambience and form there, too, countless times over.
How fitting then for Xiu Xiu, an experimental pop group from San Jose, Calif., to co-opt The Kitchen as a space fitting of their intricately realized instrumentation.
In 2014 the space hosted "Metal," a collaborative installation between Xiu Xiu and Vietnamese artist Danh Vō, in which the band channeled percussive gong hits and thunderous noise into 52 different compositions while folks witnessed Mr. Vō's process of pounding down solid gold into gold leaf. Building on that relationship, Xiu Xiu returned last week to play music from David Lynch's bizarre cult mystery-drama, Twin Peaks. Less than two weeks earlier, the band released a complete reworking of the music from Twin Peaks on a limited vinyl pressing for Record Store Day.
"Everyone in the band had been a longstanding fan," Xiu Xiu founder Jamie Stewart told the Observer. "The way that the show is organized, the intricacy of the plot and the subject matter is something that inspired us to essentially approach the band thing in a similar way. The show can be very, very frightening, somewhat surreal. It deals with bizarre metaphysics and unusual sexuality, it deals with family abuse. It can also be very peculiar and funny."
If such juxtapositions between intrigue and levity, humor and horror make up the plot and mood of Twin Peaks, it's not far off to note that they're characteristic of Xiu Xiu, too.
Subverting pop conventions of structure and composition, Mr. Stewart often injects blasts of atonal cacophony into seeming moments of melody and order. His whispers can turn into croons, and croons can turn into screams, apropos of wherever the song should go. Through this frame, Xiu Xiu's read on the music of Twin Peaks was never intended to be a carbon copy. "I don't know to what degree we've been successful at it, but trying to approach this music in the same way came from [us] all having been really big fans of that show," Mr. Stewart said.
[youtube https://www.youtube.com/watch?v=QW5zwDH7ggo]
This new approach to the music is a conscious merging of Xiu Xiu's sonic stylings with a soundtrack that often underscores or subverts the heavier things happening in Twin Peaks. "Into the Night," a minor key ballad of sweeping catharsis that originally featured musician Julee Cruse going full chanteuse, is here given a freshly simmering, aggressive energy through Mr. Stewart's delivery. Writhing, contorting and enunciating every word with a desperate urgency, he channels the spirit of Laura Palmer, the murdered teen at the heart of Twin Peaks' plot, with a carnal vulnerability the late-'80s television show often only insinuated.
As Twin Peaks unfolded, the show eventually revealed its antagonist—a violent, possessive spiritual energy named Bob. Mysterious as he was malevolent, appearing in nightmares and riddles, Bob eventually manifests in a man to reveal our killer. From then on, Twin Peaks became a show concerned with deeper, headier matters beyond a murder story—conspiracies, brothels, and even ancient, Native American natural energies. Encapsulating all the brashness and exposed violence that was always in Twin Peaks just beyond the veil, Bob became a frame for Xiu Xiu to freshly understand, then reinterpret the music.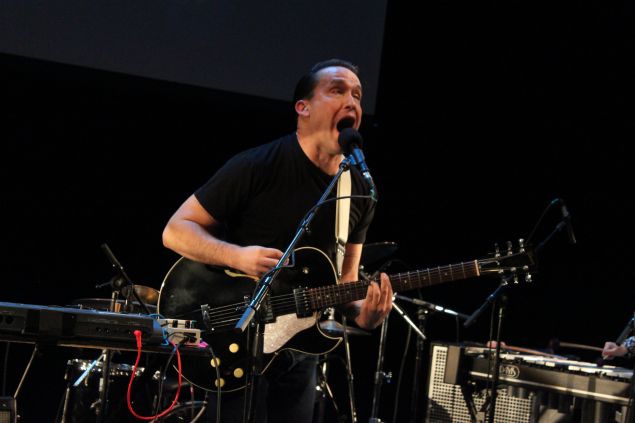 "We did attempt to play it all as if it were Bob playing, if that makes any sense," said Mr. Stewart. "The way that we approached all the arrangements was through the filter of Bob. A lot of the show is funny and can be very sweet, which for fans is interesting to watch but musically isn't who we are as players."
Though who exactly Xiu Xiu are as players is constantly in flux, their reads on the music of Twin Peaks offer us more glimpses of their sonic foundation.
The famous title theme called "Falling" in its soundtrack incarnation with lyrics, has Mr. Stewart intoning David Lynch's words with an added desperation, "don't let yourself be hurt this time." "Josie's Past," a largely spoken-word reading, has Xiu Xiu's Shayna Dunkelman reciting words from character Laura Palmer's diary in an exaggerated affectation of young, teenage naïveté. Mr. Stewart pounds on the drum kit behind her, embodying Bob in his urgent hits. On "Audrey's Dance," Ms. Dunkelman rocks a giant vibraphone to belt out the lead, Mr. Stewart keeps the pulse with a light percussive loop and some tasteful maraca shakes and Angela Seo rounds out the trio with a thick, sinister synth line.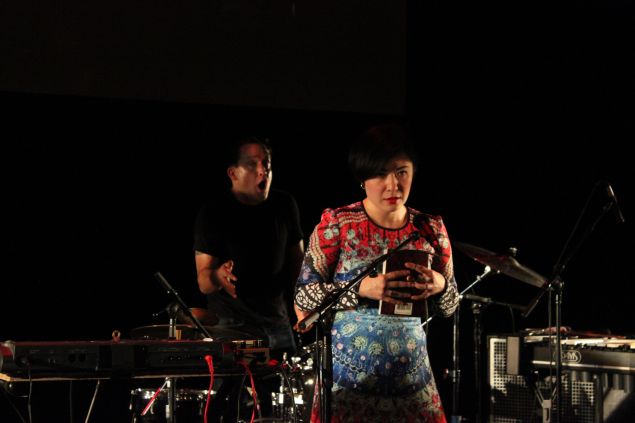 Their dedication to the source material is evident by the vastness of gear they have on stage, and their willingness to switch instruments shows the audience that they've thought long and hard about how to get the most out of each rendition.
All of which is to say, Xiu Xiu could have played the music of Twin Peaks straight had they wanted to. "We all think they're extraordinarily and beautifully played, and there's no way we could have matched them in any way," said Mr. Stewart.
"But because the music has been so inspirational to us and really shaped us as players, it would have seemed dishonest to just play it straight. We wanted to be gracious to what we had learned from it and pushed that forth, rather than just play it like a straight cover-band. We wanted to attempt to play it in the way it taught us to play it."