Courtney A. Kemp, showrunner of the 50 Cent-produced Starz crime drama Power has that ineffable ability to announce herself to a room without uttering a word. It seems effortless, but probably isn't, but then again might be, at least for a lucky few. She's tall, gregarious, and elegantly dressed as she steps into the penthouse suite at the Langham Hotel. Her show, about a glamorous New York City nightclub owner (Omari Hardwick) can't seem to leave behind his drug-dealing past, is the first and only one she's ever pitched, and premieres its third season on July 17.
Curtis "50 Cent" Jackson, however, takes a meeker approach, slinking in behind an elevator load of people before settling himself on a chair with a soda (politely declining a straw). 50, as he's called by his collaborators, plays the shockingly cruel criminal Kanan on Power, which might make his soft-spoken in-person manner seem out of place. But that's only for a moment; he's got an easy smile and seems genuinely happy to be in his shoes (and in his eye-grabbing, diamond-encrusted Jesus piece).
Power is quintessentially New York. How do you define what it means to be from New York, and how is that represented in your show?
Jackson: The people of New York. You can't duplicate or fake that. The extras in the nightlife are actual New Yorkers. You get those aesthetics of New York and then people give it that different vibe.
Kemp: Wherever you point the camera in New York, you get New York. You don't have to fake it, you don't have to dress it, you don't have to make it different. The snow is yellow, or gray, or black, or it's raining and the wind is making the rain go sideways under the bus shelter. We don't make it prettier – we let it be what it is. We use a lot of natural light in the show.
"When people say that ['Power' is a 'black show'], I always say, 'Well, if it's a black show, then you have to say that every show that isn't trying to represent this level of diversity is a white show.'"
You've mentioned how New York is really a character itself in the show – are there any sides to that character that you'd like to show that you haven't yet?
Kemp: Lela Loren, who plays Angela, actually can row crew, so I've always wanted to show that on a New York City waterway. That'd be pretty amazing. I don't know how we'd shoot it, and it certainly wouldn't be a dialogue scene. I'd love to do more with the nature of New York. We've actually got a beach in Season 3!
Jackson: We've covered the whole five boroughs, so it's like we're just looping around and finding the other spots we haven't shown. [Television] goes after the bridges and the landmarks immediately, but a lot of this stuff is happening in low-income areas, in the actual projects. Areas of Brooklyn where you have to say hi to the fans.
Kemp: Yeah, his fan base is rabid. So it's hard because Kanan doesn't get rushed on the street. (laughs) So we'd have the camera out on the street, we're shooting, and someone yells, "Yo, Fif!" It's like, "Aw man, cut!"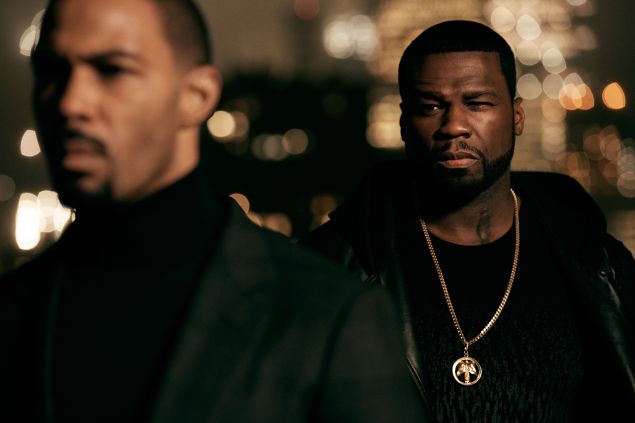 You've both spoken about how this project is a collaboration between your two minds and your very different backgrounds. [Kemp grew up in affluent Westport, CT, while Jackson's adolescence dealing drugs in Southside Queens has been well documented]. What's the most important thing you've learned from each other during this process?
 Jackson: The pacing. How you start to involve information about the characters. I can sit and say, "Courtney, look, this person is like this, and that person's like that," but I've seen when she's offered that information at different points. It's a process. I view myself as a writer, too.
Kemp: He is a writer.
Of course, you're a storyteller, but you tell stories over the course of a three or four minute song, or maybe over the course of an album. This is very different, though.
Jackson: This is a lot different. The big part of writing or acting is the study of human beings. I look at people now, at their random interactions, and I'm seeing more details. Courtney will use the way I said something in context for the characters. She'll go "Wait, say that again?" and take that piece. Then I don't say anything else because I don't want to fuck anything up.
Kemp: But then he realizes I was listening because it'll come out [in the dialogue of the show], but he'll see that LaKeisha [played by La La Anthony] says it, and he'll go, "Wait a minute, how did that…I said that to you two years ago!" And I'll be like "Yeah, I know, but I didn't forget it." I was a journalist first, so my ear is attuned. Our relationship is like being a profiler and doing profiles of the same person, over and over and over again. You get to have this intimate knowledge. I'm listening to him and he's listening to me, and we're creating deeper knowledge of this person. I don't lie to him, which makes it very easy for him to know exactly who I am. So that we can monetize it. (laughs)
Jackson: It opens you up. A lot of people meet a portion of me, the 50 Cent portion, and they don't see that I wouldn't be as successful if that was it.
Kemp: He has to create the product 50 Cent, be the product 50 Cent, perform it, and keep it at ultimate physical and mental readiness. Hurt and vulnerability and brilliance and deep, deep spirituality – all those things allow Curtis to perform 50 Cent.
Jackson: What the audience loves about the "50 Cent Show" is that it's not sophisticated. They'll look at it and they'll feel like it'll destroy itself.
What do you mean by that?
Jackson: Think about youth culture, or hip-hop culture in general. The things that they say for shock value? Some of them are really saying what they think. And then the police come on the indictment and then it's, "Aww, man, that was…"
Kemp: Not so smart?
Jackson: Yeah, you should not have written a song about what you did last week, you know?
Kemp: Like those cats who filmed their lick on YouTube and then the cops came! That's what's gonna happen! They're like "Yo, yo, yo, watch me shoot this guy!"
Aziz Ansari, in his show Master of None, said that if a show has more than one, say, Indian American actor, it's going to be thought of as an "Indian show" by everyone from viewers to network executives. Power features an African American family but a very diverse cast overall. Have you seen any truth to Ansari's statement in the industry?
Kemp: Of course. There's an African American male lead and an African American female supporting lead. There's me and 50, iconographically. So people have a tendency to swing this show in terms of it being a "black show." That said, this show is about New York, so it's diverse. We've gone out of our way to make the show as multifaceted as possible. We were very specific: Puerto Ricans, Dominicans, Mexicans, multiple gay characters. So when people say that [Power is a "black show"], I always say, "Well, if it's a black show, then you have to say that every show that isn't trying to represent this level of diversity is a white show."
Which actually might be good for the industry, if everyone started thinking of it like that.
Kemp: The thing I always say is, "Well, was Friends a white show?" And we don't think of it that way. We think of it as mainstream. I wanted Power to be a show for everyone. You're all invited. There are certain shows where I knew I wasn't invited to the table, because I wasn't represented. But everyone's invited to my show.
Jackson: Well, Friends damn sure didn't have an all-white audience. Because I was watching.
This interview has been edited and condensed.