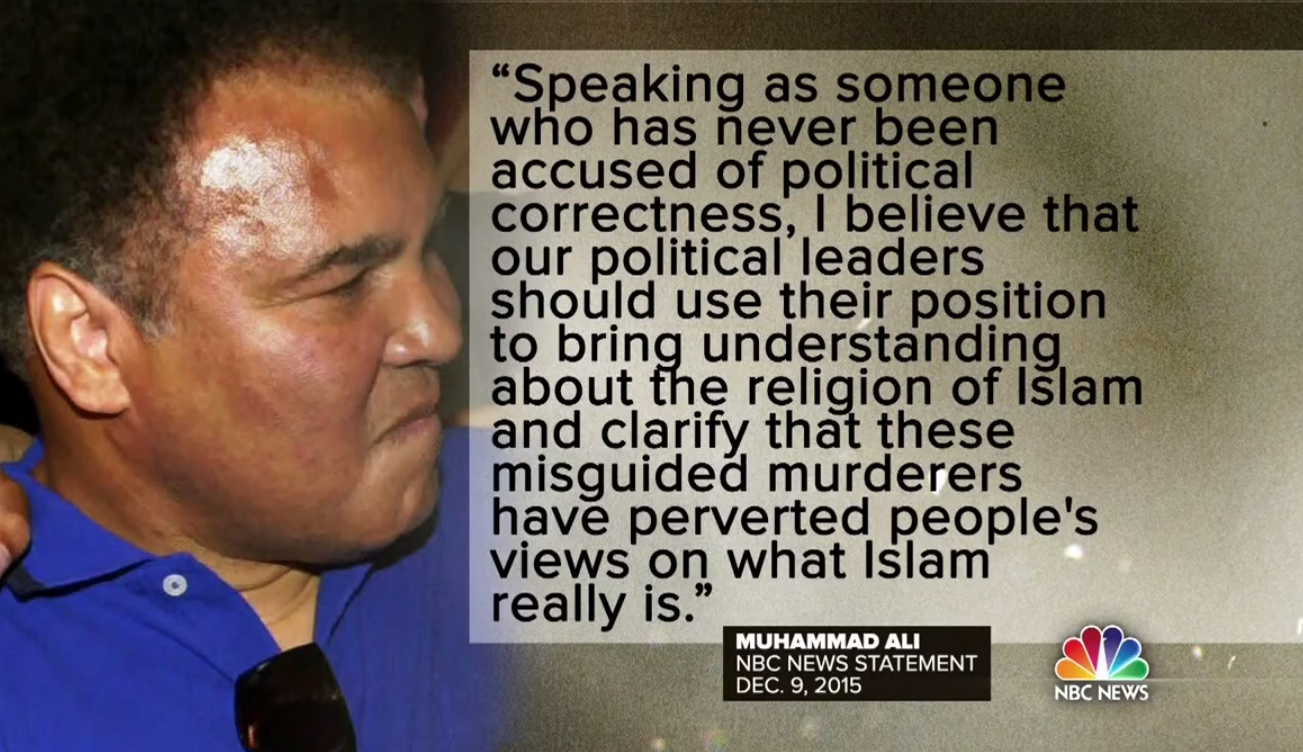 You had to wonder which—if any—of Sunday's current-events shows would find a way to link the two biggest stories of last week: The death of Muhammad Ali and the increasingly rancorous campaign of Republican presidential candidate Donald Trump.
The merger came on Face the Nation on CBS when host John Dickerson interviewed author Thomas Hauser about his book "Muhammad Ali: His Life and Times." Hauser recalled a banquet in the mid-1990s when Ali received an award and sat at the same table with Trump.
"At one point in the evening, Muhammad leaned over and whispered to me 'He's not as big as he thinks he is,'" Hauser said, referring to Trump. "That was one of many times when Muhammad was right."
Another strong statement mixing Ali with current events came on NBC's Meet the Press, the only one of the five major show to open with a long segment about the three-time heavyweight champion, who died late Friday night in Phoenix at age 74.
Host Chuck Todd read the words while the screen showed a statement Ali released last Dec. 9 about terrorism and Islam and politics. Ali was America's most prominent Muslim. Trump wants to temporarily ban all Muslims from entering the United States due to terrorism fears.
"Speaking as someone who has never been accused of political correctness," Ali said in the statement, "I believe that our political leaders should use their position to bring understanding about the religion of Islam and clarify that these misguided murders have perverted people's views on what Islam really is."
Besides interviewing Bob Costas and Bryant Gumbel about Ali, Todd spoke by remote camera with Jim Brown—the former football star and friend of Ali for decades. Brown seemed to defend Ali from the old "black militant" fear-mongering of the 1960s and 1970s.
"You can defy all evil," Mr. Brown told Mr. Todd. "Muhammad Ali loved people and he had white friends as well as black friends. The only thing that he hated was racism and discrimination."
'My intention is to box and win a clean fight. But, in war, the intention is to kill, kill, kill, kill and continue killing innocent people.'
As the show broke for commercials, they showed video clips of Ali speaking at different times of his life on different subjects. One issue was his eventually successful effort to gain conscientious objector status during the Vietnam war.
Ali explained to skeptics that professional fist-fighting is not the same as war.
"My intention is to box and win a clean fight," Ali said. "But, in war, the intention is to kill, kill, kill, kill and continue killing innocent people."
One of the lesser mentions of Ali and politics came from George Stephanopoulos on ABC's This Week, who compared Ali to Trump in the sense that they both knew "how to get inside opponents' heads."
One of the better observations came from Dickerson, who noted how Ali was a pariah while serving a suspension for resisting the military draft but that his popularity soared after he won his case, regained the heavyweight title and gradually grew into a beloved figure in his final decades of declining health.
"Once scorned, he was now a hero," Mr. Dickerson concluded. "Ali hadn't changed. The times had."
Hand me the remote . . . .
FACE THE NATION Dickerson visited Trump at his Beverly Hills mansion and asked "Do you still feel you know more about ISIS than the generals?"
"Well, they don't know much, because they're not winning," Trump said. "Obama's hurting them."
Later . . .
DICKERSON: "You were also for military action to oust Khadafi."
TRUMP: "I supported Libya?"
DICKERSON: "Yeah, you supported the intervention in Libya."
TRUMP: "Where do you see that?"
DICKERSON: "In a video blog from 2011. You said,"
TRUMP (on video, face to camera): "Now, we should go in. We should stop this guy, which would be very easy. Very quick. We could do it surgically. Stop him from doing it and save these lives."
Trump, back with Dickerson, then said "I was for doing something but I wasn't for what you have right now."
Dickerson countered, ever-so-politely, "This is one of the things that confuses some people about your positions. You said you weren't for intervention but you were for intervention."
Concerning Hillary Clinton's email matter with the Justice Department, Trump said: "I would have my attorney general look at it . . . Everyone knows she's guilty. She's also guilty of stupidity and bad judgment."
Dickerson replied: "But if that were criminal, we'd all be in jail."
Dickerson brought up Trump's harsh words about the federal judge—Gonzalo Curiel—who is hearing the case against Trump University. Trump has said the judge's Mexican ancestry should disqualify him.
Defending the legitimacy of Trump U—it was a real estate seminar—Trump said he has tape of a student praising the school who had to drop out of the lawsuit.
DICKERSON: "Mr. Trump, what does this have to do with—"
TRUMP: "No! Excuse me!"
DICKERSON: "—his parents being from Mexico?"
TRUMP: "No, no. Excuse me! Excuse me! Excuse me! I'm just saying we're getting terrible rulings."
'I want to build a wall. I don't think it's very confusing . . . . We have to stop being so politically correct in this country.'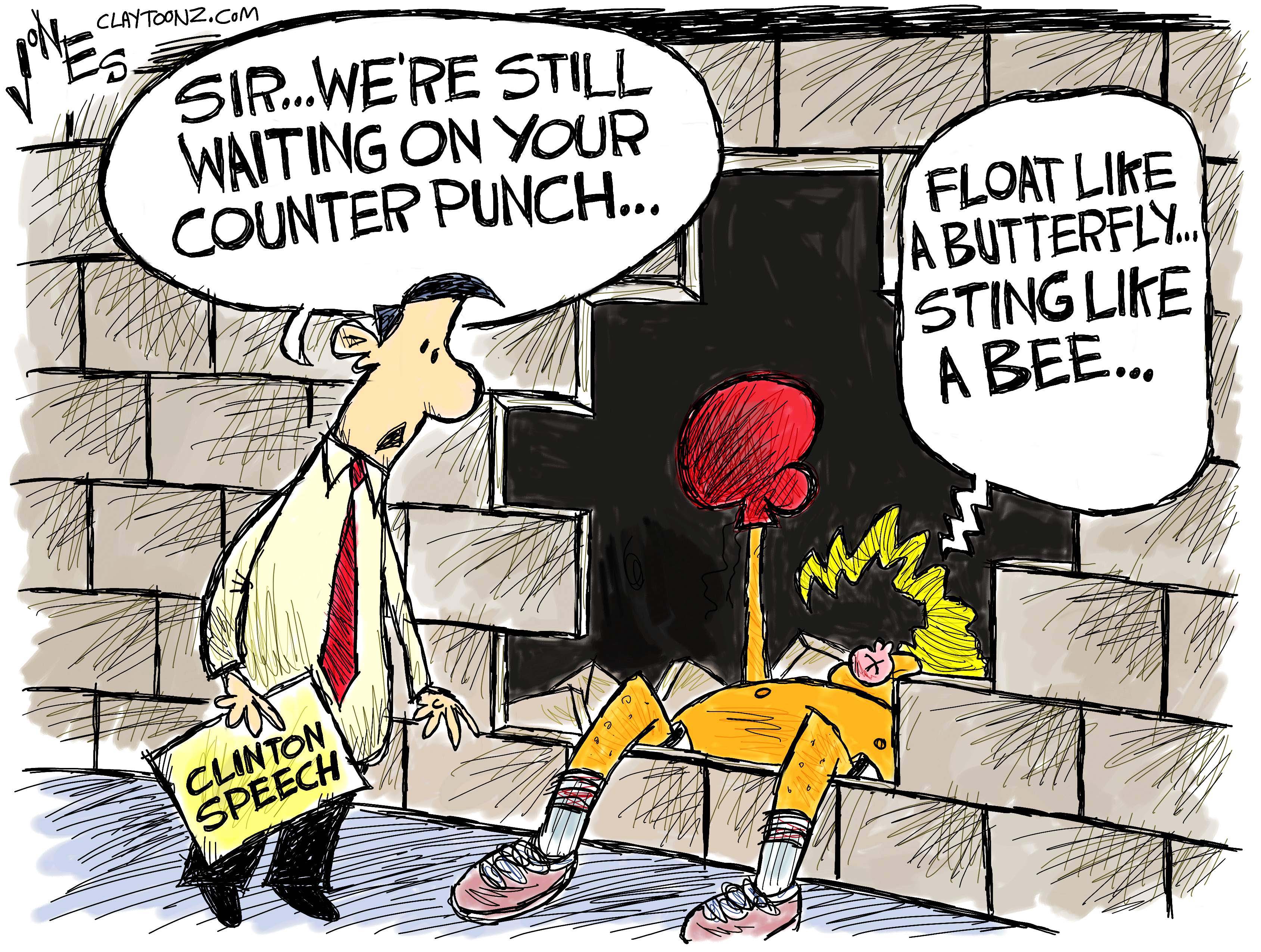 Later, Dickerson politely pressured Trump to answer a question: If the judge were a Muslim, would he have to recuse himself from a case involving Trump in that Trump is perceived as anti-Muslim?
"Ahhhh, it's possible," Trump eventually said. "Yes. Yeah. That would be possible. Absolutely."
The conversation drifted into American traditions of welcoming the world (Dickerson's take) and "common sense" (Trump's counter).
"I'm just confused what his parents have to do with that," Dickerson said.
"Excuse me!" Trump said. "I want to build a wall. I don't think it's very confusing . . . . We have to stop being so politically correct in this country."
THIS WEEK: Stephanopoulos interviewed Democratic candidate Hillary Clinton, who attacked Trump forcefully last week as dangerous and unqualified.
"Have you concluded that the best way to beat Donald Trump is to be a bit more like him?" he asked.
"No, not at all," she said.
In that she'd said only a psychiatrist could explain why Trump admires tyrants, Stephanopoulos asked: "Are you concerned that he's mentally unstable?
"No," Clinton said. "I'm suggesting exactly what I said: That he's temperamentally unfit . . . He engages in so much scapegoating and finger-pointing . . . he doesn't tell the truth."
When Stephanopoulos showed a clip of Trump saying Clinton should be in jail for using a private server for email when she was Secretary of State, Clinton replied with laughter and called it "a typical Trump-ism" which, she said, is a vicious, personal attack.
She cited Trump's hostile words about the judge who Trump said is biased against Trump because Trump wants to build a wall on the Mexican border and deport 11 million undocumented residents.
"Continuing ethnic slurs and rants against everyone—including a federal judge—makes my point rather conclusively," she said.
Has she talked yet with the FBI in the email investigation?
"I have not been asked to come in for an interview," she said. "I've said I'd be more than willing . . . I would like to do that sooner rather than later and get this matter behind us."
In that Trump keeps saying Clinton would destroy the Second Amendment, Clinton responded with "I believe we can have common-sense gun safety measures consistent with the Second Amendment. Once again, you have Donald Trump making outright fabrications."
Next, the host interviewed Sen. Bob Corker who is the chairman of the Foreign Relations Committee and an advisor to Mr. Trump.
He was pressed on, among other things, Trump's attacks against the judge.
"Look, I don't condone the comments and we can press on to another topic?" Corker. "I think we need to move beyond that."
STEPHANOPOULOS: "He said this week that's not going to change."
CORKER: "Well, I think that he's going to have to change . . . this campaign has to evolve."
'It's kind of pathetic, actually, that we're still saying 'Look at Ronald Reagan."
In response to a question about Trump's proposed ban on Muslims, Corker said: "No, I would not support it." And of his plan to build a wall on the Mexican border, Corker said "You know, obviously we do need to have good relations with Mexico."
He didn't wish to be pressed further.
"Well, again, I, I, I, I don't want to get into a debate about the nuances of that," Corker said. "I thought this interview was going to be more about the foreign policy arena."
On the pundit panel, Roland Martin said of Trump: "What he's doing to this judge is beyond shameful." EJ Dionne of The Washington Post said "This was a real turning-point week."
The last segment was a brief debate between Paul Krugman, the economist who is a columnist for The New York Times, and Grover Norquist, a right-winger who lobbies for tax cuts.
"The economy sucks," said Mr. Norquist, who prefers the glorious tax-cutting era of the Ronald Reagan presidency.
Krugman disagreed.
"It's kind of pathetic, actually, that we're still saying 'Look at Ronald Reagan,'" Krugman said. "The way forward is not more tax cuts for the rich . . . what we really need is a big infrastructure build (and not) rigid adherence to an ideology that has failed again and again and again."
FOX NEWS SUNDAY John Podesta, head of Clinton's campaign, listened as host Chris Wallace showed a clip of Trump saying of the Clintons "They were crooked with Whitewater. They've been crooked from the beginning. You look at that foundation. It's pure theft and pure crookedness . . . Hillary Clinton has to go to jail, O.K.? She has to go to jail."
WALLACE: "You're reaction?"
PODESTA: "He's full of bluster."
Next came Fox standby Newt Gingrich, the former Speaker of the House, who is reported to be a possible vice-presidential selection on Trump's ticket.
Wallace wanted to know if Gingrich was "comfortable with a potential president attacking a federal judge for his heritage."
"No," Gingrich said. "This is one of the worst mistakes Trump has made. I think it's inexcusable."
After reviewing Trump's attacks on reporters at a news conference last week, Wallace asked Gingrich: "Can you understand why some conservatives worry whether or not Trump understands the role of a free press and the First Amendment?"
Gingrich replied: "He wants to be very aggressive . . . I think that's silly and it doesn't get him very far."
However, Gingrich assured the audience: "Donald Trump is serious about changing Washington. Every federal employee union will be in the street . . . Fire corrupt, dishonest and illegal workers . . . this is 1968 all over again . . . Some habits he has, I don't agree with. Some tactics he has, I don't agree with."
On the pundit panel, Brit Hume acknowledged that Trump's attack on the judge: "Clearly bordered in the eyes of so many people as outright racism."
STATE OF THE UNION Host Jake Tapper showed recorded sit-downs with Trump, Clinton and Bernie Sanders, who is still contesting Clinton in primaries on Tuesday in California and New Jersey.
Trump seemed to wriggle when Tapper said there is no evidence to support Trump's contention that he opposed President Bush's 2003 invasion of Iraq before the war while there is a radio recording to the contrary.
"I think there is evidence," Trump said. "I'll see if I can get it."
Without offering supporting evidence, Trump said demonstrators who get violent outside his rallies—like last Thursday night's in San Jose—"are paid agitators. They're agitators. Bad people. I think they're sent by Democrats."
Tapper pressed questions about the federal judge.
"If you are saying he can't do his job because of his race, is that not the definition of racism?" Tapper asked.
"I don't think so at all, no, no," Trump said with a shrug. "He's proud of his heritage . . . I'm building a wall . . . He's Mexican."
Speaking later about the San Jose violence, Clinton referred Tapper to violence that Trump encouraged by his supporters against protestors inside arenas earlier in the campaign.
"Trump has lowered the bar," Clinton said. "Now, it is a surprise that people who don't like him are stepping over the bar? I don't think it is."
MEET THE PRESS Todd didn't exclude politics from his weekly hour (seen in the afternoon on MSNBC). He played a radio recording of House Speaker Paul Ryan reacting to Trump's attack on the ancestry of the judge.
"The comment about the judge the other day was out of left field," Ryan said. "In my mind, it's reasoning I don't relate to."
Todd said when Trump "steps in it," as he did in this case, his supporters "suddenly become uncharacteristically camera-shy."
He asked Senate Majority Leader Mitch McConnell if he was afraid Trump would leave a stain on the party as Barry Goldwater did in 1964.
"I am concerned about the Hispanic vote," McConnell said. "It's a big mistake for our party to write off Latino-Americans . . . I am concerned about that and I hope he'll change his direction."
Todd said "At what point do you stop hoping and realize it's not going to happen?" McConnell said "You unify the party but not settling scores and grudges."
Three times, Todd asked McConnell if Trump's statements were racist.
Three times, McConnell dodged the question by saying he disagreed with Trump and that the judge was born in Indiana and, besides, most of our ancestors came from somewhere else.
Todd then showed a statement from right-wing blogger Erick Erickson, who wrote:
"The attacks are racist. To claim that someone is unable to objectively and professionally perform his job because of his race is racism. And damn the GOP for its unwillingness to speak up on this. The Party of Lincoln intends to circle the wagons around a racist. Damn them for that."
O'Connell replied: "The Party of Lincoln wants to win the White House . . . Is he the perfect candidate for a lot of us? He isn't."
In the pundit panel, Andrea Mitchell of NBC warned that, even though the judge can't speak out against Trump, "He can hold Donald Trump in contempt. He's got a lot of other weapons . . . People in the judiciary are horrified by this. Constitutional scholars are concerned . . . and it is blatantly racist."
Seated near her was Ron Fournier of National Journal who said "He's moved beyond the dog whistle. This is a racist bullhorn." He said Trump's logic is "If you're not white and not a Christian, you can't judge me."
When Todd said "I'm concerned about what October is going to look like. I'm concerned about half the country not accepting the result in November," Fournier replied: "This could devolve into really serious violence."
RELIABLE SOURCES Fresh from profiling Trump for the Hollywood Reporter, Michael Wolff visited host Brian Stelter on CNN and said of Trump and media: "He knows his moguls and where they rank on the modern suck-up list . . . I don't think he's interested in politics at all . . . He is something that we have never seen before . . . Donald Trump, as he told me, is the most famous man in the world."
Katrina vanden Heuvel, publisher of The Nation, said "Donald Trump wants to delegitimize the media that isn't giving him a wet kiss . . . this is the first step on the road to an American authoritarianism."
Discussing how news channels show an empty Trump lectern over a live Clinton speech, she spoke of "Corporate media that is rigged against the public interest in some cases." She said executives call show hosts and tell them "Run the Trump rally." (She didn't name names.)
MEDIA BUZZ One panelist with host Howard Kurtz of Fox News Channel was Molly Ball of The Atlantic who said "At least Trump is having a press conference . . . How long has it been since Hillary Clinton had a press conference?"
Ball said "bed-wetter Democrats" are "breathing a sigh of relief" for Clinton's aggressive words against Trump . . . Laura Ingraham stopped by to say of Trump: "You don't want to pick a fight with every two-bit reporter. There is a risk in looking just a little too touchy and sensitive."
Disclosure: Donald Trump is the father-in-law of Jared Kushner, the publisher of Observer Media.