Previously On 'A Quick Word From'…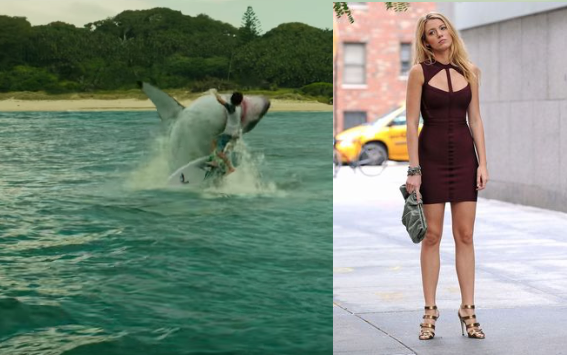 Gossip Girl here! Your one and only source into the scandalous lives of Manhattan's elite.
Ah, the sun is shining, the beach is open, and the clothes… are off. It's summer in the city, and you know what that means: fleeing in droves. It's time to head east on the Long Island Expressway and party on Fire Island, the Hamptons, and a secluded surf spot in Australia surrounded by sharks.
Looks like our favorite partygirl turned good has found herself in quite the situation. That's right, Upper East Siders, turns out S went on a little vacation to the land down under and found herself swimming with sharks. Only unlike the sharks on Fifth Avenue, these ones don't accept credit. Trouble in Paradise, S?
Serena may have frenemy Queen B fooled with her reformed Mother Teresa act, but she is not fooling the giant Great White that is stalking her as she surfs. What's wrong, S? Don't want to be shark bait? Well maybe you should get out of the water. Can't get out of the water because the shark won't let you? Don't play in the sun unless you're prepared to get burnt. No one will help you because you probably went against a local's best wishes and went off the map? When the parents are away, the bitches will play, and no one is a bigger bitch than a shark.
Word is S is now stuck on a rock, desperately yelling for someone, anyone, to help. I've heard of Lonely Boy, but Lonely Girl?
Who's buying Serena's "I'm trapped on a rock and no one knows I'm on this beach and high tide is quickly approaching" sob story? In this city, everyone's got a secret. What's yours, S? Sleeping with Nate go wrong? Clubbing with Poppy Lifton left you stranded? Has Georgina gotten her revenge by sending a literal monster to attack you? You know you love me.
There's a proud tradition of socialites going on vacations and making their way through exotic men, and no one has torn through more man than this shark. That's right, Upper East Siders, looks like this shark is the real Queen S. Has Serena finally met her match?
Spotted: the giant Great White Shark slowly approaching the rock that Serena is trapped on. Suns out; flare guns out. Shoot that shark, S, but just know: there are some things you can't come back from. Like being eaten by a shark.
[B-Roll of the Brooklyn Bridge, the MET steps, feet leaving a cab, and blood, so much blood]
As for me, how do I know this is happening and why am I not doing anything to stop it? ? That's one secret I'll never tell.
Xoxo,
Gossip Girl