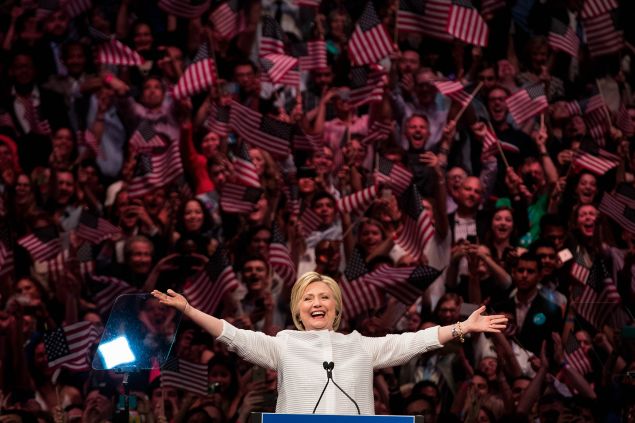 Around the same time frame Senator Elizabeth Warren endorsed Hillary Clinton for president, the Clinton camp and establishment Democrats began touting a the "We The People Act." Not to be confused with Former Congressman Ron Paul's bill of the same name, the proposed bill is essentially a repackaging and re-branding of Senator Michael Bennet's (D-CO) Close the Revolving Door Act, which has failed to garner much support from Democrats since Senator Bennet began introducing in every congress since he was first elected to the Senate in 2011. But Democrats are selling the bill as a cure-all for corruption and the influence of special interests in politics, when the bill comes up short in meaningfully addressing these problems.
"Our elections should be shaped by voters' voices, not bought and sold by corporations and special interests," said presumptive Democratic presidential nominee, Hillary Clinton, in a statement on the bill's announcement. Democracy should be one person, one vote, but this bill allows Super-Pacs to continue shaping the country's political landscape and includes partisan rhetoric which ensures the bill will never get through congress, yet will provide Democrats something to hang over the head of Republicans going into the general election. According to a press release from the Democratic Policy & Communications Center, the bill calls for the Federal Election Commission to be absolved and replaced by a new agency, whose five commissioners would be appointed by the President and confirmed by the Senate. This would potentially grant Hillary Clinton the authority to select all five commissioners, when it was recently uncovered she appointed one of her major political donors to a State Department Intelligence Board in 2011, yet the donor had no clear background or qualifications to serve on the board. Clinton has benefited arguably more than any other presidential candidate in history from the corrupt campaign finance system, manipulating and bending the rules along the way, in order to win the Democratic Primaries against Bernie Sanders. If Democrats were serious about campaign finance reform, they wouldn't have anointed Clinton as their presidential nominee.
In an interview with Think Progress, two campaign finance experts emphasized what the Hillary Victory Fund has done this election is unprecedented and should be illegal.
Ms. Clinton cannot be trusted to reform a system she is using to get elected. Clinton's joint fundraising committee with the Debbie Wasserman Schultz led Democratic National Committee, the Hillary Victory Fund Super-Pac, borders on the legality of campaign finance reform and as far as ethics goes, completely and shamelessly disavows any standard ethical procedures which elected officials should be held accountable by the public in upholding. In May 2016, a Politico report uncovered the Hillary Victory Fund has been laundering money to the Clinton campaign rather than helping other State and Local Democratic Parties, an egregious campaign finance violation which warrants a federal investigation, the second Hillary Clinton would be under.
In an interview with Think Progress, two campaign finance experts emphasized what the Hillary Victory Fund has done this election is unprecedented and should be illegal. "Their argument is usually that it helps the party generally, but the practical and legal reality is that it benefits Hillary Clinton. You just don't expect this kind of thing to happen in the primaries," Larry Noble, with the Campaign Legal Center, told Think Progress. The article cited this type of fundraising has only been legal since 2014, when the Supreme Court, in the McCutcheon v. FEC ruling, revoked what legal protections in campaign finance law remained after the 2011 Citizens United ruling.
Another Clinton Super-Pac, David Brock's Correct the Record, has also bent the rules on campaign finance laws. The Super-Pac has controversially spent $1 million to "correct" anti-Clinton sentiments on social media platforms, and the Super-Pac exploits a campaign finance loophole in that it is able to directly coordinate with the Clinton campaign because on an internet exemption of FEC regulations. In an interview with Andres Sepulveda, a notorious hacker employed by several politicians throughout Latin America to help rig elections, he told Bloomberg, ""When I realized that people believe what the Internet says more than reality, I discovered that I had the power to make people believe almost anything."
Clinton is attempting to sell off the "We The People Act" as her own, which still allows the existence of Super-Pacs to influence the political system with large campaign contributions, and makes no attempt to incorporate a public campaign finance system similar to the one proposed by Congressman John Sarbanes (D-MD), "The Government By The People Act." Banning elected officials in congress from becoming lobbyists provides a positive stepping stone to reforming the corrupt political system, but there are too many loopholes and other ways in which corporations and their lobbyists can influence and buy off support of elected officials. It is ironic the Democratic Party is relying on Hillary Clinton, who has one of the broadest network of wealthy and corporate political donors in American History, to reform the broken campaign finance system she wouldn't have been able to beat Bernie Sanders in the Democratic Primaries without.