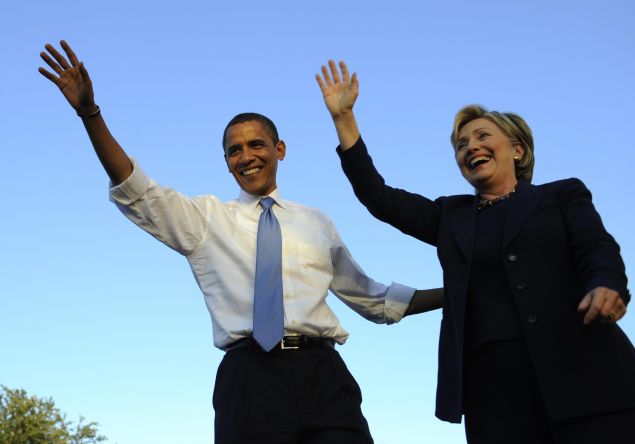 President Barack Obama today became the latest—and perhaps greatest—Democratic Party leader to endorse Hillary Clinton as his successor, shortly after he met with Vermont Sen. Bernie Sanders at the White House.
The president officially backed his 2008 rival just days after she locked up the majority of pledged delegates to next month's Democratic convention, thanks in part to victories in New Jersey, New Mexico and California on Tuesday. Mr. Obama, the first black president, acknowledged Ms. Clinton's unique status as first female presidential nominee of a major party, as well as her personal credentials.
"I want to congratulate Hillary Clinton on making history as the presumptive Democratic nominee for president of the United States," he said in a Youtube video uploaded to the candidate's webpage. "I don't think there's ever been someone so qualified to hold this office. She's got the courage, the compassion and the heart to get the job done."
The video splices footage of Mr. Obama speaking with shots of the president and Ms. Clinton, his former secretary of state, side-by-side.
"I want those of you who have been with me from the beginning of this incredible journey to be the first to know that I'm with her," the president said. "I'm fired up, and I cannot wait to get out there and campaign for Hillary."
Ms. Clinton's camp announced the president would appear with her in Green Bay, Wisc. next week.
After his meeting with Mr. Obama this morning, Mr. Sanders reiterated his intention to stay in the race through the final primary vote in Washington D.C. next week, and to contest Ms. Clinton's nomination at the party conclave in Philadelphia. He did, however, commit to helping to defeat presumptive Republican nominee Donald Trump in the fall.
Mr. Sanders could still theoretically become the nominee by persuading hundreds of superdelegates—elected officials and top party insiders—who have backed Ms. Clinton from the outset of the campaign to defect to his column. But that now puts him in the awkward position of asking them to defy the majority of voters who supported the former first lady.
Several outlets reported yesterday that Massachusetts Sen. Elizabeth Warren, a leader of the progressive faction of the Democratic Party, will also officially back Ms. Clinton shortly. Some have speculated that Ms. Clinton might select Ms. Warren, an ally of Mr. Sanders in the Senate, as her running mate in order to placate the Vermont senator's supporters.
Watch the video below:
Disclosure: Donald Trump is the father-in-law of Jared Kushner, the publisher of Observer Media.