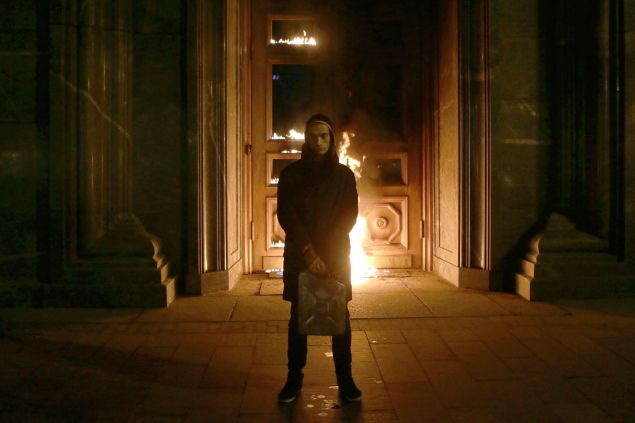 The Russian dissident artist Pyotr Pavlensky is a free man today thanks to a Moscow court ruling, the Moscow Times reports. The radical performance artist has been in custody since last November, after setting the front doors of Russia's Federal Security Service headquarters (formerly a KGB base) on fire as part of a conceptual art piece titled Threat: Lubyanka's Burning Door.
Pavlensky, 32, avoided a prison sentence, but is expected to pay a lofty fine in damages.
His stunt, which involved setting fire to the doors of the headquarters in Lubyanka Square and posing for photos with a gas canister in front of the burning edifice, will cost him nearly 1 million rubles—or $15,400: $7,750 in fines and about $7,550 for repairs on the building.
Luckily Pavlensky, who lives in a one room apartment in St. Petersburg with his wife and two young children, plans to refuse to pay the fines. "Of course I'm not going to [pay it]," he said, according to RIA Novosti news agency. "Even if I had that kind of money, I wouldn't pay the fine." He's deliberately asked supporters not to help pay.
Pavlensky was also charged with damaging a cultural site, which ordinarily would have gotten him at least a three-year-long sentence. Two years ago, the Ukrainian filmmaker Oleg Sentsov was sentenced to 20 years in prison after setting fire to the office of a pro-Kremlin political party in Crimea. Given Pavlensky's shockingly lighter punishment—one the prosecutors signed on for—it's possible that everyone was in on the performance, the Moscow Times said.
Pavlensky has perhaps earned this leniency, however. Earlier this year he was was shipped off to the Serbsky Center where he was forced to undergo psychiatric treatment; the Russian authorities' treatment of Pavlensky echoes the Soviet era, during which political dissidents were taken to the Center to be diagnosed with so-called psychological illnesses.
Known for his nightmarish, politically motivated pieces, Pavlensky is no stranger to such drama. In 2014, he sat naked atop the Serbsky Center and cut off part of his ear with a knife in protest of his forced psychiatric treatment; another piece involved nailing his scrotum to the cobblestones in Red Square. He's also sewn his own mouth shut with red thread.