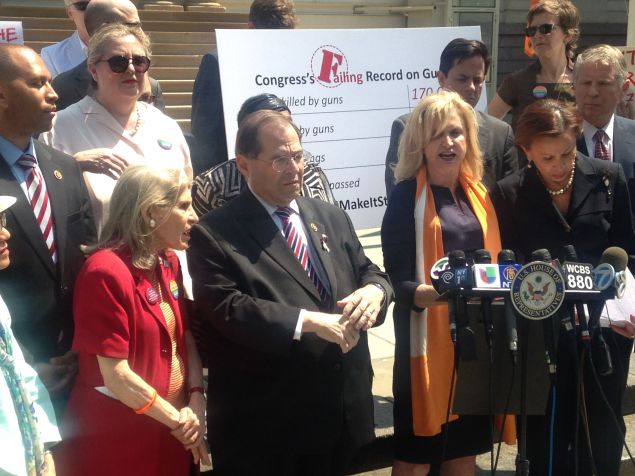 Days after a 15-hour Democratic filibuster ended with an agreement to vote on two gun control measures, a group of New York City Congress members called on Speaker Paul Ryan to let the same legislation come to the floor of the House of Representatives.
Congresswoman Carolyn Maloney led a rally on the steps of City Hall to demand the House GOP leadership allow a vote on two Senate proposals to ban people on the federal terror watchlist from purchasing firearms, and to establish mandatory background checks for guns bought online and at shows. Maloney and her colleagues also urged the reinstatement the long-lapsed federal ban on assault rifles, which expired after a decade in 2004.
The event—which featured a total of five members of the House Democratic minority, three district attorneys and an array of City Council members and activists—is part of the ongoing political fallout from the massacre that claimed 49 lives in a gay club in Orlando, Fla. early Sunday morning.
"If you want to vote against it, fine. But give us a vote," Maloney declared, praising Connecticut Sen. Chris Murphy for his filibuster. "We're asking for immediate action. Immediate action on the floor of Congress."
Congresswoman Nydia Velazquez alluded both to recent shootings in the five boroughs, while blasting Republican opponents of the so-called "no fly-no buy" rule.
"How can we say that we will not allow someone on a plane because they are on the FBI watchlist, but they can buy a gun?" the Brooklyn and Manhattan representative asked. "Is this how we protect our homeland?"
Opponents of the ban on gun purchases by terror suspects argue the list is broadly inaccurate due to extremists' use of aliases—and warn that obstructing a firearm purchase could alert a would-be attacker that the government is monitoring them.
But Brooklyn Congressman Hakeem Jeffries asserted that the real reason most House Republicans oppose such measures is because they are indebted to the gun lobby.
"Many of my colleagues function as wholly-owned subsidiaries of the NRA," Jeffries said, referring to the National Rifle Association. "Along with members of the gun manufacturing community, who should be known as merchants of death, because that is what they've been peddling on the American people."
Congressman Jerrold Nadler, who represents a sprawling district covering the West Side of Manhattan and chunks of Brooklyn, went even further with his rhetoric.
"Congress's refusal to act on common sense gun control legislation makes us complicit in this and every other mass murder that we now see on a regular basis in this country," Nadler said. "This House chamber is drenched in blood. We must cleanse it! And we can only cleanse it by bringing up for a vote and passing some of the legislation that would prevent the continued carnage."
Republicans and Second Amendment advocates have argued that restrictions on gun ownership violate the Constitution, and leave law-abiding citizens disarmed and helpless. Presumptive GOP presidential nominee Donald Trump, among others, have highlighted that the shooter in Orlando pledged allegiance to the Islamic State and have called for restrictions on immigration from Muslim nations, though the shooter was born in New York, and surveillance of domestic Muslim communities.
Ms. Maloney dismissed the first argument, and seemed to suggest that mental health issues—not religion—propelled the Florida killer on his path to violence.
"It is a scandal, and if guns would make us safer, believe me, America would be the safest country on Earth. But we're not! Because getting guns by deranged people is just too easy," she said.
American gun owners already possess some 310 million firearms, and some five to 10 million of them are AR-15s like the one used in the slaughter at Pulse nightclub this weekend and in several other high-profile mass shootings. But roughly 90 percent of gun homicides are committed with handguns, not assault rifles like the AR-15.
Ryan's office pointed to comments he made yesterday, urging elected officials to focus on terror rather than guns.
"Is going after the second amendment how you stop terrorism? No," Ryan said. "Let's not take our eye off the ball here…this is a person who was radicalized by Islamic terrorists, so we want to make sure we're focused on the real issue here, which is terrorism."