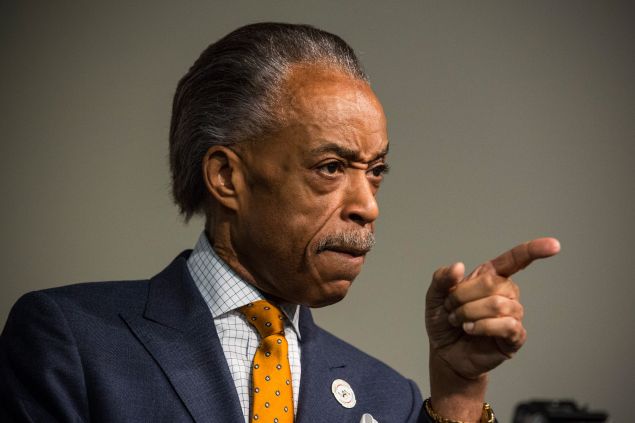 The Rev. Al Sharpton backpedaled on a fiery, racially-tinged speech he made on Saturday and called for an end to "acrimony and rancor" in Congressman Charles Rangel's district, a day after State Senator Adriano Espaillat defeated Harlem Assemblyman Keith Wright in the Democratic primary to replace the retiring 23-term representative.
Sharpton pleaded for reconciliation between the diverse communities of the upper Manhattan-based seat, which last night voted to set Espaillat on the road to become the country's first Dominican-American congressman. The district, which is now majority Latino, will thus send its first non-black representative to the House of Representatives since legendary African-American lawmaker Adam Clayton Powell Jr. won it in 1944. (Espaillat will have to run in a general election in November but the chance of a Republican winning is just about zero.)
"Our concern is that we not end up with a polarized and divided community," Sharpton told the press from the dais at his National Action Network's headquarters at 145th Street and Malcolm X Boulevard in Harlem. "We need to have a climate of coming together, and not of acrimony and rancor that pits communities against communities inside the district."
It was a very different tone than the controversial black leader used during his weekly radio address just four days ago, which also featured Rangel and former Mayor David Dinkins, both Wright backers. There, Sharpton alluded to a memo that leaked from a pro-Espaillat political action committee that suggested the candidate would benefit from decreased black turnout.
The civil rights leader told his largely black radio audience that "outsiders" uncomfortable with "black people exercising power" were seeking to "control this area." He scoffed at calls for "new leadership," and insisted the district needed "continued leadership" in the style of its two previous black congressmen.
"They are planning on suppressing our vote. And they're planning on you not showing up. Because after 65 or 70 years of leadership of Powell and Rangel, they think you too dumb to stand up for yourself," Sharpton declared on Saturday. "They betting on you being stupid. They want to suppress us, they want to distract us."
"They want to control who speaks for us. It's all a matter of control," he continued.
Sharpton reserved his most explicitly racial language at the time for candidate Clyde Williams, an African-American former White House aide who resides in Harlem but hails from Washington D.C. Williams ultimately placed third in the primary with more than 4,600 votes—almost four times Espaillat's margin of victory.
"You're supposed to be attracted to Negroes you ain't never seen before. I mean, they must have a laboratory to just create these Negroes," Sharpton said at the time. "Just because you joined the church this Sunday doesn't mean you get to preach next Sunday. You gotta pay some dues."
But today Sharpton bitterly denied making any appeals to racial loyalty. He claimed his reference to "continued leadership" in his weekend speech also covered Espaillat, who has represented the mostly Latino neighborhoods of Inwood and Washington Heights in the State Legislature for almost 20 years.
"Y'all read race into this stuff," he told the Observer. "I don't know how you read any of that into what I said."
When a reporter pointed to the use of the taboo word "Negro" as racially inflammatory, the NAN founder reacted angrily.
"Explain to me where race is involved in that?" he demanded. "So blacks no longer have the right to say 'we should not be attracted to people who have not been in our struggle, or our community?' That's racist?"
Wright refused to concede last night, calling for a complete count of all votes in the race and for a federal investigation into potential voter suppression. His campaign invited reporters to an event featuring both Sharpton and the assemblyman, but Wright did not appear at the event.
His chief strategist, Charlie King, did speak to reporters after Sharpton's address today—and reiterated the calls for a patient tallying of all ballots.
Wright repeatedly promised during the campaign that he would not seek re-election to the State Legislature if he lost the congressional contest. City Councilwoman Inez Dickens, another Rangel acolyte, is presently running for his seat in Albany—stoking speculation Wright might campaign for Council and perhaps challenge Espaillat in 2018.
But King seemed to dismiss that possibility today.
"I either see him in Congress, or I see him hanging out with me in the private sector, having fun and going to the beach," he said. "I would anticipate that whoever wins this race will likely hold the seat for years to come."
King added that Wright and Espaillat have not spoken in the past 24 hours.