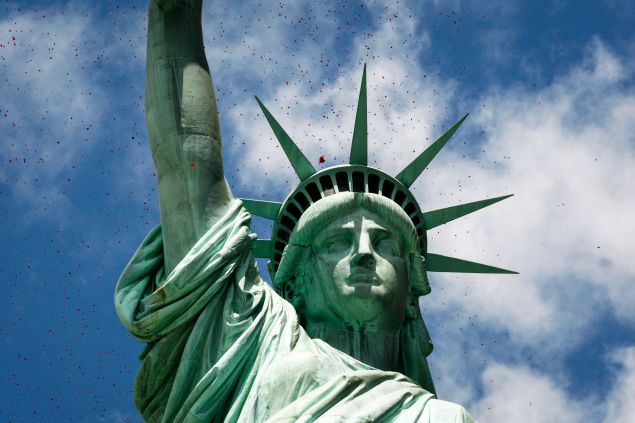 The 42-year-old West Virginia man who threatened to bomb the Statue of Liberty in April 2015 will serve three weeks in jail, after working out a plea deal in a Manhattan federal court yesterday. The man, Jason Paul Smith, pled guilty to making a 911 call in which he identified himself as "Abdul Yasin," an "ISIS terrorist" who planned to blow up the statue. Smith, who served roughly three weeks in jail following his Texas arrest in August, will be recommended by Manhattan federal prosecutors for three years of probation. The hoax call led to the evacuation of more than 3,200 people from Liberty Island. Smith, who has difficulty hearing and being treated for mental illness, made the call from his iPad using a service for the hearing impaired—he also made hoax 911 calls threatening to attack Times Square and the Brooklyn Bridge. (amNY)
The last surviving search dog who worked at the World Trade Center on September 11, 2001 has died. Bretagne, a 16-year-old golden retriever, was euthanized at a Texas veterinary hospital Monday after suffering from old age and kidney failure—she had also served as a rescue dog during Hurricanes Katrina, Rita and Ivan. Bretagne, who had been suffering from kidney failure, spent her life outside disaster zones volunteer firefighter Denise Corliss in Texas. The dog was draped in an American flag to honor her service—her remains were sent to Texas A&M University so veterinarians could evaluate how her body was affected by Ground Zero. (The Huffington Post).
A 23-year-old woman was killed last night after being shot in the head at Brooklyn Bridge Park. Police responded to a 911 call at 9:30 PM and found the woman with a gunshot wound to her head on the sidewalk along Furman Street. The woman, identified as Michelle Marks, was pronounced dead at the scene by EMS. According to police sources, Marks worked at the pizza restaurant Fornino, inside the park at Pier 6, close to where her body was found. The shooting is believed to be a murder in response to an "ongoing domestic dispute" and has no relation to recent park incidents with unruly crowds, Captain Sergio Centa of the 84th Precinct said. The investigation remains open. (Gothamist).
Queens' city council delegation is pushing for funding to study how light rail run on a rarely used section of the Long Island Railroad that stretches from Jamaica to Long Island City could help riders lessen commute times and encourage commercial development in the borough. The push for funding was requested in a letter to the city transportation commissioner in hopes that the city budget will allow for the Department of Transportation to study the proposed light rail options. The letter was written by Councilwoman Elizabeth Crowley (D-Queens) and was supported and signed by 14 of her fellow council members—it comes in response to overcrowding of the city's No. 7 and E lines on the LIRR. "Those two lines are completely congested," Crowley said. "We need another way to get from east to west." (Daily News)
A school administrator in the New York City Department of Education was caught forging parents' signatures to avoid meeting with them regarding their children. Martha Vazquez, a Bronx preschool administrator, was assigned with setting up individualized education programs for special education students, and was required to meet with the students' parents to talk over the program. However, she forged the signatures of two students' parents to make it appear as if she had the required meetings. Vazquez was later caught when one parent confronted her after seeing her name misspelled. The Department of Education said that Vazquez would be disciplined. (New York Post)