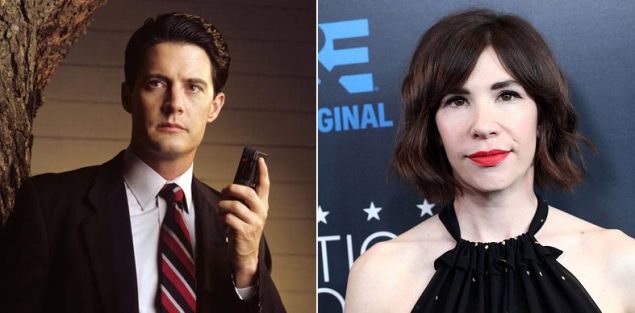 Easily, the highlight of my day was opening my inbox this afternoon to the news that Kyle MacLachlan, a.k.a Agent Dale Cooper, a.k.a. Paul Atreides, a.k.a. Trey MacDougal, would be speaking with Sleater-Kinney and Portlandia star Carrie Brownstein at the Seattle Art Fair on August 6. Could there be a more appropriate duo to discuss "cultural investment and place-making" in the Pacific Northwest? No, no there could not.
And then the press release Gods revealed indie rock queen Kim Gordon will also be giving a talk at the fair, with Columbia University's Branden Joseph, on the same day. Let the games begin.
It looks as though the Seattle Art Fair has just became a star-studded affair—as if being backed by Microsoft founder Paul Allen wasn't enough to color me impressed.
Now in its second year, the Seattle Art Fair has grown from 60 to 80 galleries, and attracted even more blue-chip power than its first iteration with dealers such as New York's Marlborough and Petzel galleries. Other big names joining the roster for the 2016 edition, which runs August 4-7, include Bryce Wolkowitz (New York), Roberts & Tilton (Los Angeles), and Scai the Bathhouse (Tokyo).
Hot off a wildly successful first year—the show saw 15,000 visitors and literally received applause when it closed on July 2—Seattle is also beefing up its programming. In addition to the celebrity-laden talks, artist Glenn Kaino is teaming with notorious tour guide Timothy "Speed" Levitch to give "uncanny" tours of the fair in the artist's invented Martian English, Roxy Paine will show a diorama of a CIA observation room and Adam McEwen has created graphite sculptures of supercomputers made to life-scale.
"This year's Projects and Talks spotlight the incredible artist production that is emerging from the West Coast and beyond," said the fair's new artistic director Laura Fried in a statement. "Our goal with the program is to connect with a broad audience at a time when locals and tourists alike alight this beautiful city, and to offer encounters with contemporary art in meaningful and surprising ways."
Sounds like Seattle is the place to be this August.