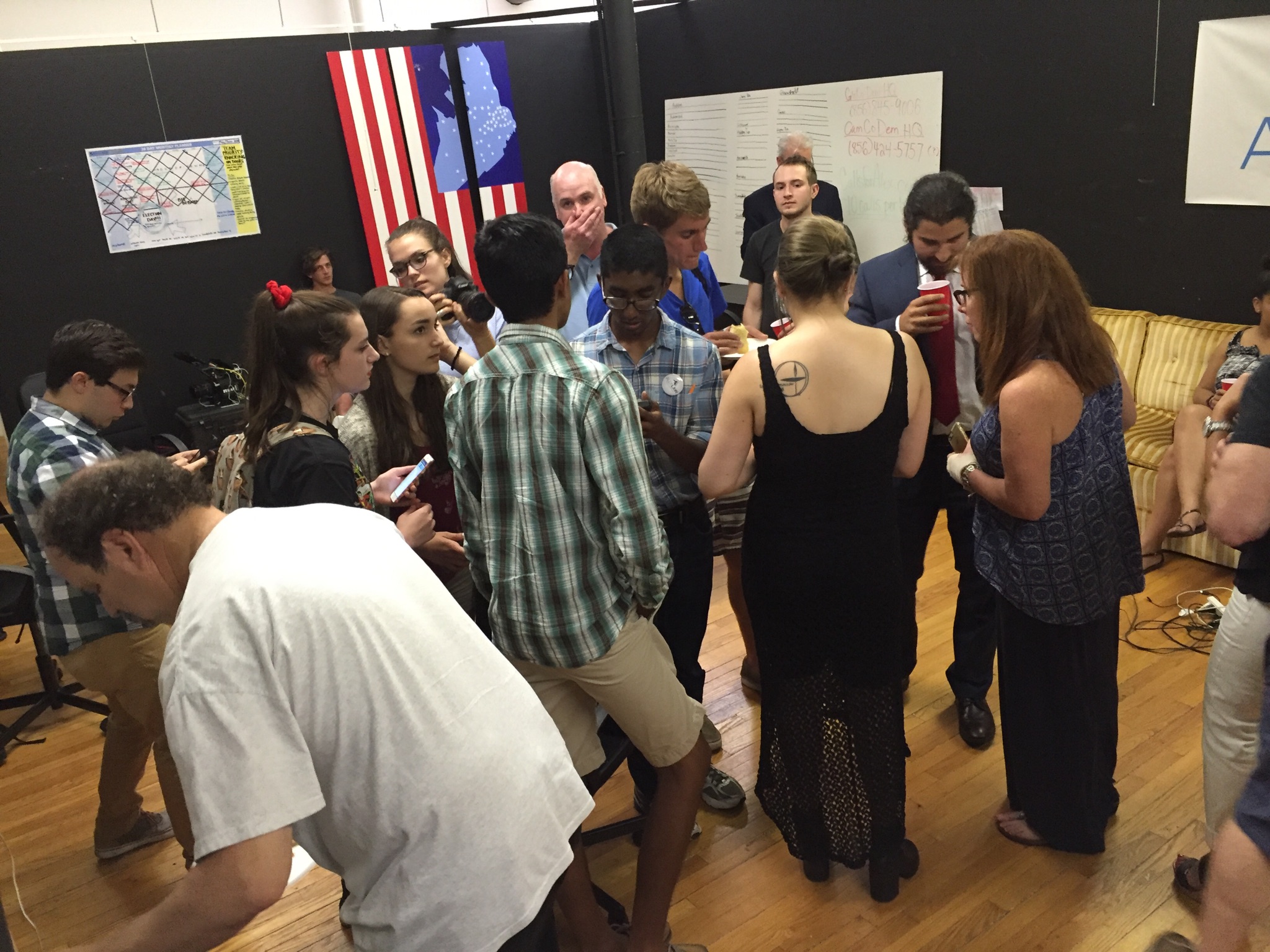 (Haddon Heights, NJ) — The requisite political earthquake necessary to dislodge Democratic Congressman Donald Norcross failed to materialize tonight. Norcross, the incumbent and overwhelming favorite, beat back a challenge from progressive upstart Alex Law by about 30 points, 65% to 35%, and will likely return to congress for another 2-year hitch. |Congrats to him on his win.
This was a classic David and Goliath matchup but, unlike the Old Testament polemic, the underdog didn't prevail in this case.  It wasn't for lack of grassroots vigor, the larger Machine forces at work simply had too much powder in their keg and were able to stave off what would have been one of the biggest upsets in New Jersey political history.
Alex Law was feeling confident just hours before polls closed, telling PolitickerNJ, "We are expecting this to be the biggest turn out for a primary in the history of the 1st district. Big shifts from historical averages have never been good indicators for machine politicians."
But it wasn't meant to be. Buoyed by an overwhelming edge in vote-by-mail ballots, Norcross carried the day with a roughly 13,000-vote margin. Notwithstanding the incoming results, there was plenty of excitement at Law HQ.The room teemed with a diverse group of tired looking liberals. But the scene betrayed some of the inherent weaknesses of Law's long-shot tilt. They didn't even have a way for the crowd to receive the results.
"What the heck! They don't have a TV?!" asked one voter incredulously. Thank god for
Newsworks,org
, the online presence of Philly's NPR affiliate. They updated the results from this and other races pretty regularly. Watching people stare at their own individual smartphones frantically refreshing was a surreal site. I was yearning to see the results beamed on the wall by a fancy, expensive overhead projector. The kind of toys Norcross' $1.3m war-chest can accommodate but out of reach for Alex' relatively modest $70k haul. So we all kept refreshing, hoping for a miracle that would never come. As the final math came into sharp relief, the alcohol began to flow a bit more freely. Many volunteers gave much blood, sweat, and tears to the cause. A little drink seemed appropriate.
"The Machine has gotten a bloody nose," Alex' dad Pete said while introducing Max Young, the campaign manager.
"This sucks," said Max, dejectedly. "Emotions are high. We gave our best efforts. The machine is bit too powerful today. But it won't be forever. We've laid down a nice foundation and we'll build on this."
By the time Alex greeted a clearly devoted crowd, we needed a pep talk. Alex obliged, to an extent.
"We're gonna see close to 60,000 votes in this primary. We planed to get 18,000 votes and we will. We spent $3.50/vote and they spent about $46/vote. The reality is we did something that no other campaign has been able to do in South Jersey," Alex Law's told the room, his voice choking with emotion. "By far the biggest primary turnout in the state. That's something to be proud of. We did good. We brought truth to South Jersey. We did something special because of the special people in this room."
Some were leavened by Law's positive spin on the math. But for many a profound sense of disappointment immediately became apparent.
Jay Lassiter is an iconoclast, tech savvy media artiste, street warrior for LGBT liberty and marijuana reform, and an un-intimidated presence if the halls of Trenton power as he aggressively pursues liberal causes. He's especially weary of the stale, tired brand of identity politics favored by Norcross and his crew. He's often at brunch and always on twitter @Jay_Lass. He'll be at the polls on Tuesday June 7th voting for Alex Law for Congress.