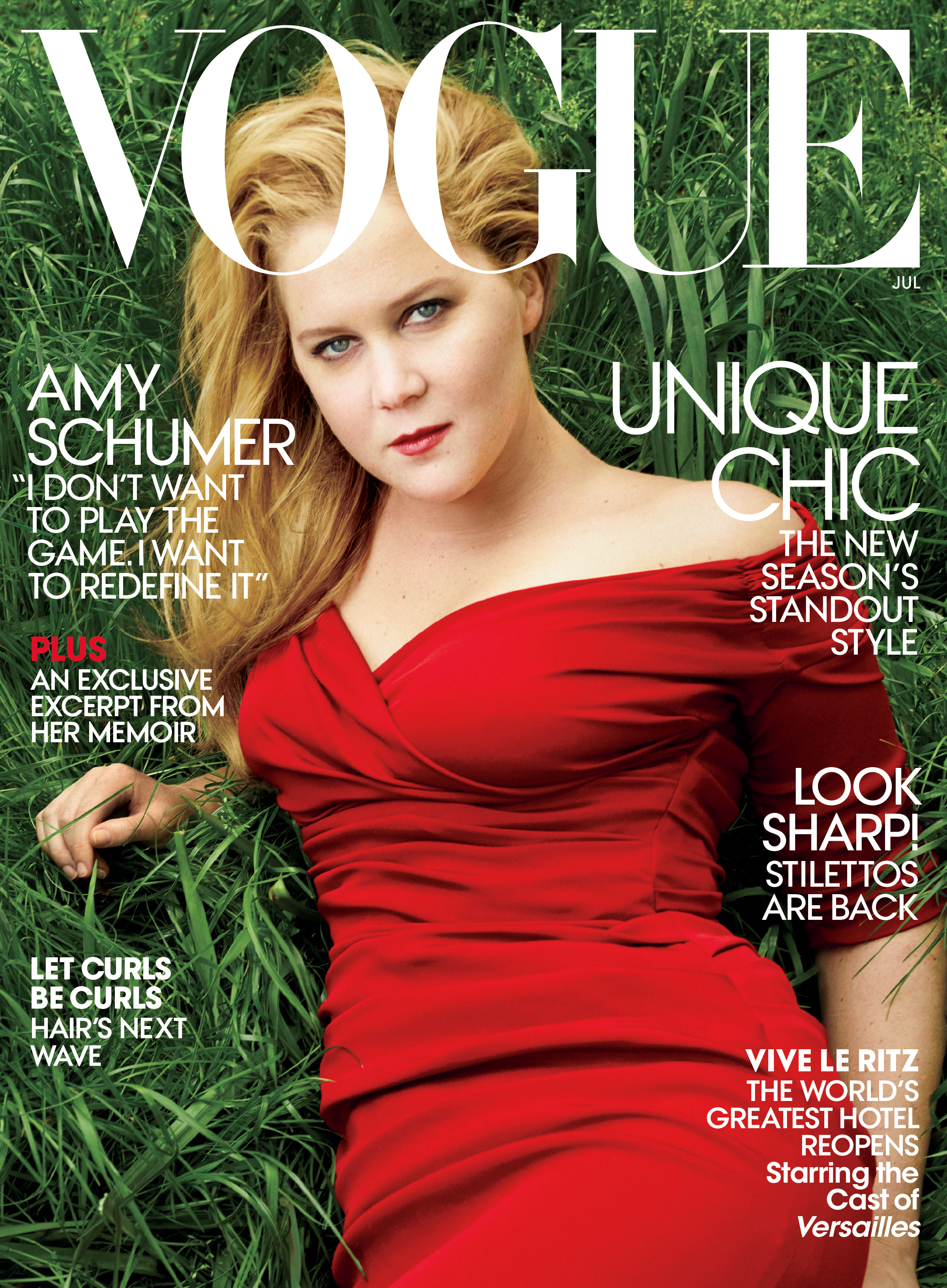 For the month of July, Amy Schumer was given the full Vogue treatment. Not only does she make a fiery appearance on their cover, but she swapped lives with Anna Wintour for a lol-worthy video. While Schumer struggles through a run-through with fashion editors Tonne Goodman and Virginia Smith, Wintour seems to hit her stride as a stand-up comedienne. Clearly, it's worth a watch. Wintour's daughter, Bee Shaffer has been honing her comedic chops who as a segment producer for Seth Meyers, and her mother proves that a sense of humor might run in the family, through this life swapping experiment.
[youtube https://www.youtube.com/watch?v=5Av3ZKrDxKM&w=560&h=315]
If reading about Schumer's latest exploits online isn't enough, the issue will be on newsstands starting June 22, perfect for picking up at the airport on the way to your next summer destination. In the mag, Schumer discusses the fourth season of her hit show and her upcoming memoir, The Girl with the Lower Back Tattoo. She even shares an exclusive excerpt called "My Only One-Night Stand."
In a not-so-shocking move, the photos were taken by Annie Leibovitz, but unfortunately there are no corgis or royal babies in sight. Schumer wears a bright red Dolce & Gabbana dress on the cover and within the pages she dons a coat from The Row, paired with Jimmy Choo heels. In the issue, Schumer reveals that she's still dating a normal, the 29 year old Ben Hanisch, who works as a furniture designer in Chicago.
Shockingly enough, Schumer admits that she's given up her hysterically hard partying lifestyle, foregoing late nights and cocktails for juicing and acupuncture–who knows how that will change her stand up set–but it certainly makes her a fitting choice for Vogue. After Schumer's Glamour issue, where she was unknowingly featured in their plus size issue, it's nice to see her return to a cover on her own terms–especially when they are this glamorous.