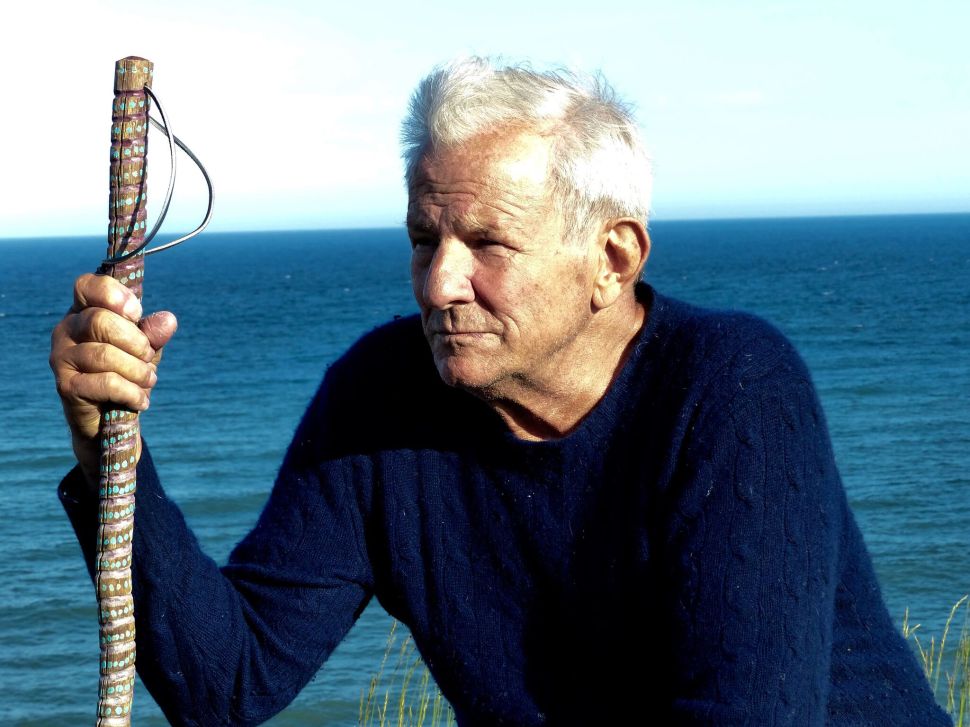 Legendary artist, outdoorsman and ladies' man Peter Beard has traveled the world during his 50-plus-year career—he even went on tour with the Rolling Stones and their entourage in '72—but there are only two places he feels at home these days: his ranch in Kenya and his property in Montauk.
These locales, though more than 7,000 miles apart, are more similar than they might seem—they're both the site of rare and delicate ecosystems that inspire a man who, at the age of 78, still has much more to reveal to us through his artwork.
A nuanced—and perhaps surprising—retrospective of Beard's work just opened at the Guild Hall Center for the Visual and Performing Arts in East Hampton, filling both galleries of the museum, with one room focusing on Kenya, the other on Montauk.
The career-spanning exhibition is the work of curator Christina Mossaides Strassfield and Beard's wife, Nejma, who has been the artist's manager and partner for over 30 years. The show illustrates yet another side of a man who was once described as "half Tarzan, half Byron" by Interview reporter Bob Colacello in his book Holy Terror: Andy Warhol Close Up.
"I am continually surprised when people refer to [Peter] as a wildlife photographer," Nejma said over the phone from her Montauk home. "He is far more than that." That much became obvious after seeing the Montauk leg of this show, which offers imagery that ranges from the mundane (Warhol receiving a flagpole from Beard on his birthday), to the glamorous (a gorgeous young Bianca Jagger exiting a single-engine plane in Montauk in a tiny skirt and high heels) to the adorable (a 3-year-old Zara, the artist's daughter, with her collection of rocks and other keepsakes).
Though he has worked as an editorial photographer as well, Beard has been making his collaged artworks since the 1970s. The Guild Hall show consists mostly of such works, in combination with photographs of African wildlife and domestic scenes.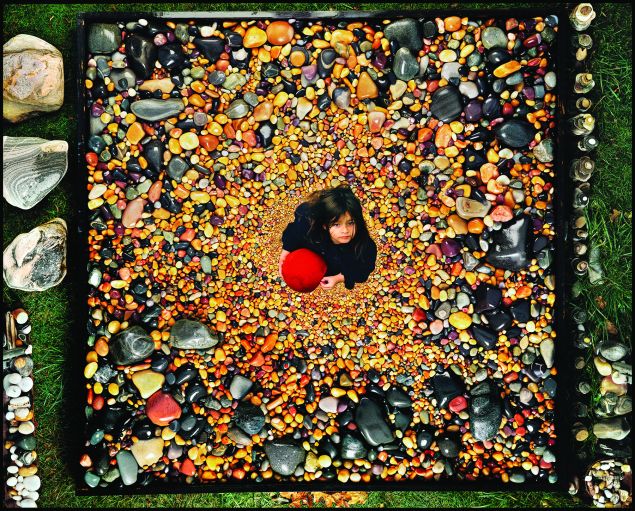 Nejma Beard (born Khanum) is originally from Kenya but has lived in Montauk with Peter and Zara since 1986. Over the years, her husband's creative industry has become something of a mom-and-pop shop—albeit a high-end one that shows and sells artworks across the globe.
Nejma took over the management of Beard's affairs years ago and more recently, Zara began working as her father's catchall studio assistant, a position that includes some photo work and some writing but mostly involves "getting to spend time with my best friend and helping him out with whatever he might need at the time," as she puts it.
The three of them live and work out on the edge of the Atlantic in relative calm and quiet—a life far removed from Beard's years of late night visits to Studio 54 with Andy Warhol, Mick Jagger and Jerry Hall—or his years spent on Hog Ranch in Kenya, living by Karen Blixen, the Danish scribe and heiress who penned the book Out of Africa. Blixen is portrayed in the "African" themed room, along with other highborn figures (including a young Jacqueline Onassis), but what dominates the room—and what Beard has become known for—are his images of African wildlife.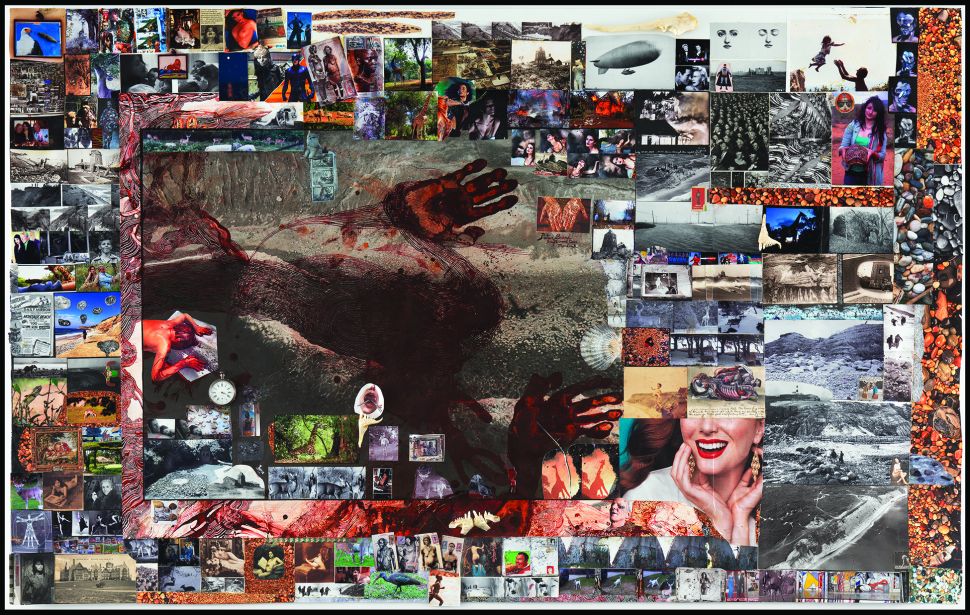 Animals both fearsome and regal adorn these walls, along with the stylized versions painted by Blixen's longtime friend Kamante that circle the borders of many of Beard's photographs. A version of what is one of Beard's most well known pictures, I'll Write Whenever I Can…, 1965/2004, which depicts a young, fair-haired Beard half stuffed into an alligator corpse while calmly journaling, also hangs here along with a fascinating range of memories and artifacts—from an old photograph of Teddy Roosevelt to a keepsake luggage tag attached to a photo of Blixen.
Many of the works here are beautifully crafted, containing copious amounts of exacting ink and collage work on top of old fashioned, large-scale silverprint photographs, often embellished with objects. One particularly radiant rhinoceros photograph, for instance, smeared with luminous blue paint and a ring of dried blood is punctuated by the real corpse of a dead bird, which is pinned inside the frame. But these works tend to reflect the mediated, action-star version of Beard: A brave and handsome American individualist.
If interest in Beard's work has waned over the years, it's because a certain brand of old-fashioned machismo—perhaps symbolized by cigar smoking, exotic sports cars and casual sexism—has often latched onto his work and is less appealing to younger generations. And though Beard might have, as a young man, gotten into this racket for the thrills, he's quietly become something else: a hardworking artist who's both a family man and a fierce conservationist.

The second room of this show, images mostly taken around Montauk over the years, gives us this "other" Beard. It's here we see photographs showing scenes of relaxed intimacy among friends (people that you or I might know as celebrities) and family, as well as Beard's predilection for visual play, something that has been wildly understated throughout his career. "Artistically, he still continues to surprise me every day," Nejma said. "He's so visually acute, it's unbelievable."
You see this joy in small, inventive embellishments packed into his dense collage work, as in the way Beard spells out "Warhol" with the letters on a Marlboro pack, turning the "M" upside down to complete the word in one elaborate portrait of the world-famous artist. Another Warhol-centered artwork, containing a series of sequential photos of the artist shaking his head back and forth, not only shows Beard's understanding of early photographers, such as Eadweard Muybridge, but also shows a deep appreciation for Muybridge's line of influence, down to one of Beard's favorite artists, Francis Bacon, who was also indebted to Muybridge. Lest you miss this subtle connection, Beard also adorns this piece with slashes of red and blue paint, suggesting the visceral techniques of the edgy Irish painter, who, like many other great artists, eventually became good friends with Beard.
But it's not just stars that are exposed in this show: Family is present, both in Africa, where we find a picture of Zara as a toddler, hugging a warthog, and on Long Island, where she's memorialized in a picture among a group of organized stones.
And now, like her father, Zara writes and takes photographs, including the striking portrait of Peter, above. "There has never been pressure on me to be anything that I'm not," she told the Observer. "I'm very lucky in that way. Both of my parents are incredibly supportive of everything I do, whether it be a global explorer, animal rescuer, competitive horseback rider, writer or artist."
Clearly there's a "closeness" Beard has nurtured—with his family, his friends and the land—that shines through in his work and draws us in. But what's his secret? He shares it with Zara in one of his correspondences: "Collect some more of those driftwood cove stones, learn to escape into their magic—get immune to meaningless interruptions. Feed the deer. Take care of your turtle." In other words, be attentive to the things that are ultimately the most important.