Aquazzura is out for shoe-related revenge. Well, according to the Florence-based brand, they are forging a "campaign to protect its unique, well-recognized shoe designs."
Helmed by Edgardo Osorio, the Aquazzura label has become synonymous with making heels that are as playful as they are comfortable, by adding details such as pom-poms and fringe onto even the strappiest of stilettos. Naturally, this has piqued the interest of fellow shoe designers, spurning knockoff after knockoff of the brand's designs, which are not quite iconic, but are certainly recognizable.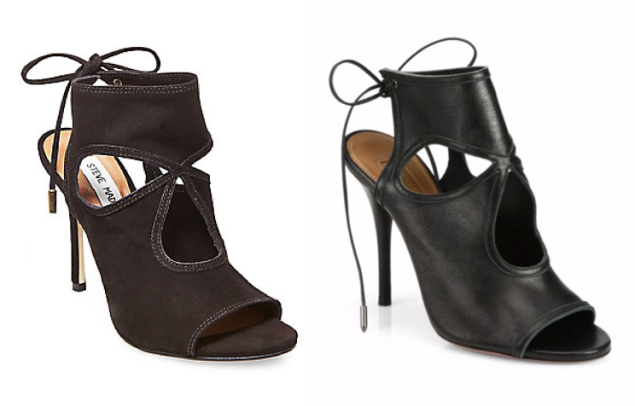 Today, the brand announced their intention to go after Steve Madden in New York State federal court over the infringement of three shoe styles. According to a press release, this particular fight has been going on since 2013, two years after Aquazzura was first founded. The designs in question are Steve Madden's Sharlit, Lecrew and Sassey, which mirror Aquazzura's Sexy Thing, Christy and Wild Thing creations.
It's clear to see from these pictures that the designs are far too similar to be dubbed a coincidence, as even the most minute details have been replicated, down to metal-capped ties and strategically placed tassels. The Italian design house insists that customers will be confused by the resemblance of Steve Madden's designs, which are lacking in both quality and craftsmanship.
"This is not the first time Aquazzura files suit against a brand that uses its design. We will continue to fight and try to stop these actions. Authenticity and originality are at the core of our brand, and we will defend them at all costs," said Aquazzura CEO Jean-Michel Vigneau in a statement.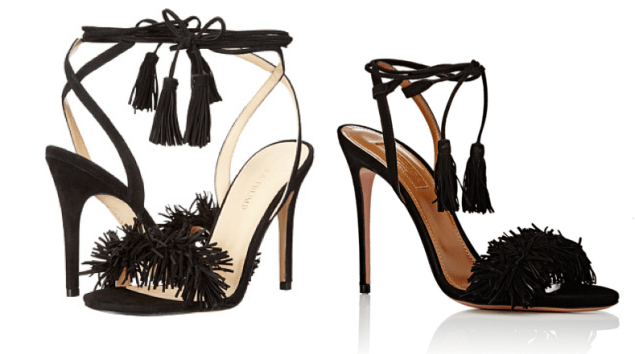 Vigneau wasn't exaggerating when he said this was not the first time they'd gone after a brand, as Aquazzura filed a similar suit against Ivanka Trump and her manufacturing company,Marc Fisher, on June 21. This infringement case, also being brought to federal court in New York, centers around the Wild Thing style, which retails for $785. Trump nearly replicated this shoe in her $145 design, which goes by the style name of Hettie. In this case, Aquazzura claims that their brand identity is on the line, once again citing customer confusion as a reason for filing such a suit.
The team behind Marc Fisher released a statement to People, opposing these accusations. "This is a baseless lawsuit aimed at generating publicity. The shoe in question is representative of a trending fashion style, is not subject to intellectual property law protection and there are similar styles made by several major brands. The lawsuit is without merit and we will vigorously defend ourselves against the claim," said Matthew Burris, CFO of Marc Fisher.
Back in March of this year, Osorio took to Instagram to call out Trump for stealing his copyrighted designs. "Shame on you @IvankaTrump," he wrote. "Imitation is NOT the most sincere form of flattery."
We have a feeling these lawsuits will lead to some well-heeled court appearances. While it can be tough to win an infringement case in fashion, hopefully Aquazzura's copyrights will be able to protect their precious designs.