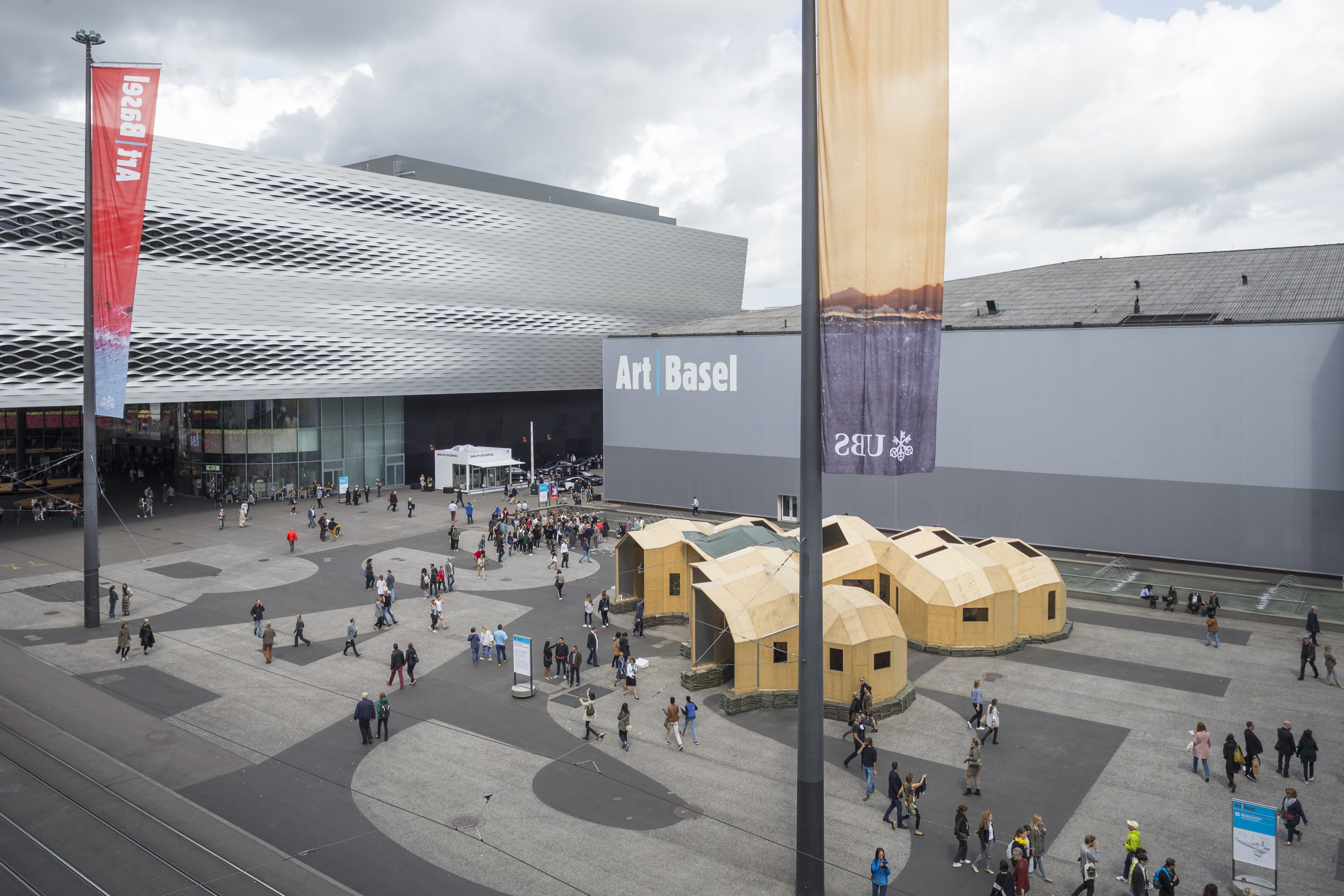 Going to an art fair always brings to mind the great song by the 70s LA punk band Fear, "New York's All Right If You Like Saxophones," which we amend in this case to "Art Basel's All Right If You Like Julian Schnabel's New Purple Paintings." Even if it's the big apple of art fairs, in other words, we're going to pretend to hate Basel (which wound up on Sunday), or at least complain about all those big galleries and all that money everyone was throwing about, from the $4.5 million for Paul McCarthy's goofy, Mr. Potato Head-inspired Tomato Head (Green) to the $8.35 for two scoops of ice cream at the Mövenpick kiosk.
Meanwhile, in nearby Zurich, Manifesta 11 (the 'nomadic European biennial') was getting underway with the organizing theme of "What We Do For Work." If that isn't a sly poke at Art Basel by the exhibition's curator, Berlin artist Christian Jankowski, it should be.
In any case, don't believe any of the stories that suggest that the 47th Art Basel—with 286 very commercial galleries in attendance—was political in nature. A few politically savvy installations in its Unlimited section doesn't mean the fair wasn't about what it always is: money, those who have it and spend it, those who benefit from it, and the rest of us who come along to check out the action and wind up thoroughly exhausted, overwhelmed by the commerce as much as by the art, but at least partially enriched in the process because there's actually so much worth seeing. Finding it amid the trudgery—yes, trudgery—along with the mental space to enjoy it, is both the challenge and the occasional pleasure.
It proved to be even more of a challenge at Liste, the adjunct fair for young galleries and emerging artists, which seemed to be Liste-ing with Godawfulism. Notable, happy exceptions included the clean, bold paintings of Cornelia Baltes at Limoncello (London); Erika Voigt's exuberant knife paintings at LA's Overduin & Co; the funny cellar installation by the now-surely-post-emergent Liz Craft (Truth & Consequences, Geneva); and Yuji Agematsu's tiny beautiful-ugly assemblages at Real Fine Arts (Brooklyn). Agematsu, a Japanese artist living in Brooklyn, gathers street detritus daily into a cigarette box, then makes a sculpture from it and places it inside the box's vitrine-like cellophane wrapper. Straddling Art Basel and Art Brut, Agematsu was for me one of the real pleasures of the entire fair.
In the main hall the next day, when I came across a small red match-box sculpture by the Brazilian artist Lygia Clark, at Alison Jacques Gallery, it felt like an echo, as did the miniature inks-on-paper by Wilfredo Prieto at Annet Gelink Gallery.
With the world's top galleries in attendance, such beautiful works abound—two small Morandis that sold for $1 million apiece at David Zwirner, others from Günther Förg, Etel Adnan, Eva Hesse, Dorothea Tanning, Albert Oehlen, Hélio Oiticica, Louise Bourgeois, Robert Ryman, Otto Piene, Martin Kippenberger, Sigmar Polke ($6.5 million! again by Zwirner), two incredibly lovely Richard Tuttle pieces on wood (I think). Gavin Brown showed some great little rough-hewn Alex Katz studies, a welcome relief from the artist's usual neat-freak control.
Inside the Basel Messe, it's a sort of upside down Downton Abbey affair: the super rich are downstairs—here a Hauser, there a Wirth, everywhere a Schimmel—with a few moderns thrown in for an occasional reality check, while most of the edgier contemporary personalities are found upstairs. It didn't hurt Gavin Brown to be positioned just at the top of the escalator, where he leaned six large new Kerstin Brätsch marbleized paintings, all of which sold to museums and foundations at $60,000 apiece, according to the gallery. From there, depending on your level of exhaustion (or checking account), it is either an amazing smorgasbord of leading contemporary artists or one massive, eye-and-brain-numbing exercise in wishful thinking, aesthetically and otherwise.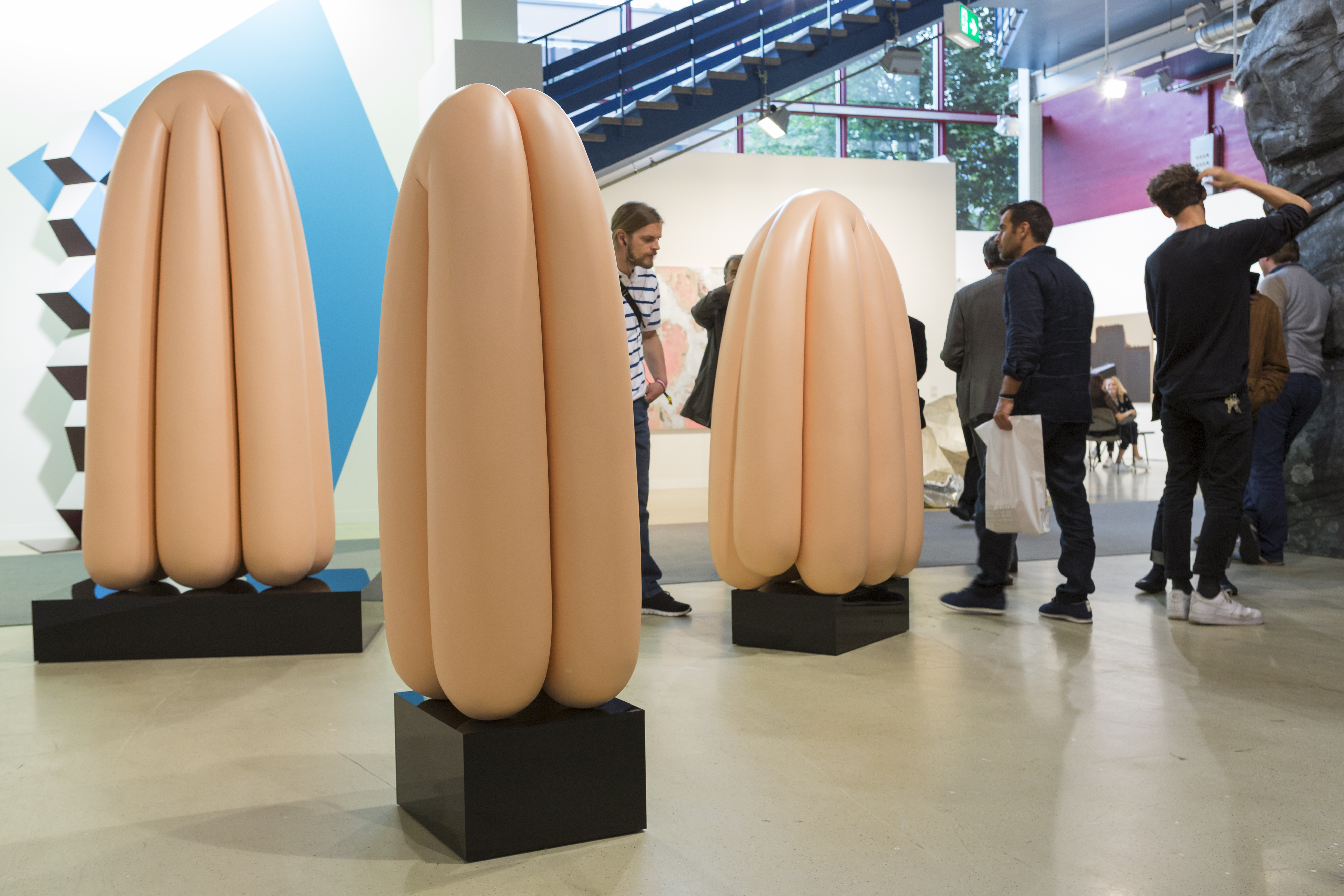 Some respite is afforded along the edges, where galleries in the curated Features and Statements sections are situated; some might say exiled. Feature galleries on both floors focused on established or "historical" (read: dead) artists. Among the most interesting were Wallace Berman, Bruce Conner and Jay Defeo (all dead) at frank elbaz, filmmaker Pat O'Neil (still kicking) at Cherry and Martin, and the very much alive Sadie Benning's sumptuous paintings on cut-and-inset wood at Susanne Vielmetter. Memorable in the Statements section for solo projects by emerging artists were L.A.-based Dan Finsel's large organic pods at Ramiken Crucible and the Baloise Prize-winning videos of Sara Cwynar and Mary Reid Kelley at Foxy Production (New York) and Arratia Beer (Berlin) respectively.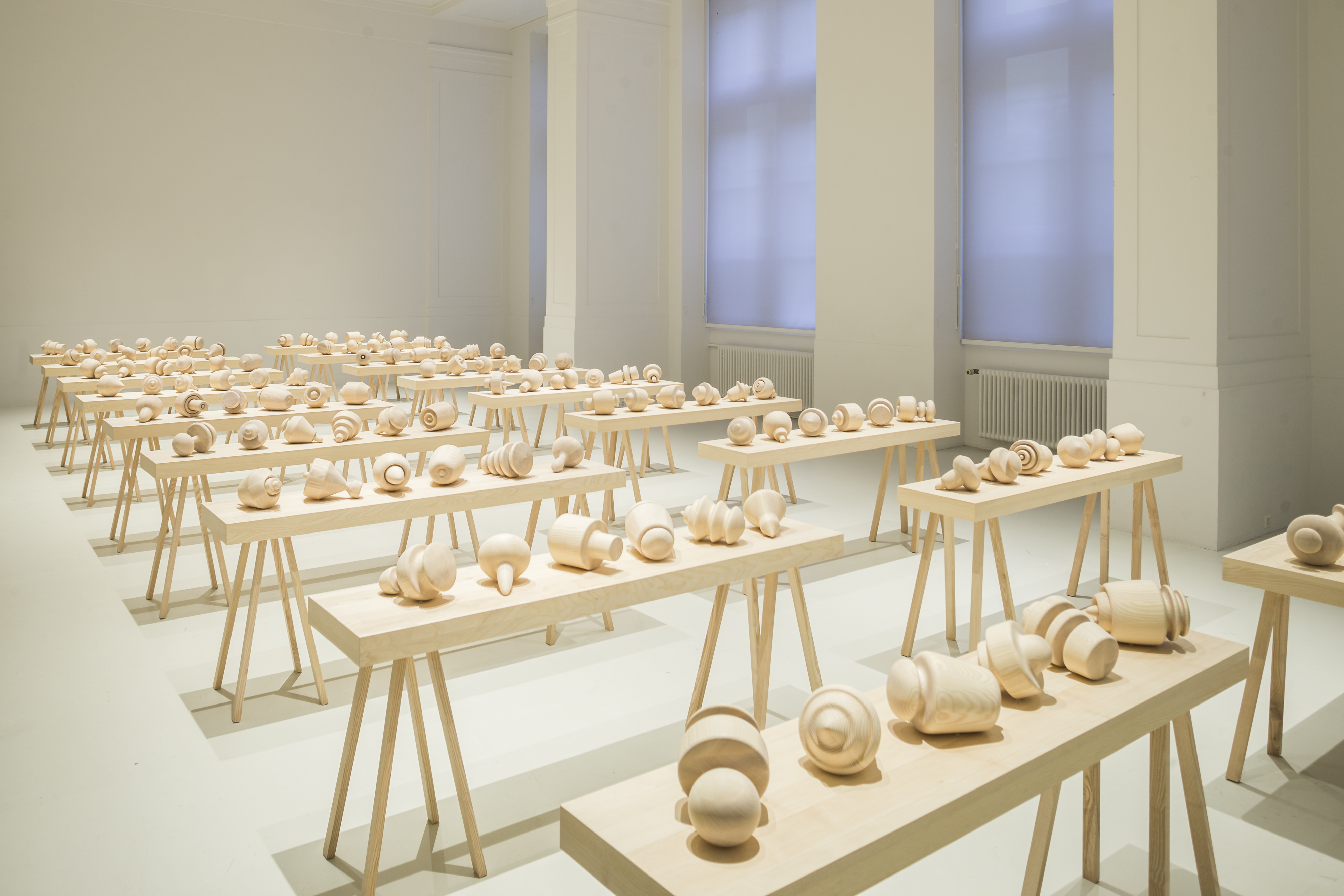 Outside the main hall, things got a bit more Documenta-ish, and socially aware. In the Parcours section, a mildly engaging series of site-specific installations, interventions or performances in the old town area along the Rhine, Sam Durant erected a prison-like labyrinth of chain-link fencing meant to represent the lines between freedom and captivity, movement and immobility. (These notions seemed lost on a group of small children running through it happily.) The New York-based Chilean artist Alfredo Jaar offered visitors to the Münsterplatz a small blue box, The Gift, inside of which recipients found means to donate to the Migrant Offshore Aid Station (MOAS)—the gift of giving. The question is, how many people at a short-lived art fair have the time or energy for a walking exhibition, especially in the rain. My guess is: not many.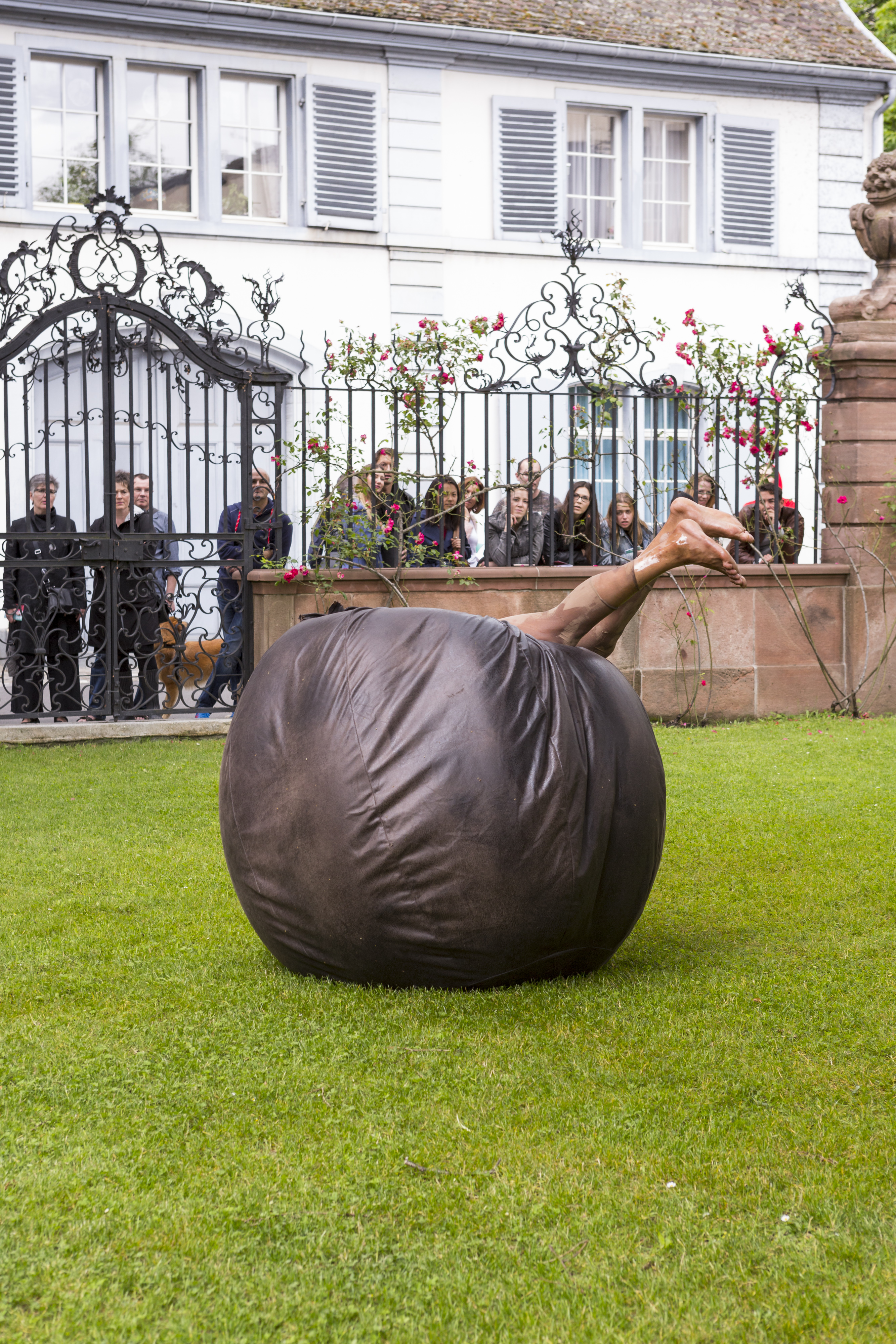 Better attended was the nighttime performance by Anne Imhoff at the Kunsthalle, which featured several young performer/dancers interacting in various guises, including amusing/horrifying contempo-fashion runway striding, as well as a falcon and several cans of Pepsi. Does this sound intriguing? It was a come-and-go affair over five hours, and most visitors did just that, at times seeming to be part of the performance—or the performers seeming to be part of the audience. Some of the intrepid, those who stayed till the midnight end, were later seen at a bar called Kaschemme, listening in a tiny smoky dungeon to a young woman playing cello with three guys fiddling sonic dials. Hauser, Wirth & Schimmel were nowhere in sight.
Unquestionably, the most interesting aspect of the fair—for the non-buying audience at least—is Unlimited, featuring a who's who of top artists: El Anatsui, James Turrell, Dieter Roth, Tracey Emin, William Kentridge, Tony Oursler, Julie Mehretu, Jannis Kounellis, Francis Stark, Anish Kapoor, Frank Stella, Laurie Simmons, Wolfgang Tillmans, Pope L., Kader Attia, Allison Knowles and Isa Genzken. Set in a giant, otherwise empty hall, and curated once again by the New York-based curator at large for the Hirshhorn, Gianni Jetzer, Unlimited affords generous space to exhibit work unshowable in an ordinary fair context. And yes, that meant yet another oversized (and over-conceived) piece by Ai Wei-Wei, who may as well be known as Ai Wei-Wei-Too-Much.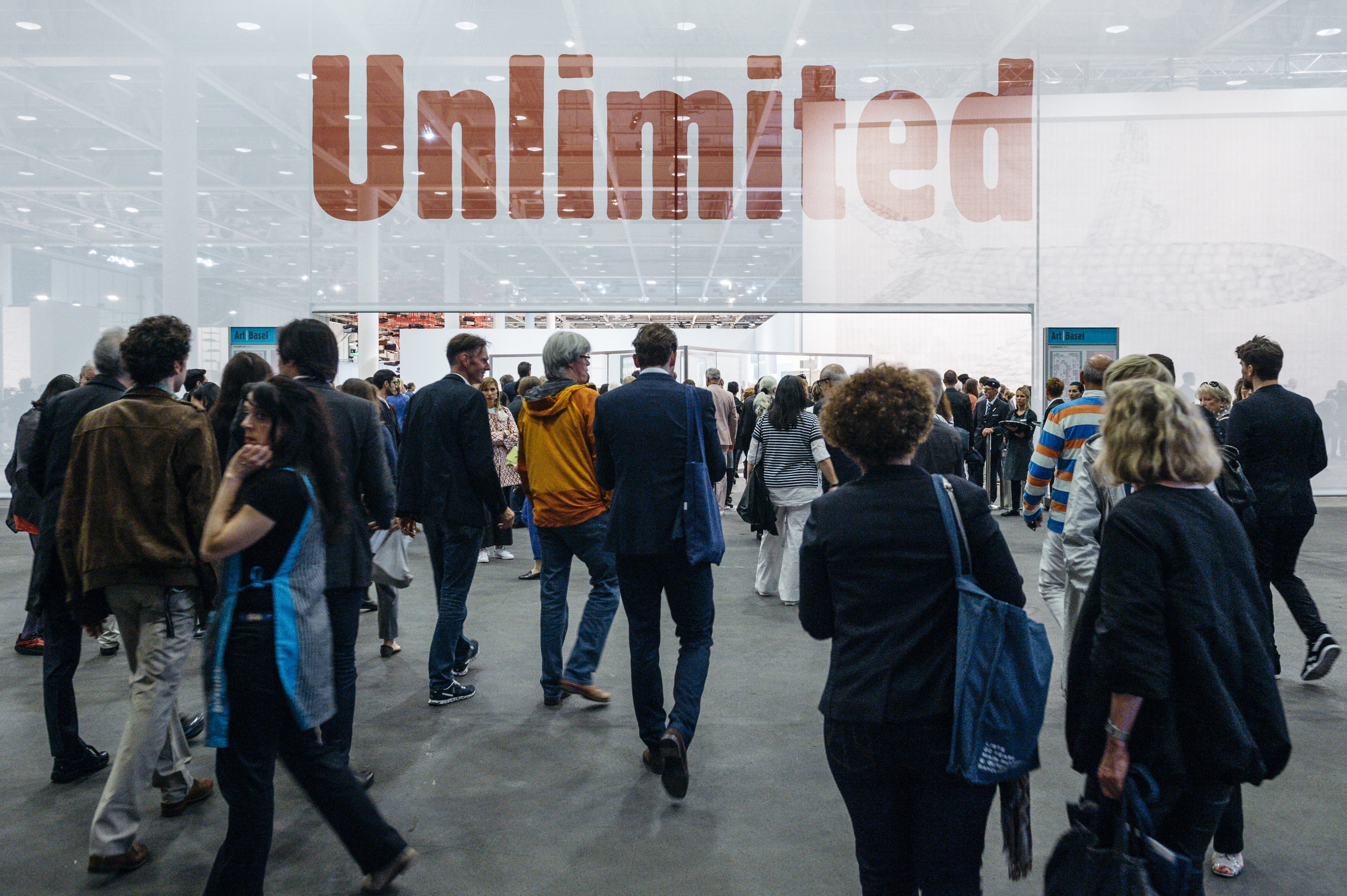 But it also meant a suite of Martha Rosler's incisive "Bringing the [Vietnam] War Home" series, House Beautiful; Mike Kelley's 1989 Reconstructed History (which Skarstedt sold for $1.5 million); and Rafael Lozano-Hemmer and Krzysztof Wodiczko's Zoom Pavilion, which offered entrants insight into surveillance and social media creepiness. There was also a wonderfully understated and pedestrian piece by Christo called Five Storefronts. When a friend photographed it, a woman said, "How can you take a photo of that?" Too real, too ugly, not fun! Somewhere in the main hall was a selection of Ed Ruscha's old banality projects—on gas stations and every building on the Sunset Strip, etc. But it was another L.A. artist, Khalil Joseph, who with his stunning 2014 short film m.A.A.d., set in the less-than-serene streets of Compton, brought a serious dose of gritty "reality" to the otherworldly life cushion that is Basel, or at least Art Basel.
Then it was outside again for some more $8 ice cream.