Mashable recently broke the story that Bachelorette villain and resident meat-eater Chad Johnson has been taking his villainy into the real world by squatting on domain names for other contestants. RobbyHayes.com, DerekPeth.com, ChaseMcNary.com and AlexWoytkiw.com now all redirect you to the Instagram account of RealChadJohnson, who spends his non-meat-eating time posting shirtless selfies and memes about himself on The Bachelorette. (Looks like he couldn't get JordanRodgers.com before some random secondary Jordan Rodgers with 29 Twitter followers.) But even the Bachelorette herself isn't safe from Chad's domain squatting prowess. Go to Joelle-Fletcher.com and what do you find? THIS, MUTHERFUCKERS:
But the most glorious surprise of all came when Mashable revealed that the domains were registered by brianchadjohnson@yahoo.com, which means that Chad's name is not actually Chad. Look at this man. This man is the living embodiment of the name Chad.
As an esteemed investigative journalist, I believed it to be my duty to get to the bottom of this story. And so I went right to the source:
_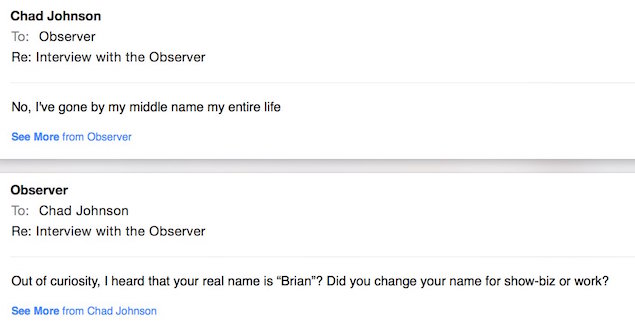 A young boy named Brian looked at himself in the mirror one day and decided he would become Chad. And Chad he became: doing pull-ups with protein-powder weighted suitcases strapped to his waist; working in "luxury real estate;" threatening to fight lesser men. Chad is an Alpha Male who would gleefully call himself an Alpha Male. I would bet $1000 Chad supports Donald Trump even though he says things like, "I don't really care about politics." And he doesn't. Chad cares about his sister, and his tiny dog, and making money, and big, protein-fueled gainz.
Chad is my favorite thing about this season's Bachelorette. Every every dumb, sexist comment or paternalistic approach to dating that slips out of his mouth as a slice of turkey goes in, I cannot help but to grin like a lunatic. I want to read Mallory Ortberg write 10,000 words about Chad. I need to know whether this man identifies more with Chad Johnson the receiver or Brian Johnson, lead singer of AC/DC.
He took on the mantle of Chad like Bruce Wayne became Batman, anointing himself with a higher purpose of douchebaggery and living his life by the code of the Well Meaning Douchebag. Brian Johnson shed "Brian" with every fistful of protein he consumed and every Instagram picture of a boat or a tiny dog. He has also bought the domain name TheChadelor.com.
Brian Johnson is dead. Long live The Chad.