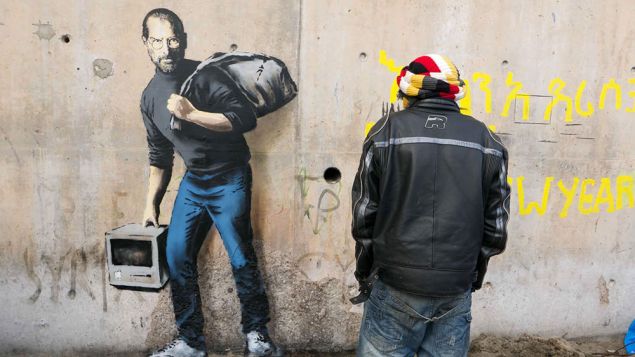 Banksy gifts Bristol school with a surprise mural. Bridge Farm Primary recently named its new building after the famous yet elusive Banksy, and when teachers and students returned from their holiday break they were excited to find a 14-foot mural by the street artist. The mural depicts a child pushing a flaming car tire with a stick, and was accompanied by a note from the artist that read: "If you don't like it feel free to add stuff, I'm sure the teachers won't mind. Remember—it's always easier to get forgiveness than permission."
Tourist trips and elbows Warhol painting at SFMOMA. A visitor to the newly opened museum tripped and fell into Andy Warhol's Triple Elvis painting on Friday morning. The painting has been removed from the gallery, and damage is considered "minimal" according to conservators. A version of the same artwork sold for $82 million at auction in 2014.
Diamond-crusted handbag sets world record. Last week, a white crocodile Birkin bag ornamented with 10 carats of white diamonds sold for a record price of $300,168 in Hong Kong. Along with jewelry and watches, it appears handbags have skyrocketed to the top tier of the luxury market. "As handbags become more easily traceable, and values continue to increase, more collectors are seeing their handbags as assets," said Matthew Rubinger, Christie's director of handbags and accessories for Asia.
Louvre remains closed due to severe flooding. While the Grand Palais reopened on Sunday, Paris' Louvre and Musée d'Orsay remain close due to dangerous flooding from the nearby River Seine. The river's water peaked on Saturday at near 13-feet.
Olafur Eliasson erects 131-foot waterfall at Versailles. The Danish-Icelandic artist has created several ambitious installations throughout the French Palace, including a waterfall at the Grand Canal and a ring of fog at the Bosquet de l'Etoile grove. Eliasson's exhibition opens to the public on June 7.
Iceland is the "down-to-earth" art capital of Scandinavia. Iceland may only have a population of 323,000, but the remote country has managed to "consistently punch above its weight" on the global art scene, according to Artforum.
Which contemporary art museum has changed the way we experience art the most? That would be the Tate Modern, according to the Financial Times' art critic Jackie Wullschlager. "The 'wow' factor, which Tate Modern introduced into gallery culture, now drives commissions, acquisitions and displays in public institutions worldwide," she writes.