As Derek Zoolander once said, "Moisture is the essence of wetness, and wetness is the essence of beauty."
It seems that Ben Stiller is more of a Method actor than one might have thought—at least, he sure took that Zoolander quote to heart, since he just purchased a $15.31 million full-floor abode that has incredible views of the Hudson River.
Stiller and his wife, actress and Zoolander co-star Christine Taylor, are heading over to celeb-beloved 150 Charles Street, with a 3,395-square-foot full-floor aerie.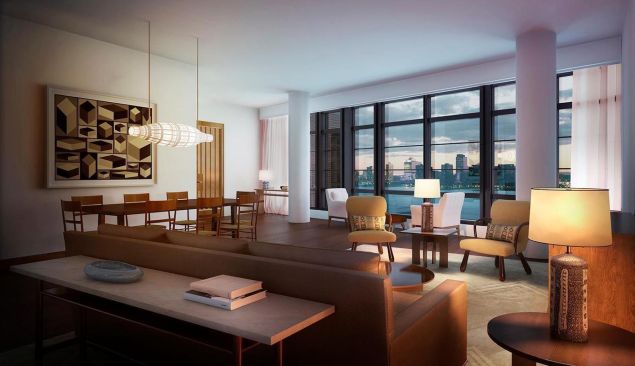 The pair bought the home using the same Riverside Trust they used to buy their last place in the city, a 4,000-square-foot co-op on the Upper West Side, at 118 Riverside Drive—they sold it (at a loss) in 2013. But now, they're leaving behind the more Night at the Museum-friendly Upper West Side, and moving onto new, perhaps trendier things, down in the West Village, where they paid a tad over the most recent $15 million listing price of their condo.
A proclivity toward water isn't the only thing that Stiller and his cinematic alter ego have in common; according to Taylor, he's is rather good at impersonating his cinematic alter ego. "People just yell 'Blue Steel!' at him on the street, and he does it in a heartbeat," she told Good Housekeeping.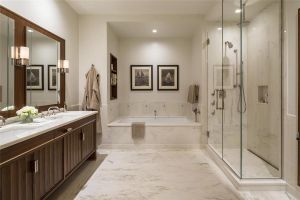 Their new four-bedroom, 4.5-bath abode has 50 feet of "unobstructed and protected" west-facing floor-to-ceiling windows, a windowed eat-in kitchen, and a 78-bottle wine fridge, per the listing shared by Douglas Elliman brokers Raphael DeNiro, Darren Sukenik and Peter Zaitzeff. There's plenty of room for the couple and their two children, and all of the bedrooms face east, all with en-suite baths and walk-in closets, while the master suite has its own wing, with river views and a library (or home office, whichever they may prefer).
The master bath has radiant heated floors, a heated stall shower, and a deep soaking tub—necessary for all the moisture.
And if that's not enough, they can always head down to the 75-foot lap pool in the building, where there's also a hot tub and a plunge pool, as well as a steam room and a sauna, and a lounge with a juice bar. Who knows, maybe they'll run into fellow residents Jon Bon Jovi or Irina Shayk—Derek Zoolander would definitely approve.