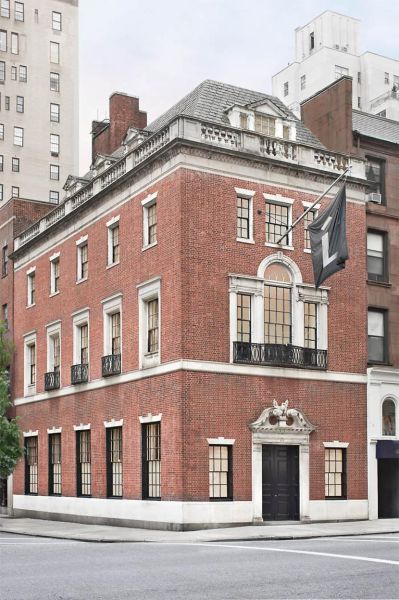 Uptown gallery Dominique Lévy, which occupies the top two floors of 909 Madison Avenue at the southeast corner of East 73rd Street, will be expanding to occupy the entire 9,000-square-foot former bank building as of Jan. 1, 2017.
Galerie Perrotin, which currently occupies the ground and basement floors of the building, will move to a new location in 2017. It's unclear where they will be moving; the gallery did not immediately respond to a request for comment.
"We are excited to greatly expand the gallery's exhibition space while retaining its human dimensions," Lévy told the Observer, adding that it will give her a lot more "flexibility" with their programming. When asked about the timing of this move, which comes during a slowing art market, Lévy said, "I don't see this as a gamble. It's been a long, thoughtful decision about what's best for my artists and the estates I represent. So yes, this may not be the best time to expand in the short-term. But long-term, it's always the right time."
Lévy, who co-founded the gallery L&M Arts with Robert Mnuchin in 1993, split from her partner to found her own gallery at its current location, which opened for business in September of 2013. Parisian dealer Emanuel Perrotin opened his first New York gallery in the building at the same time.
Lévy represents a range of historically important artists, including Gego, Senga Nengudi, Chung Sang-Hwa, Pat Steir, Pierre Soulages, Frank Stella and Günther Uecker, as well as the estates of Yves Klein, Roman Opalka and Germaine Richier. Galerie Perrotin, which has also been expanding their artist roster, works with a range of heavyweight artists, including Daniel Arsham, Maurizio Cattelan, JR and KAWS, among other big names.
Before founding L&M, Lévy worked as the international head of private sales for Christie's. She left the New York branch of L&M Arts in 2012.
Levy's first show in her expanded space will be an interesting combo: paintings from between the 1940s-1980s by Willem de Kooning and the Chinese painter Zao Wou-Ki. Later in the year, she will present a solo exhibition of historical and new works by Pat Steir.
The announcement comes on the heels of news that Chelsea's Anton Kern gallery will move from its 20th Street location, which it has occupied for 15 years, to a new location on 55th Street in Midtown (so despite a supposed "slump" in some corners of the market, a few galleries still seem to be doing quite well).
Aside from her New York gallery space, Ms. Lévy has an exhibition space in London and an office in Geneva. Emmanuel Perrotin has gallery spaces in three other locations besides New York: Paris, Hong Kong and Seoul.