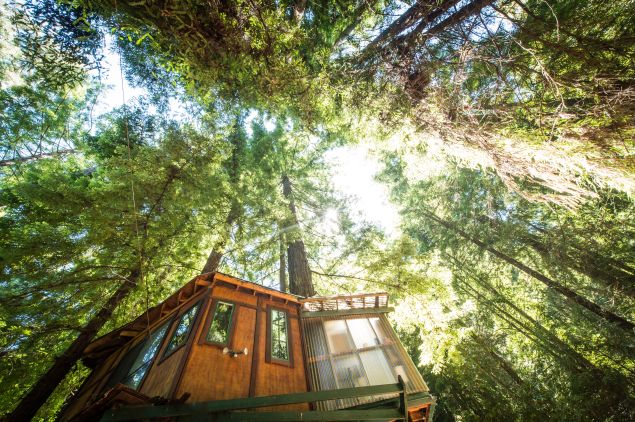 Glamping–the stylish, posh older sister to its younger, dirtier brother–camping, is having its moment as the favorite child in the household that is Mother Nature. "Glamping," short for glamorous camping, is designed for those who love the outdoors but after a night of stargazing would prefer to return to a luxurious tipi or lakeside villa with king-sized beds and air conditioning.
With 27 different styles of glampsite options to choose from, GlampingHub.com provides its users with charming accommodations in uniquely stunning environments.
Glamping Hub is a third party booking site that allows guests access to glamping locations in more than 90 countries. With options in both populated cities and remote landscapes, users can choose to stay in tree houses, log cabins, island villas or yurts among other appealing glampsites for relatively affordable costs. The site offers glamping accommodations in six out of seven continents–none in Antarctica–in addition to having accommodations in various enchanting islands. Guests are offered the opportunity to connect and relax in nature without having to sacrifice comfort or a major paycheck. From a $344 per night Igloo in Austria to a $56 per night log cabin in western Maine, Glamping Hub offers a variety of prices and styles for its guests.
With ecologically friendly advantages, many of Glamping Hub's accommodations offer composting toilets, solar power and working gardens. Adorned with hydro-massage Jacuzzi jets, fire pits, organic sheets, and private gardens, each glampsite offers a range of differing, top-of-the-line amenities to fit the environment.
With more than 5,000 properties in 91 countries, the company has tripled its growth every year since 2013 when it had just 200 properties mostly in the U.S. and Spain, Jessica Armstrong, head of public relations for Glamping Hub, said.
To be included in Glamping Hub's extensive directory, uniqueness is a must. Each property must provide "something that you wouldn't be able to get in a hotel or any old kind of apartment," Armstrong said. "Anything that we can put together and define with the term unique is something we can put in our directory."
Glampers can also choose to participate in a variety of activities arranged by their host site, ranging from mountain biking, spa days, wine tastings and white water rafting with their designated glampsite. Cofounded in San Francisco, the company currently operates out of Spain and offers themed getaway collections like this 'Game of Thrones' Spanish destination in addition to a pet-friendly hub for owners looking to travel with their animals and a Spanish hub as well.
"Why stay in a hotel or an apartment just like you would any other day, when you can stay in a treehouse on the beach and be eating the freshest fruit from Costa Rica?" Armstrong said. "We want to be able to provide people with something that they'll never have ever tried before in their life and they'll probably never experience ever again, or if so, they'll want to keep repeating."
Considered an official word in the Oxford Dictionary, Google Trends has "glamping" popping on to the scene in early 2007. The idea for glamorous camping most recently emerged in Africa and coastal Thailand in the 1990s, according to CNN. Before that, sultans of the Ottoman Empire were reported to have made efforts to "glamp." Since then, glamping has seriously taken off, with the royal couple even giving it a go, in Uluru, Australia back in April 2014. Most recently, Firefly Music Festival in Dover, Delaware has offered a glamping option for 2016. The festival, which is taking place July 20 to 22, offers air conditioned tents, lamps with power sources, complimentary robes and private showers in its premium glamping package, which is now sold out.
So throw away your flattened, dusty sleeping bag and ignite your inner wanderlust and embrace your camping nostalgia in a new, glamorous way.