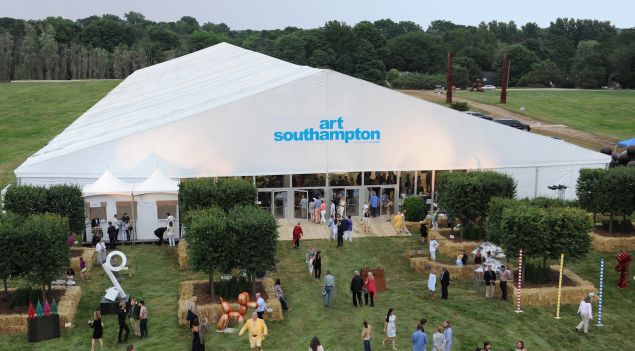 Praise be, it's finally summer in the city! Which means it's time to go to the beach. We'll be going to the Hamptons of course. The Far East end of Long Island has long been the stomping ground for the art world when New York's humidity reaches tropical levels, but in recent years a younger, more downtown crowd has been discovering its fair shores. Three fairs dominate the scene during the end of June and first weeks of July: Art Hamptons, Art Southampton and Market Art + Design. Between them, there's a little something for everyone.
Art Southampton
VIP Preview July 7; Gen. Admission July 8-11
60 Millstone Road, Bridgehampton, N.Y.
Art Southampton is the handiwork of the folks behind Art Miami, one of Art Basel Miami Beach's premier satellites. In a relatively short amount of time—the fair is entering its fifth year—director Nick Korniloff and co. have firmly established the event as the hotspot for celebrity collectors, blue-chip sales and the Hamptons' artiest elite. Notable attendees in the past have included musician Bon Jovi, comedian Howard Stern and former New York City Mayor Rudy Giuliani. But this year, celebrities aren't just coming to buy art—they'll be working the booths, too. 
Newly appointed New York Academy of Art trustee and actress Brooke Shields will be making her curatorial debut with an exhibition selling students' work, and 100 percent of the proceeds will benefit the school. In a nearby booth, Academy Award-winner Adrien Brody will be exhibiting his paintings with Benrimon Projects. The actor showed off his aquatic-themed art for the first time during Miami Art Week last December, and in March he brought them to New York for Armory Arts Week. Brody's paintings are a hit with collectors, Korniloff told the Observer. And finally, Shark Tank host Kevin O'Leary will be showing off his photographs.
Korniloff tells us the fair isn't all Hollywood glamour. At its roots, Art Southampton celebrates the art world's longstanding love affair with the region, he says. Just as thoroughly represented will be artists who have at different times called the Hamptons home, such as Roy Lichtenstein, Willem de Kooning and John Chamberlain. There's a reason the fair attracts the rich and famous, and it's blue-chip quality.
"The people who call the Hamptons home in the summer are very astute," Korniloff said. "It's a niche community; exclusive goods for exclusive people."
Art Hamptons
VIP Preview June 23; Gen. Admission June 24-26
900 Lumber Lane, Bridgehampton, N.Y.
This summer marks Art Hamptons' first under new owners Urban Expositions, who also oversee SOFA Chicago and Art Aspen. The fair was the region's first. Not much has changed with Urban at the helm—around 70 percent of participating galleries are returning exhibitors—but there's been a little tweaking, such as a new logo, website and a move to the last week of June from the second week in July.
Collectors who visit this first fair of the season will have the chance to do some select one-stop shopping. Since SOFA Chicago is widely known for its sculpture and design, organizers have infused Art Hamptons' Modern and Contemporary offerings with a "juxtaposition of materials," says Urban Expositions vice president Donna Davies, and alongside paintings and sculpture, there will also be works in ceramic and glass.
As for the fair's programming, 2016 has a focus on Cuba. Three galleries from the Caribbean island will be participating for the first time—308 Art Contemporaneo, College Habana Gallery and Galeria Habana—and a panel on "Cuban Art Today" will discuss how politics have affected the island's artistic community. And, lest we forget that we're in the Hamptons, there will be a talk on the "Allure of the East End," which has been a haven for artists such as Jackson Pollock, Lee Krasner and Robert Rauschenberg.
Market Art + Design
VIP Preview July 7; Gen. Admission July 8-10
The Bridgehampton Museum
Max Fishko and Jeffrey Wainhause have figured out a formula for art fairs. Their company, Art Market Productions, currently oversees seven fairs in the U.S. each year, and Market Art + Design (originally named Art Market Hamptons) ranks among its longest-running ventures. This year, the fair returns to its original location in Bridgehampton, where 45 exhibitors will show a fresh mix of design objects and Contemporary art inside the Bridgehampton Museum.
Among the stellar offerings, Kathy Grayson's Bowery gallery the Hole is bringing new "pour paintings" by Holton Rower. As an added treat, the New York-based artist will dazzle visitors by carefully dripping bucket loads of colorful paint to create a new work onsite at the fair. Meanwhile, Seattle's Winston Wächter gallery will show large-scale stacked sphere sculptures by Annie Morris, who creates precarious towers with plaster, sand and bronze balls.
This fair is perfect for the downtown crowd looking to crash the Hamptons' establishment's summer fun. Organizers will also be bringing a little of Brooklyn's finest to the East End with a selection of cocktails, oysters and charcuterie from Red Hook's Fort Defiance.