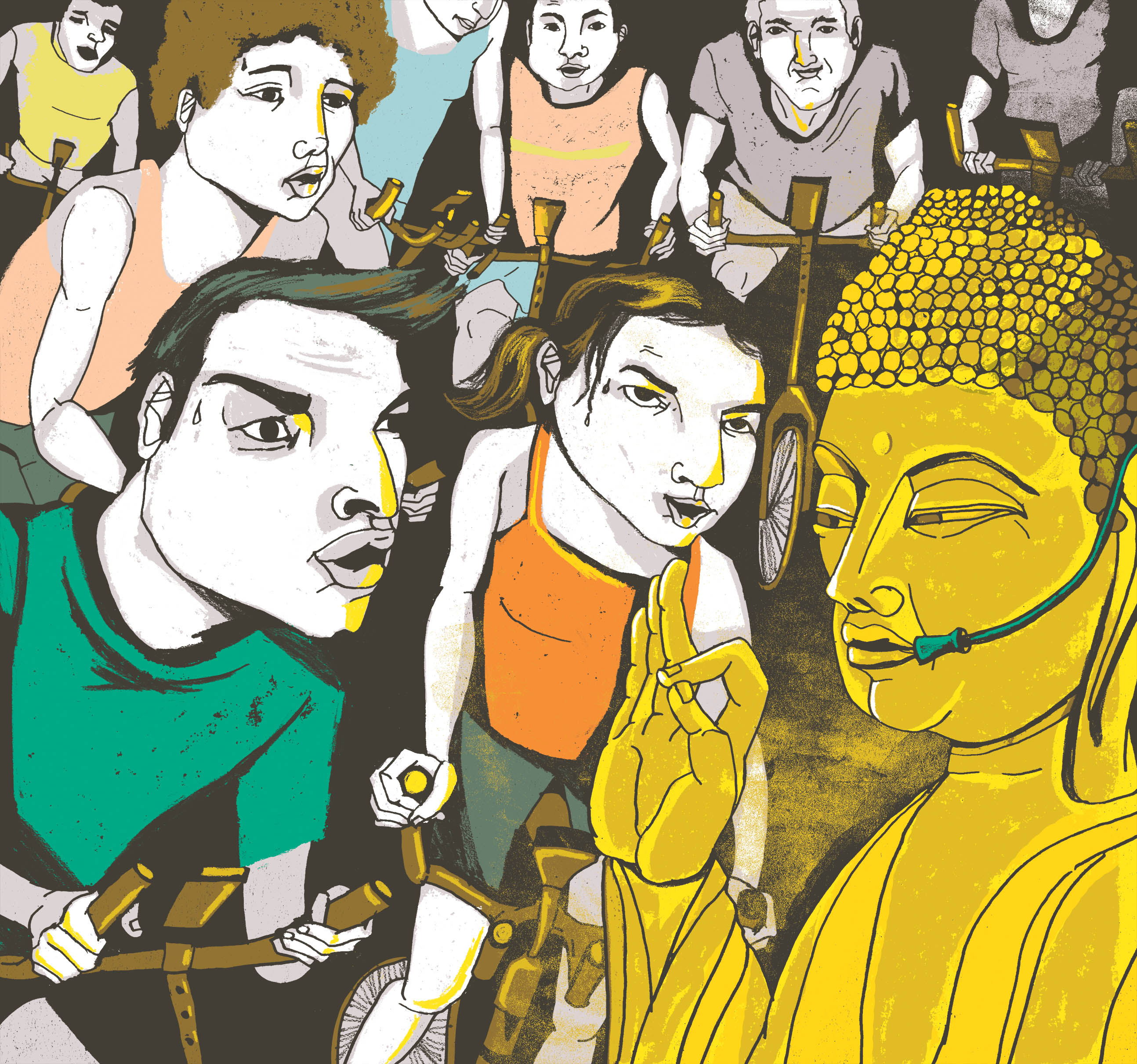 Being "religious" isn't exactly chic. "I'm not religious—but I am spiritual," one often hears. Truth is, even the most fashionable types feel the need for some kind of higher power, especially if they don't have a therapist on speed dial. Cue the fitness trainer. Most exercise classes use the same methods as the average cult, breaking down the congregation into a sweating, weeping mass, then lifting them up with words of guidance and power. Fitness fanatics swear by their favorite instructors, using their sermons to survive. Preaching is no longer limited to the houses of the holy where often, the prelate will riff on ancient stories or the collection for the church/mosque/synagogue roof; no wonder that it's easier to find New Yorkers listening to a homily while spinning. Fitness trainers get to the words high-powered city types want to hear, fast.
SoulCycle instructor Akin Akman's classes are notoriously difficult to sign up for. On Monday at noon, his disciples gather around their computers, aggressively ready to register for his rides. The in-demand Mr. Akman boasts 18,000 followers on Instagram, who call themselves members of Akin's Army. He's modeled for Tommy Hilfiger, Calvin Klein and DKNY and looks suspiciously like Broad City's Trey, who works at a fictional gym called Soulstice—an Equinox/SoulCycle hybrid.
Mr. Akman's classes have been called dangerous, but devout supporters believe he's simply pushing them to succeed. "The idea of having to workout by yourself on a treadmill at a gym is becoming more archaic. People like being able to connect with others and feel like they have found a community in a class," Mr. Akman said.
His devotees are famously committed. "One of my students was diagnosed with stage 3C breast cancer and regularly continued to ride with me up to five times a week throughout treatment and chemotherapy," Mr. Akman told the Observer.
One soldier is Nikki Ferrara, a hair colorist who lives in Greenpoint, Brooklyn. After recovering from breaking her ankle, she wanted a new workout routine. "Every time I leave one of his classes I feel like it's the hardest that I have ever worked out," Ms. Ferrara explained. "When he gets off of his bike and comes over to coach you one on one, you push yourself just that little bit more."
Holly Rilinger is SoulCycle competitor Flywheel's best-known instructor. She starred on Bravo's Work Out New York reality television show and recently started her own class at BANDIER. As a 5-foot-4 former professional basketball player, she's well acquainted with overcoming seemingly insurmountable odds and speaks about her experiences in class, forging a connection with her students—not exactly something a therapist can do during treatment, but certainly a method religious leaders use to connect with their audience. After all, being personable and relatable means creating a following, whether you're a pastor, cult leader or fitness instructor.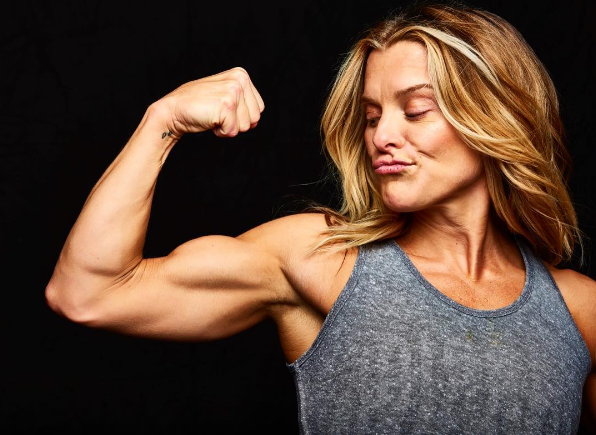 "What I hear more than even 'That changed my body' is, 'You helped me through my divorce,' 'You helped me through the toughest time,' or 'I'm exponentially happier now.' People call my class Prozac or they call it church. It's been labeled the joy factory before. When you can think of working out always making your life happier, it makes it so much more important," Ms. Rilinger said after a sweaty, motivating class.
Ms. Rilinger keeps an anonymous note from one of her students so she remembers to always be authentic while teaching, instead of repeating the same speeches. "She wrote me this letter that said, 'My father died and you don't know who I am, but this helps me every single day just to keep my life together.'"
On the satirical Netflix show Unbreakable Kimmy Schmidt, the main characters attend SpiritCycle, where everyone worships a spin guru named Tristafé, only to find out he's sitting on the toilet instead of a spin bike, in a Wizard of Oz twist. Their devotion is ruined, along with the illusion that anyone could be that physically fit—but Ms. Rilinger seems to be the type of true Tristafé they were looking for.
One of Ms. Rilinger's disciples is stay-at-home mom Jennifer Desmond, who had just finished a FlyWheel class and was more than willing to sing Ms. Rilinger's praises. She takes her classes downtown during the year, and then follows her to the Hamptons over the summer. "Of course, I started my membership to lose five pounds, and then you get addicted to the feeling. You get addicted to how it grounds you in your community. It's just therapy," Ms. Desmond, who attends class daily—sometimes twice—said. "It's not simply about being in shape but also knowing you have that time, especially as a parent, where you can just be quiet and work on yourself. That's one of the things about Holly, she's done a lot of work on herself. She's bringing what she's learned and helping you through your own stuff."
"There's a lot of depth to me as a human being, so why couldn't that also translate to my classes?"
Ms. Desmond has become close friends with other members of Ms. Rilinger's class, and they spend time together outside of the studio and follow each other on social media. It can sometimes be difficult to make friends, especially when you're not exactly joining a church group, but these classes provide communities online and in real life. "You end up meeting people outside of your immediate social group that you wouldn't think you'd naturally become friends with. but when you have this common interest that's very strong in your life, you realize that it's bigger than who you are," Ms. Desmond explained.
Ms. Rilinger even has her own guru, Dana Flynn, the founder of yoga studio Laughing Lotus. The studio is infamous for having a religious—albeit frivolous—energy, with a glitter bar and instructors who talk about their day while playing the harmonium at the beginning of every class. Ms. Flynn changed the way Ms. Rilinger approached teaching. "There's a lot of depth to me as a human being, so why couldn't that also translate to my classes? Why can't I have dramatic portions of the ride, where you slow it down and take a breath and maybe you're not talking to the whole class? It allowed me to grow as an instructor and really find my voice in a broader range," Ms. Rilinger explained.
One way to become a guru is to guarantee your clients relate to you by sharing your own stories, good, bad or ugly. "Everything I say in class is based upon my life experience, and my personal practice," Victor Colletti, a popular teacher at Laughing Lotus who teaches "Lotus Flow," told the Observer. "One woman came to my classes in Brooklyn a year ago when we first opened. It was only months later that she told me she had to take three trains to come from the Upper West Side." Now, Mr. Colletti teaches in Chelsea and three women come from Long Island for class.
Before you decide to trade in your therapist for a gym membership, consider both. "If you find somebody else who just speaks to your soul, it's almost like a two for one," Ms. Rilinger said. "There's a lot of power in movement; you have endorphins that actually change your mood. In the spin room you actually get to push through and physically let go of it. I still am a huge advocate of therapy. I'm not saying I'm anyone's therapist."
"Whether it's a fitness instructor or it's a personal trainer, in certain ways it's a kind of intimate relationship with an exclusive focus on you. It's not really mutual—more of a focus on you, on your body, on your growth. In that way it really parallels a therapeutic relationship," Susan Rose, Ph.D, a faculty member of the William Alanson White Institute in Manhattan and adjunct clinical supervisor in the clinical psychology program at City College, told the Observer.
"Every fitness instructor is going to tell you about some experience where the client became obsessed with them, whether it's opposite or same sex."
 "Inherent in the relationship are things that are very dangerous that might not occur in other relationships one to one. A personal trainer, where they're touching you, who else touches you—your lover, doctor, physical therapist? Yet you have this person who's touching and manipulating you, seeing you in your sexy exercise clothes—there's not a lot of relationships like that," Dr. Rose said, adding;
"The boundaries get very murky. They are acting like psychologists, but they're not psychologists, so they're kind of doing a caricature of a role but they're not aware of all of the ramifications. Every fitness instructor is going to tell you about some experience where the client became obsessed with them, whether it's opposite or same sex. It's very seductive and it's very easy if they're vulnerable and fragile people to misconstrue what the person is saying." 
In the past, people turned to their bartenders and hairdressers to share their secrets; now, with the prevalence of boutique fitness classes, turning to a trainer is an easy way to seek mental and physical therapy at once.